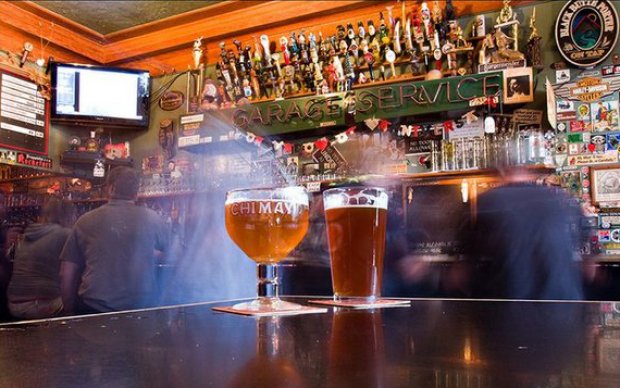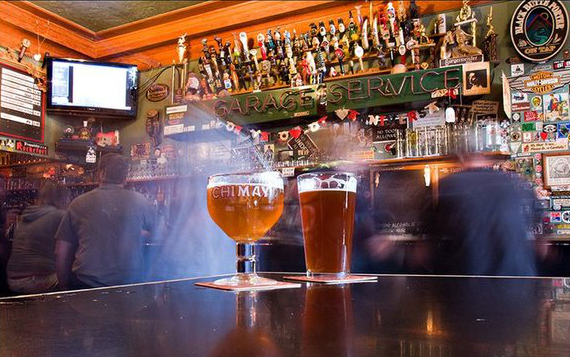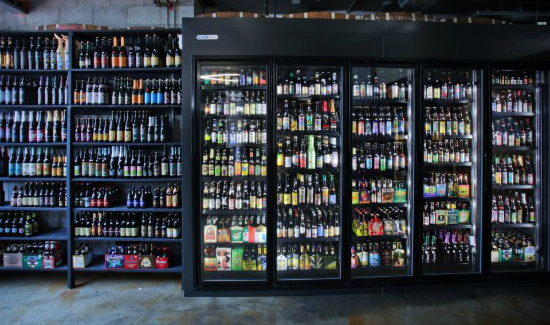 "Sorry, we don't have Jägermeister," the bartender said to an Austrian lady looking to get vacation drunk. "But have you had Fernet Branca?" he asked. "It's like Jäger but not as sweet. It's very popular here, and also in Argentina."
I was at Naked Lunch, a San Francisco nod to Burroughs with stellar bar food that crescendos with a mind-altering fried chicken sandwich. The bartender went on about the city's thriving spirits and cocktail culture, while the Austrian lady kind of paid attention. There was bourbon with beet and kummel at Trick Dog. Rare rum at Smuggler's Cove. And Fernet Branca, a bitter, herbal Italian liqueur, pretty much everywhere. Earlier this year, New York Times drink writer Robert Simonson wrote, "The City by the Bay is New York's only real rival for American cocktail supremacy."
But as I found out during a recent trip, San Francisco drinking isn't all small-batch booze and Napa wine. Through all the modish bargoing — the wine bars, the speakeasies, the throwback cocktails — the city where American craft beer began has for decades had one of the country's richest beer cultures, despite often being overshadowed by the likes of Portland, Denver and Seattle — and it's only getting richer. With the encouragement of my editors at Food Republic, I was in town for a week from New York to try as many local beers as possible.
I was staying in the Tenderloin, downtown San Francisco's still somewhat dicey midsection, and had arrived the previous day. I paid the cabbie, dumped my bags at the hotel and within ten minutes had a beer in hand. I'd come across a bar called Jasper's a few blocks away. Bourbons and bitters lined the shelves, employees leafed through a PDT cocktail book, negronis were poured on tap. The woman next to me ordered an Old Fashioned. "1895 or 1920s?" asked the bartender. The city's cocktail reputation was holding up. But as browsing beer lists would confirm, at San Francisco bars and restaurants, regardless of their focus, there is usually great beer. At Jaspers there are nearly 60 of them. I sipped an IPA from Drake's, a brewery across the bay in San Leandro and started Googling San Francisco beer bars on my phone. After her third 1895, the woman next to me talked about how much she liked wearing shorts.
***
Better American beer was born in Northern California when Fritz Maytag, heir to the Maytag washing machine fortune, purchased the failing Steam Brewery in 1965. Six years later, he released Anchor Steam beer, and by 1975 he'd unveiled the first modern American porter, IPA, barleywine and holiday ale. Prior to this, American beer had gone industrial. Only the big breweries had survived Prohibition and two World Wars, and cost cutting gradually compromised quality and flavor with cheaper and fewer ingredients. But Maytag brewed with all barley malt, which, as aspiring homebrewers know, is far harder to do and results in higher quality beer. The terms "microbrewing" (small production brewing) and "craftbrewing" (artisan brewing) had yet to be coined, though most beer experts agree that today's booming beer interest — there are now over 2,300 American craft breweries — traces back to Anchor, and also to a former naval submarine technician named Jack McAuliffe.
Impressed with the beer he tried while stationed in Scotland, in 1976 McAuliffe opened the New Albion Brewing Company in Sonoma. Given Anchor's past, Maytag's resurrected brewery was capable of large-scale production, but New Albion was built from scratch and is considered the first microbrewery in the States. It closed in 1982 and morphed into the Mendocino Brewing Company, but was revived this year with the help of Boston Beer founder and East Coast brewing pioneer Jim Koch (BB brews Samuel Adams). Shortly after New Albion opened, Chico homebrewers Ken Grossman and Paul Camusi founded Sierra Nevada, whose influence lives on in just about every hop-heavy American IPA. "By 1985, Northern California was still home to the majority of breweries in the country," long-time San Francisco turned Portland beer writer Brian Yaeger told me. "Talk to any pioneering brewer east of the Rockies and they'll tell you tales of pilgrimages to the Bay Area to experience what a beer culture even was."
At 2 p.m. on a Tuesday, Toronado was packed. Loud rock blared. Brewery stickers, old taps and other beer ephemera lined the walls. Drinkers toted in wild boar sausages from Rosamunde's next door and drank from the bar's legendary, heavily Californian list of drafts and bottles. Through the '80s, micro and craft beer gradually shed any remaining outsider status in the Bay area, in part thanks to this scrappy Lower Haight dive, opened in 1987 and soon bought out by employee David Keene. "Toronado deserves much credit for giving people a place to discover and enjoy top quality fresh beer," Yaeger told me. He also hinted at the bar's somewhat cantankerous reputation. "You can try getting in touch with Dave, but good luck." Scheduling an interview by phone proved pointless, their website's contact link led to serial bouncebacks and their online beer list was last updated in 2008. It's a surly place with stellar beer. I worked my way through three draughts from Santa Rosa's cultish Russian River Brewing.
A stumble down Haight Street is Magnolia Gastropub and Brewery, another Bay area beer institution. "I took acid and went to my first Grateful Dead show and got a whole new perspective on lots of things," emailed Magnolia founder Dave McClean. "The thriving little underground economy in the lot sold a ton of beer out of picnic coolers and lots of that was either imported beer or early micro-brewed beer, most of which seemed to be coming from CA." After college in Boston, where he'd been hooked by that city's burgeoning craft beer culture — Boston Beer, Harpoon and Catamount at the heart of it — McClean zig-zagged across the country following the Dead and seeking out great beer. Not surprisingly, his interests took him to San Francisco, to the heart of Haight-Ashbury.
"Most of the pioneers were still going or going stronger than ever when I showed up," McClean recalled of his 1991 arrival, soon after which he opened his brewpub just blocks from where the Dead once lived. Sierra and Anchor  —"which made all of the north side of Potrero Hill smell like beer" — were by that point everywhere.  "The independent local beer scene felt so much more developed here than anywhere else I had been on my trip and where I was coming from. There was 20 Tank, an early and important brewpub in SoMa, owned by John Martin, half of the sibling team that opened Triple Rock in Berkeley. There was Allan Paul's SF Brewing Company, which was the first brewpub in SF and [along with Triple Rock] among the first nationwide. And there was Toronado, which a college friend dragged me to my first week in town." According to McClean the Marin Brewing Company was also at the time worth the trip over the Golden Gate Bridge.
Bay area brewing continued to thrive through the '90s. "Gordon Biersch opened its SF outpost in '93, with Beach Chalet, Thirsty Bear and Steelhead coming along a couple years later," recalled McClean. "There was even a tiny one-barrel German brewing system in a Japanese restaurant downtown called Sankt Gallan. Distribution-only micros like Moonlight and Lind Brewing, now Drakes, were one-man shows that opened in the mid-90's and totally fit the Bay Area scene with their eccentricities. The Oak Barrel home-brew shop in Berkeley was instrumental in teaching brewers to make beer." Like Magnolia, Speakeasy Ales and Lagers, Petaluma's Lagunitas and, further afield, Russian River all opened in the 90s. One of the city's most successful younger breweries, 21st Amendment, whose name tributes the repeal of Prohibition, joined the crowded pack in 2000.
Primed with Russian River and sausage at Toronado, later that afternoon I walked into 21st Amendment's spacious brewery and brewpub as a Fernet Branca truck drove by. Now available in 17 states, the brewery has recently made a name for itself thanks in part to an all cans, no bottles approach — cans are more airtight and keep beer fresher than bottles — and also to a surprisingly OK wheat beer brewed with watermelon. "This was the baby of Nico Freccia and Shaun O'Sullivan," brewery General Manager Rob Strasser told me over fish tacos. "Shaun was a brewer at Steelhead, which is now Hooter's down at the Wharf, and Nico ran a restaurant. They met at a brewing science class at Davis in '95 or so and had the idea to start a neighborhood bar with a brewery in the back, the kind that were everywhere before Prohibition."
What impresses Strasser most about the San Francisco brewing business is the congeniality. On the city's other recent nationwide brewing success, Speakeasy, he commented "We don't really see them as competition as much as fighting the same fight we are – trying to earn that shelf space. They're a great brewery. All of us collaborate; we share yeast, and glassware."
I'd planned on then heading to Speakeasy's bring-your-own-food tap house. But Strasser suggested I first take in some baseball. The 2012 World Series champion Giants play just blocks away at AT&T Park. "We lucked out, opening the same year as the park." As I witnessed, 21st Amendment serves as a pre-game stopover for orange and black clad baseball fans in various states of drunkeness. I made my way to 24 Willie Mays Plaza and after scoring a nosebleed ticket came across Public House, a bar attached to the ballpark with yet another outstanding beer list. I drank more Russian River and watched the Giants beat the Washington Nationals 4-2. I never made it to Speakeasy.
***
After nearly a week of bar and brewery hopping, it was clear that San Francisco beer drinkers have options. As of this writing there are 15 companies brewing beer in the city proper. As Yeager pointed out, "Five are currently contract or gypsy brewers but some of these are looking into building their own breweries and tasting rooms. Southpaw BBQ, Southern Pacific and Pac Brew Labs are some of the newest breweries in the city." Like in much of the country, "gypsy brewing" — or brewing in rented facilities — and homebrewing with commercial aspirations is rampant in San Francisco.
And the beer bars are endless. Down a spiral staircase to a brick-walled catacomb, Russian Hill bistro La Trappe has a phonebook menu of draught and bottled Belgian beer, as does The Trappist over in Oakland. At Zeitgeist in the Mission District, the focus is closer to home. This biker bar — as in bike messenger — has an impressive, West Coast-centric beer menu and a confrontational reputation on par with Toronado's. On my visit metal blared through the black-hued room, possibly the most tattooed location in the country. Despite the inviting outdoor courtyard in the back, the mood is far from sunny, and customers like it that way. Though the bar's infamous port-a-johns may have been a bit too foul: in 2011 Zeitgeist installed actual bathrooms.
I ended up back in the Mission later in the week when my pal Adam, a SF native, suggested we meet at the Monk's Kettle, a young gastropub that could make a beer geek consider relocating. The bar pairs a daunting beer menu with farm-to-table bar food and housemade charcuterie. We tried local staples from Drake's and Moonlight, later sampling the burgeoning Nordic craft beer movement with the grassy, citrusy Nebuchadnezzar imperial IPA from Stockholm's Omnipollo brewery. Another highlight was a gose from Portland's hard to find Upright Brewing. Goses are a light salty style originally brewed in a Leipzig train station.
As we left the staff was swirling and sharing a saison from Maui. "I definitely get the lemongrass," said the chef, the others nodding. A chalkboard scrawl nearby read "Don't forget to have fun."
Before hopping on BART back to the Tenderloin, I had to sample a requisite San Francisco meal: the Mission burrito. I ended up at Papalote, which I learned based on the signage, won a Bobby Flay Throwdown with something called the Triple Threat Burrito, named after "the triple threat DJ crew, Apollo, Vinroc and Shortkut"; it involves grilled steak, grilled chicken and four prawns. I was in line with a group of 20-something guys who appeared to have just been playing basketball in really tight pants. "Ya know, just balling, getting burritos and beer," I eavesdropped. My carne asada burrito was meaty, amazing and somehow light. I drank a beer brewed with juniper berries from Belgium's Abbaye De Saint Amand which sat in the fridge next to the Tecates and Pacificos.
***
On my last day in town I made it to the one beer destination just about every bartender along the way had recommended: City Beer. On a somewhat empty SoMa block this spare industrial bar and retailer lets patrons sit and drink or take bottles to go. There are 15 ever-changing taps and fridge after fridge of local, worldly and rare beer. Two men chatted at the bar and shared a Sang Rouge sour ale from Portland's Cascade while manager Erica Getto guided me through other West Coast beers that don't make it back east.
There was the effervescent Buzzerkeley, a Belgian strong ale brewed with Champagne yeast from Calicraft Brewing in nearby Walnut Creek; also a dry saison from Almanac Beer Company, a local outfit that preaches farm-to-bottle brewing. Almanac sources its ingredients from sustainable Northern California farms. Seeing me grab a bottle of Russian River's Pliny the Elder – rarer than gold back east – another customer said "there are so many local beers that are just as good as what they put out," before handing me a bottle of Knee Deep Brewing's Simtra Triple IPA, easily one of the finest American beers I've tasted. "Not meant for aging – enjoy this triple fresh," the label reads.
Despite too many hours at City Beer and my week's hoppy itinerary, I sensed I hadn't even scratched the surface of San Francisco and greater Bay area brewing. Good beer started here, and stayed. "When you're back you'll have to try Almanac's Farmer's Reserve Series," said Getto as I left.
The next night, sadly my last in town, I brought my City Beer haul to Adam's place in Noe Valley. I had the best meal of my trip: Take out from the James Beard–winning Mission Chinese. We ate thrice-cooked bacon, peanut noodles and orange glazed beef cheek. With dinner, we cracked a Chez Panisse Farmhouse Ale, a collaboration between Calicraft and California cuisine pioneer Alice Waters. The beer is brewed with local lemon verbena blossom, Meyer lemon leaf and anise hyssop (it's related to mint). I left that night full of great food and beer, happy to have seen old friends and in need of a salad.
The next afternoon, waiting to board at an anonymous SFO pizza place, the bartender asked if I'd heard of Fernet Branca. I asked for an Anchor Steam.
7 San Francisco Bay Area Beers to Try
Squid Ink, Pacific Brewing Laboratories, San Francisco, CA (7% ABV)
This American black ale has a touch of hoppiness but leans toward deep, roasty malts. It's finished in Cabernet barrels for extra depth.
Simtra Triple India Pale Ale, Knee Deep Brewing, Lincoln, CA (11.25% ABV)
This beer's whopping strength is nicely hidden behind sweet grassy goodness and fresh, bright hop flavor.
Chez Panisse Farmhouse Ale, Calicraft Brewing Co/Chez Panisse Café, Walnut Creek/Berkeley, CA (5.3% ABV)
This collaboration between Calicraft and the farm-to-table trailblazers at Berkeley's Chez Panisse is crisp, dry and slightly peppery thanks to the Northern Californian herbs mentioned above.
Triple Crown, 21st Amendment Brewery, San Francisco, CA
Like the Belgian originals, this triple is light and refreshing but full of big, slightly funky flavor. It's only available on draught at the brewpub.
Points North, Moonlight Brewing Company, Fulton, CA (5.8%)
This deep, dark ale balances toasty malt flavor with a subtle fruity sourness.
Drake's IPA, Drake's Brewing Co, San Leandro, CA (7% ABV)
This stalwart of Bay area brewing makes a consistently satisfying West Coast IPA – it's hoppy, citrusy and easy to find.
Consecration, Russian River Brewing Company, Santa Rosa, CA (10% ABV)
This potent sour ale has tart fruit and wine-like components thinks to a rest in American oak Cabernet Sauvignon barrels. They also toss in currants.
Addresses of bars and restaurants:
Jasper's, 401 Taylor Street; 415-775-7979; jasperscornertap.com
Toronado, 547 Haight Street; 415-863-2276; toronado.com
Magnolia Gastropub & Brewery, 1398 Haight Street; 415-864-7468; magnoliapub.com
Oak Barrel Winecraft, 1443 San Pablo Avenue, Berkeley; 510-849-0400; oakbarrel.com
21st Amendment Brewery, 563 2nd Street; 415-369-0900; 21st-amendment.com
Speakeasy Ales & Lagers, 1195 Evans Avenue; 415-642-3371; goodbeer.com
Public House, 24 Willie Mays Plaza; 415-644-0240; publichousesf.com
La Trappe Café, 800 Greenwich Street; 415-440-8727; latrappecafe.com
The Trappist, 460 8th Street, Oakland; 510-238-8900; thetrappist.com
Zeitgeist, 199 Valencia Street; 415-255-7505; zietgeistsf.com
Monk's Kettle, 3141 16th Street; 415-865-9523; monkskettle.com
Papalote Mexican Grill, 3409 24th Street; 415-970-8815; papalote-sf.com
City Beer Store, 1168 Folsom Street; 415-503-1033; citybeerstore.com
Mission Chinese Food, 2234 Mission Street; 415-863-2800; missionchinesefood.com
More San Francisco stories on Food Republic: