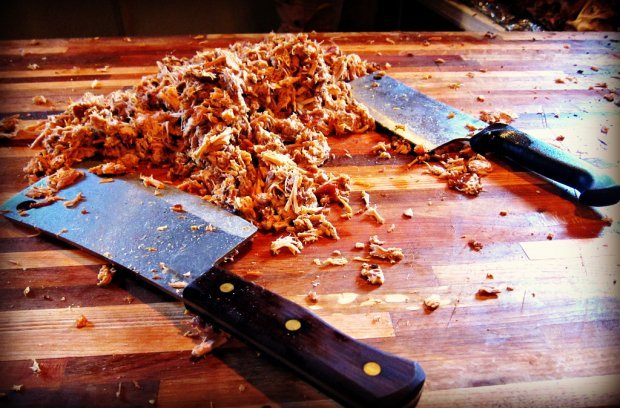 Honky-tonk music and barbecue don't really come to mind when Chicagoans think of the ultra-modern hotels, restaurants and shiny galleries that make up the emergent River North portion of downtown Chicago. But that's exactly what was happening this weekend at the first annual Windy City Smokeout.
Organized by Bub City, one of Chicago's newest barbecue joints, the three-day festival was a celebration of country music (with Jerrod Niemann, David Nail and Pat Green headlining) and, more importantly, serious barbecue — with an emphasis on the Texas and Carolina styles. Chicago stalwarts Smoque and Lillie's Q, along with Bub City, each set up mini restaurants, complete with enclosed, shaded seating areas.
Of particular interest was the tri-tip at Lillie's Q, which played like a steakier version of barbecued brisket. For the pescetarians (you have to remember the pescetarians), Bub City offered a very good lobster roll served on a griddled bun of Texas toast. Certainly not barbecue, but it was refreshing to see something besides pork or beef that wasn't cole slaw.
The Salt Lick of Driftwood, Texas was also there, offering a beef brisket, sliced thin, with a nice a crust surrounding it. It was set on top of piece of white bread, of course. They served up a humblingly huge and tasty smoked sausage, one of their signatures, as well.
As far as barbecue heavy hitters go, they don't hit any heavier than Myron Mixon, three-time national champion, television personality, restaurateur and cookbook author. He served up all kinds of smokiness, including baby-back ribs and, on Saturday and Sunday, a whole barbecued hog.
From what I could tell, people were as interested in Mixon as they were the musical talent. And the white-haired pitmaster seemed to be enjoying the event, chatting with the cooks at the other stalls and happy to shake hands, take photos and gab with his fans. The Windy City Smokeout is a welcome addition to Chicago's ever-growing roster of summer festivals.
---
Read more about barbecue on Food Republic: