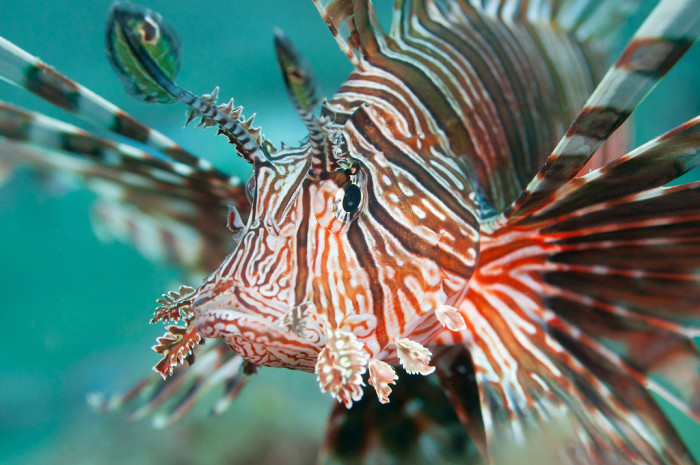 Restaurant chefs across the country are giving reality TV stars a run for their money. With the fearlessness of the late and great Crocodile Hunter and the stove-side intensity of Gordon Ramsay, these guys are saving humanity by means of butchering and braising the planet's Most Wanted.
The Atlantic documented the details about these chefs being totally badass, taking (read: spearing) the most pernicious species head-on and making them delicious.
Among the public enemies: the Chinese snakehead fish, known for monopolizing resources and annihilating cohabiting species; the feral pig, which in massive numbers continue to pillage their way through the greater part of Texas; the nilgai antelope, native to India, which is now hogging up all the vegetation in South Texas; and the nutria rat, a large rodent making a complete mess of Louisiana's coastal wetlands.
Environmental organizations are on the case behind the scenes campaigning for the consumption of invasive species. Corvallis, Oregon's Institute for Applied Ecology (IAE) published a cookbook, "The Joys of Cooking Invasives: A Culinary Guide to Biocontrol," and hosts an invasive species cook-off (one of the winning recipes: popcorn English house sparrow drumsticks). The Texas Nature Conservancy hosts a "Malicious but Delicious" dinner, and conservation biologist Joe Roman provides information about the species on his website Eat the Invaders. But on the front line, it's the chefs who are going at the beasts with a knife and a hot skillet.
Scott Drewno and Chad Wells vs. The Snakehead
Drewno, the chef of Washington D.C.'s The Source cures snakehead with kaffir lime leaves, lemon grass, cane sugar, ginger and garlic, smokes it in sench green tea, and serves the fish with a sauce of garlic chili, soy sauce, rice vinegar and microgreens. Boom. Roasted. Wells, of Annapolis' Rockfish restaurant makes snakehead ceviche. Wells also bravely takes on the blue catfish, which can grow up to a whopping 143 pounds.
Jesse Griffiths vs. The Feral Hog
Butcher and chef Griffiths of Austin's Dai Due butcher shop grinds the feral hog into three varieties of sausage and serves wild pig cochinita pibil style: wrapped in banana leaves and marinated in orange and lime juice. (For less badass but equally delicious dishes from Jesse Griffiths, check out his Baked Flounder With Parsnips and Carrots and Arroz Abanda). And, just to make sure civilians have the knowledge to arm themselves, Griffiths also offers feral hog butchering classes to the public.
Patrick Wilt vs. The Nilgai Antelope
Wilt, of Grape Juice Wine Bar in Kerrville, Texas, grinds up Nilgai antelope for a trio of sliders and tops them with grilled jalepenos and chipotle-lime aioli; chimichurri sauce and goat cheese; and bacon jam, blue cheese and red onion.
Bun Lai vs. 'Dead Man's Fingers' seaweed and The Lionfish
New Haven's Miya Sushi Chef Lai simmers pesky (and ominous-sounding) Dead Man's Fingers in his miso soup. His menu also boasts lionfish sashimi topped with "a dozen profoundly mouth-numbing spices." Do you need some ice for that burn, lionfish?
Philippe Parola vs. The Nutria
New Orleans chef Parola started out strong, slow-cooking the rodent in stews, tossing it into gumbo, and grinding it into sausages. But dwindling funds and new FDA regulations have halted production, so the nutria rat is still at large. Until he can nab the beast once and for all, Parola is taking on invasive Asian carp by pounding the devils into fishcakes.
More Chefs being badasses on Food Republic: