What To Eat And Drink At The 2013 MLB All-Star Game At Citi Field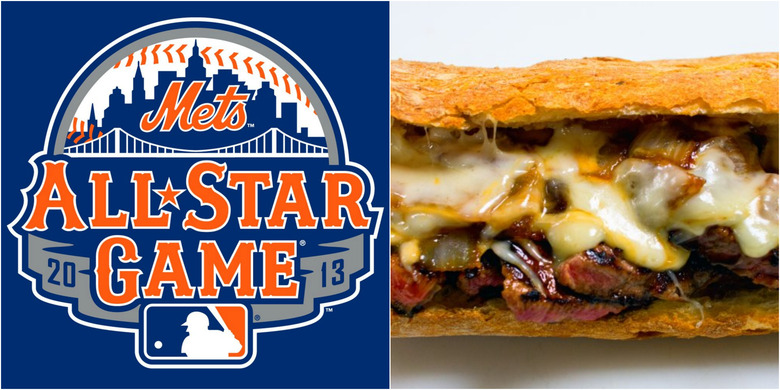 Baseball's biggest stars will square off under the bright lights of New York's Citi Field next Tuesday night and thousands of loyal fans will travel for a chance to see their beloved hometown players. In addition to being unique because of the talent on the field, attending the MLB All-Star game is an exciting way to explore an unfamiliar ballpark. This foreign environment can be overwhelming, however, and people undoubtedly want to spend most of the evening in their seats.
As a lifelong and long-suffering Mets fan, next week's festivities represent the opportunity for me to spotlight the only pleasant memories of painful trips to Citi Field – save for this year's weekly "Harvey Days" – the food! While the Mets may have trotted out a shitty sorry product on the field the past few years, the stadium's food and beverage options have managed to keep the diehards (somewhat) content. Here is where to eat and drink during this year's All-Star Game.

Shake Shack
I'll start with the obvious choice. Danny Meyer's burger hotspot has been a fixture since the stadium's 2009 inaugural season, attracting throngs of people to the field level outfield concourse for what can often be a multiple inning-long wait. Those in the exclusive Delta Club section of the stadium can bypass this process by ordering it to their seats and a personal tip consists of begging those fortunate enough to sit there to order a burger and shake for you and then picking it up. Another trick involves standing in the much shorter line at Blue Smoke and sweetly asking the cashiers to pop into their neighbors' station for you. Pitifully low success rate? Yes. Genius? Maybe.
Pat LaFrieda's
The secret is out about Pat LaFrieda's steak sandwich stand, last year's late-season addition to the stadium's food options. Featuring hand-cut black angus seared filet mignon, Monterey jack cheese, sweet caramelized onions and served with a secret au jus on a French baguette, the hearty melt just might be the single best item found at the ballpark. Yes, $15 is a steep price to pay for any sort of stadium grub, but it's more than enough for a full meal and worth every penny — just trust me on this one. There is a new LaFrieda station located on the Promenade (Upper) Level of the stadium that also dishes out Korean buns, and the meat purveyor has a swanky new sit-down restaurant called Chop House inside the Delta Club.

Big Apple Brews
Craft beers are becoming commonplace in sports venues nowadays, and this station in the outfield concourse makes it easy on you by providing a single stop to sample from around 40 brews, including various IPAs and imported ales. At roughly $8 per beer at last check, pricing is even somewhat palatable for arena standards. That in itself should be a reason to hop on the 7 train and check out a Mets home game later in the week instead of heading out to watch that other team in the Bronx (hey there, $11.50 Coors Light).

World's Fare Market
My personal favorite stop at Citi Field is the World's Fare Market, located on the field level behind right field. An accumulation of eclectic global cuisine, the market includes surprisingly decent quality sushi from Daruma of Tokyo. My personal suggestion is to hit up the gyro stand, which is complete with full accoutrements and satisfied even this hard-to-please Greek writer. Equally fulfilling are the delectable homemade Italian sandwiches from local eatery Mama's of Corona – be sure to ask for extra gravy. Gluten-free and health-conscious fans will also find options here and wait times are surprisingly nonexistent.
Rum Bar
Did you just realize that your team's only All-Star representative is not even going to appear in the game? No worries — head to the bar located right outside of the World's Fare Market for some frozen drinks courtesy of Rums of Puerto Rico. The generously poured cocktails have been known to ease the pain of yet another Mets midseason swoon.

El Verano Taqueria
The second Meyer establishment to make the list is this popular taqueria, also located in the outfield concourse on the field level. You can choose from three types of tacos or spring for the sampler platter, which features one of each. One of the Mexican specialty items is the elote — Mexican grilled corn doused in (not-so) healthy amounts of spicy mayonnaise, cojita cheese and cayenne pepper — in my opinion the biggest sleeper food item in the stadium.
More Stadium Eats stories on Food Republic: