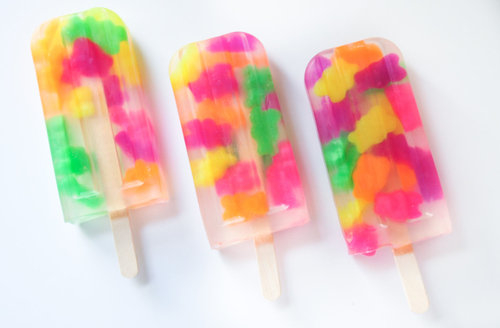 While I was looking for photographic evidence to discourage you from trying to crush ice with an immersion blender (see also: list of frozen drinkery dos and don'ts), I found the ridiculous photo to the right. I've spent the past two nights experimenting with the concept implied by this photo, assuming of course that the gummy bears have enjoyed a lengthy soak in vodka. Here are my findings.
Whenever you're making popsicles with booze of any kind, including spiked gummy bears, worms, cherries, frogs (you name it, I'll freeze a boozy version in a popsicle) you risk separation anxiety. It actually has nothing to do with longing — it's just how I say "the stick slid out of my boozesicle and now I am anxious the rest will leave me too." Definitely adhere to my 3 things you need to know for successful alcopops. But this is different, I knew from previous experience that a boozy base plus booze-soaked candy would never freeze, so I limited the vodka to the gummies.
Recipe for vodka gummy bears:
Soak gummy bears in vodka overnight. Now's a good time to use the flavored stuff — I like citrus.
Drain (into a shotglass or possibly just my mouth) before using. I'm not kidding, gummy bear-infused vodka is great for those hot summer nights. Don't pretend like you're not thinking about it.
Technique for popsicles:
Pick your popsicle base. Using a pale, translucent liquid like homemade lemonade or pear juice will make the gummy bears' colors pop, but darker liquids work just fine — it's a surprise in every slurp!
Make your popsicles. After an hour to an hour and a half in the freezer, they should be somewhere between half and mostly frozen. Now is when you strike. Remove the tray from the freezer and, using a chopstick, poke a couple of gummy bears down to the base, finagle a few to the middle and drop a few just under the surface of the top. Don't use more than 5 or they're more likely to fall apart.
Re-smooth the slushy tops of the popsicles around the base where they meet the sticks. Freeze overnight, then run the underside of the mold under hot water before gently tugging the pops out.
You'll be the most popular kid at the party.
More from Frozen Drinks Week on Food Republic: