10 Hard Ciders You Should Be Drinking All Summer Long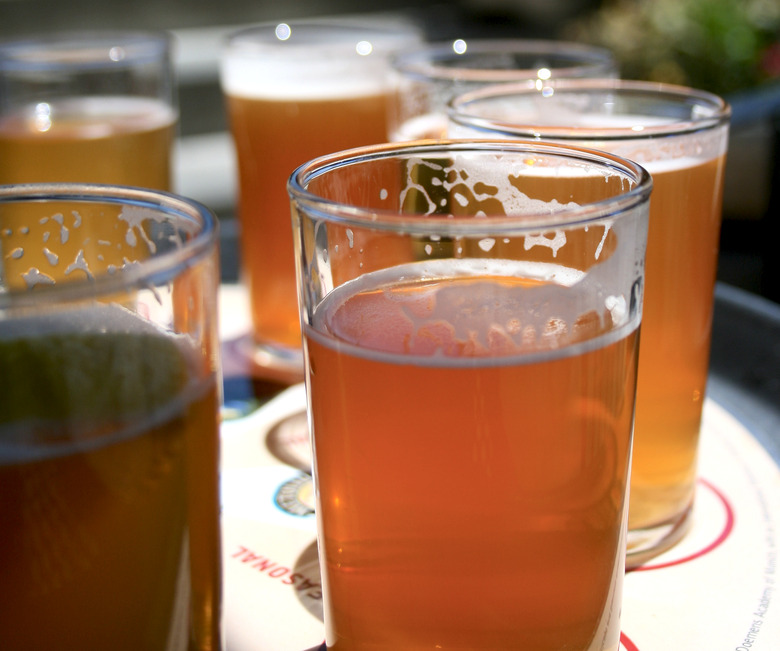 Tired of beer? Opt for the lighter cider.
Looking for a great alternative to wine and beer this summer? We've got you covered. Cider, or hard cider as it's known stateside, is a refreshing drink that drinks somewhere between a beer and a wine. It has the dry fruitiness of wine and undergoes a similar fermentation process to beer. Some experimental brewers even use beer yeast and hops (more on that in 12 Things You Didn't Know About Hard Cider). If you're a beer drinker who won't give cider a chance, we suggest Dogfish Head's Positive Contact, a standout combination of beer and cider that made our summer beer list and is a great segue into the taste of cider.
It seems like lately everyone is getting into the cider game — even macro giants Stella Artois and Canada's Molson have released cider in the past few months, but these offerings barely hold a candle to the real thing. Cider is still very much a craft business, made in farmhouses here in America just as it is in Spain, France and England. While craft cider lacks the widespread distribution of wine or beer, today it's more accessible than ever before, so drink up. Here are 10 of our favorites to try this summer.
1. Domaine Familial Louis Dupont: Etienne Dupont
When it comes to French cidre (French, of course, for cider), the conversation has to start with Dupont. Though you should feel confident grabbing any of their cidres, this organic offering is a solid place to start. The flavor is sweet and earthy with a touch of tart funk and an almost champagne-like quality owing to its dryness and tiny bubbles. You can really taste all parts of the apple: skin, fruit, even seeds. At only 4.5% ABV, it's a great bet for a cider (or cidre) session.
2. Sidreria Sarasola: Sarasola Sagardoa
Sarasola is a fantastic representation from the Basque Region of Spain. Sidra (Spanish for cider) is very different than the sweet ciders of America, England and France. It is naturally fermented and has a distinct funky, acidic character imparted by wild yeast. It's also not carbonated. If you love Belgian lambic, this is definitely the one for you.
3. Farnum Hill: Summer Cider
As the name states, this excellent cider from Lebanon, New Hampshire's Farnum Hill is tart, refreshing and perfect for summer. This fruit-forward cider is the most accessible offering from Farnum Hill and one of the very best you'll find just about anywhere. This summer cider is a great option for dry white wine lovers who want something a little bit lighter (it's 7.5% ABV, so about half that of a normal white).
4. Virtue Cider: RedStreak
Attention all stingy beer lovers who are hesitant to commit to cider! This one is made by former Goose Island brewmaster Greg Hall, who is producing equally incredible products in his Virtue Cider line. While it's made in Fennville, MI, Redstreak is a traditional English draft cider, though 90% of their apples come from Michigan orchards. With a bit of funky tartness, citrus undertones and a welcoming dry finish, this cider at 5.2% ABV is extremely easy to drink.
5. Aspall Cyder: Medium Suffolk Cyder
Although it's not located in one of the big English cider regions like Somerset, Wales or "The Three Counties," Aspall from Stowemarket is one of the very best producers of cyder in England. That's right, they spell it with a "y" sometimes. Tart with a medium sweetness, it does have a touch of funkiness, though nowhere as extreme as Spanish sidra. This is an excellent entry point into English cider/cyder.
6. Wandering Aengus Ciderworks: Bloom
Oregonians are particularly proud of their beer and wine, and rightfully so, but you can tack on cider to that list, thanks to Wandering Aengus. This semi-sweet cider made from heirloom apples is crisp and tart with hints of fresh apples. The end result is wine-like and at 6.5% ABV, the alcohol is unnoticeable — making this a cider that's definitely worth seeking out.
7. Crispin Cider Company: Artisanal Reserve The Saint
You would never know they were owned by MillerCoors unless we disclosed it, so please don't let that deter you. This is an incredible cider fermented with Belgian trappist yeasts, and organic maple syrup is added to the mix. Boasting white wine flavors with a hint of sweetness from the maple syrup, it's a good bet for fans of Belgian beer looking to get into cider. Even at 6.9%, The Saint goes down smooth and refreshing.
8. Almar Orchards: J.K. Scrumpy Orchard Gate Gold Hard Cider
For an organic take on farmhouse cider from the U.S., try this Michigan gem. It's smooth and sweet with very little hint of its 6% ABV, and best of all it's unfiltered and organic! Think sweet, ripe apples with a dry finish. They already have established distribution nationwide, so this is one you can actually keep an eye out for.
9. Angry Orchard (Boston Beer Company): Strawman Farmhouse Hard Cider
You may have heard of Angry Orchard, made by Boston Beer Company — famous for Samuel Adams beer — but this special entry in their Cider House Collection is the way to go for a special summer treat. Clocking in at a hefty 10%, this one is definitely a sipper. It's aged in oak barrels, which works to great effect with the tartness of the apples.
10. Finnriver Cider: Dry-Hopped Cider
Washington's Finnriver Cider is a producer you need to follow. Thanks to their ingenuity, they're one of the few brewers adding hops to their recipe. While the Cascade hops are an ode to the Pacific Northwest staple crop, the fruit still steals the show. A blend of heirloom and dessert apples make this cider tart, sweet and refreshing.
More cider knowledge on Food Republic: