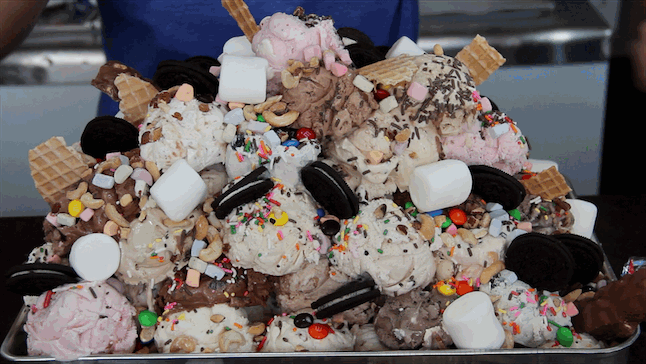 These days the food media is big on ice cream. Wonder why? Over at Savuer, they are calling this week Ice Cream Week. "There's no summer pleasure greater than a scoop (or three or four) of cold, creamy, deliciously sweet ice cream — here at SAVEUR, we love this hot-weather treat so much we're dedicating an entire week to it." We couldn't agree more, though we like our dog days of summer themed weeks with a shot of over-proof rum.
And now, our favorite dudes at Thrillist have done their own tribute to blending sugar, cream and eggs (or possibly juvenile diabetes?) with the construction of what they are calling the WORLD'S GREATEST ice cream sundae. To the sundae scorecard:
80 scoops of ice cream arranged on a (non-used!) paint tray, a full can of whipped cream, cups upon cups of M&Ms, sprinkles, Oreos, nuts, caramel and chocolate sauce, Lucky Charms marshmallows, regular marshmallows, and a whole mess of full-sized candy bars. Made with the ice cream and help of Denver's Sweet Cow Ice Cream.
You can check out all their sundae building action here, but here are a couple photos to further the idea that this is in fact the WORLD'S GREATEST ice cream sundae.