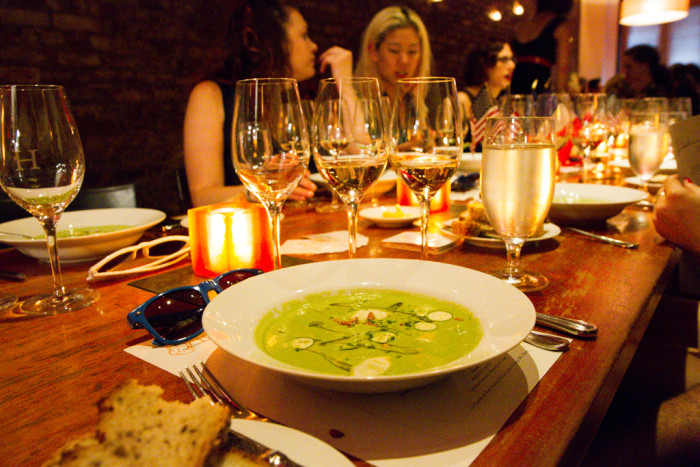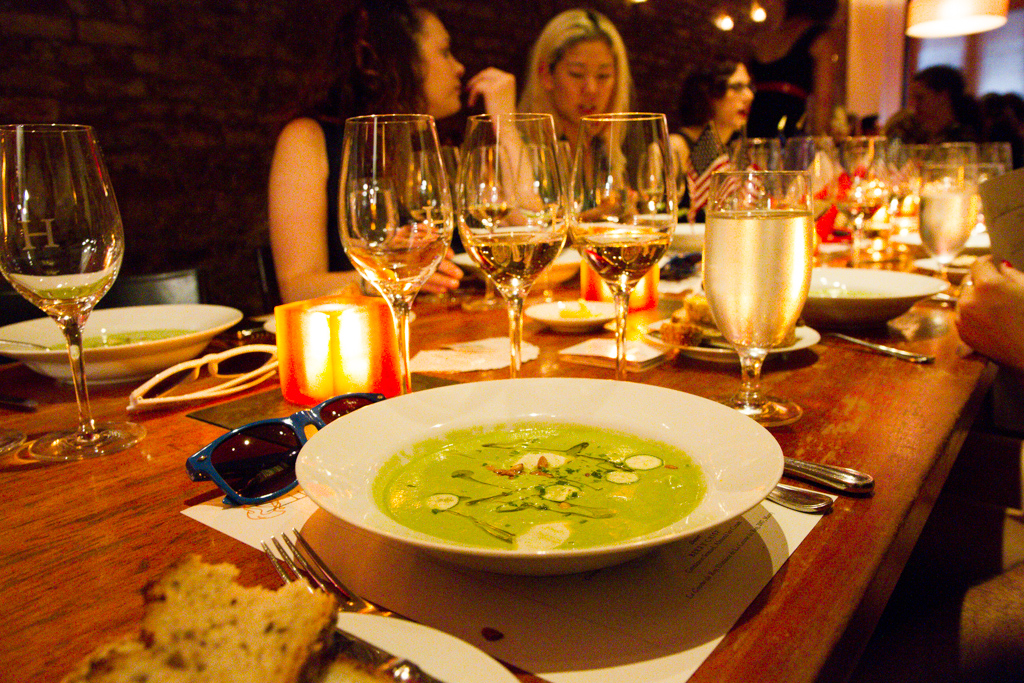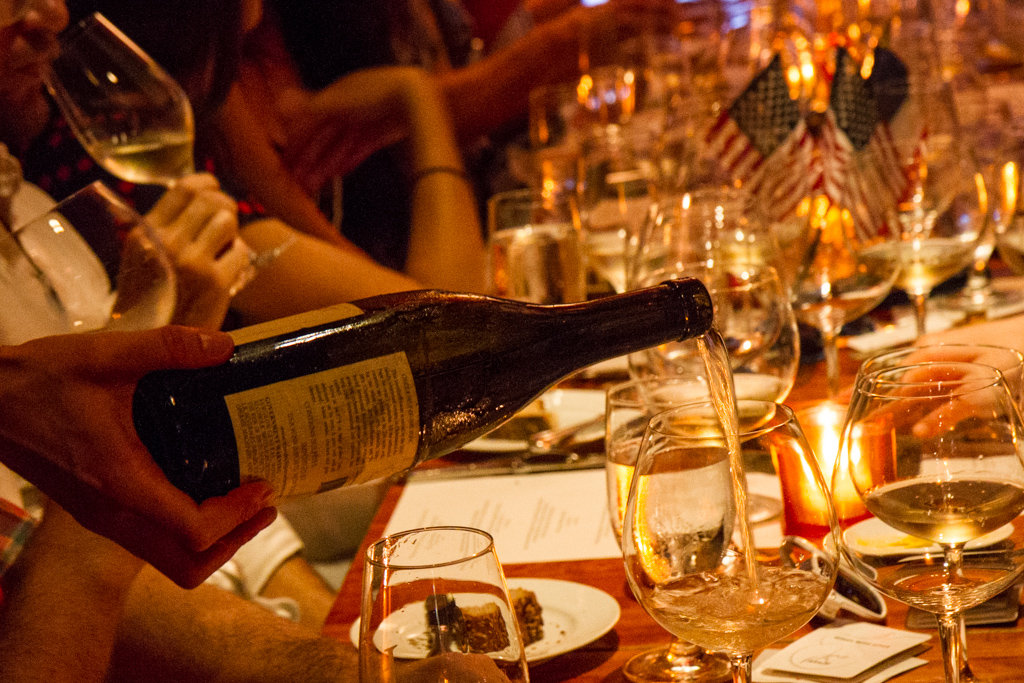 Over a weekend when everybody was celebrating the best things of America —independence, grilled meat, the United States of Craft Beer — a few of us were busy sticking our noses in an assortment of French wines pulled together at a fun dinner arranged by the Wines Of France.
The purpose of the dinner, held a Hearth in New York's East Village, was to get a bunch of people together from the food industry (journalists, along with craft distillers, bar owners, chefs, event planners) to figure out how French wines can pair with cuisine not necessarily considered "French" in nature. As you can imagine, this was not a difficult task.
Hearth chef-owner Marco Canora is a master at presenting seasonal ingredients with an eye for creative, though effortless, presentation. There are few foams or vegetable purees painting his white plates, but as his chilled zucchini soup appetizer proved, he has an extraordinary sense of flavor. Pine nuts and a splash of peppery olive oil completed the dish, which was paired with two whites: 2012 Coteaux du Loir Blanc, Domaine de Cezin (2012) and a bone dry Bordeaux Blanc Reserve Speciale, Lafite Barons de Rothschild (2012).
Moving onto the pasta course, Canora dressed a tubular canestri noodle with a simple zucchini parmigiano. Out of the three pairings, the most standout was the Chateauneuf-du-Pape Blanc, Domaine du Vieux Lazaret (2010), a bottling from the southern Rhône. I had never tasted a white from Chateauneuf-du-Pape. According to this well-researched story in the Wall Street Journal, over 95% of wines produced in the region are red — and the whites are difficult to peg. Some may even call them "complex." This one was bold and memorable. Floral on the nose and very bright.
The final savory course was lamb three ways. As somebody who once scoured all of New York City for lamb belly dishes, this made me really happy. Smoked ribs, roasted loin and a sweating sausage joined the plate of peas, carrots and mint. The two reds were exceptional: Chateau La Croix Saint Pierre, Blaye Cotes de Bordeaux (2009) and Hermitage, Cave de Tain (2009). And then we ate berry crisp and went home happy.
---
More field reports on Food Republic: