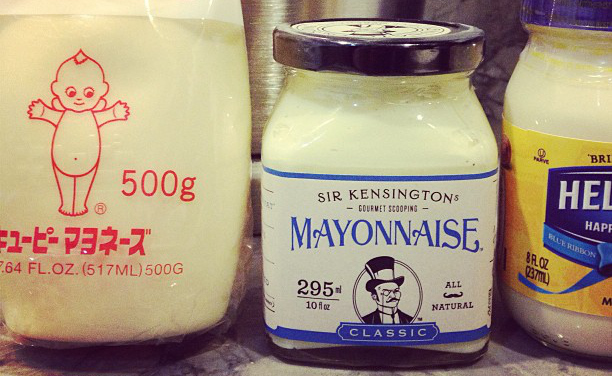 From time to time, food companies will ship products to our office with hopes that we, the competent editorial staff, will review them. Sometimes these products arrive with great fanfare, packed in thick blocks of dry ice and wrapped in several layers of material. Think expensive glossy paper and desk-blocking iron trunks. Sometimes there are friendly interns involved.
But the reality of the situation is that we don't typically review products. Why? With respect to the large box of bacon and maple syrup–flavored Kettle chips and three bottles of Ubons Bloody Mary Mix awaiting their date with vodka, most of these products just are not worth the time. But then, the mayonnaise started to arrive. Chalk it up to the season (grilling, picnics, the forthcoming tuna salad sandwich day) or some sort of luck, but we had a bit of a mayonnaise boom in the last few weeks. And with that, we present to you the Food Republic Mayonnaise For French Fries Office Taste Test. Why French fries? Why not.
The Mayonnaise
1. Hellmann's Real Mayonnaise // Best Foods Real Mayonnaise
OK, fun fact. These are an identical product, just with different names depending on location. It's called "Hellmann's" east of the Rocky Mountains and "Best Foods" west of the Rocky Mountains.
2. Kewpie Mayonnaise
This is the most popular mayonnaise brand in Japan and Korea and has become a bit of a chef-y go-to for rice rolls, sandwich spreads and general high-minded culinary squeezery (the bottle design is dope). So why is Kewpie different than the industrial stuff? Those use entire eggs, while Kewpie uses only the yolk. There is also vinegar and MSG added for some serious tang.
3. Sir Kensington Classic Mayonnaise
Invented in a Brown University dorm room, the big sell from Sir Kensington is that they use better products than the competition: Cage-free eggs, nothing associated with GMOs. They took on Heinz with a reverse-engineered ketchup. And now they hope to ball hard in the mayonnaise sector.
The Results
Each of the 5 staff members were given blind samples of all three brands of mayonnaise and asked to rate each on a scale of 1-10. Here are the results, with comments for each.
3rd Place: Sir Kensington [15/50]
"Tastes like homemade with no chemical stabilizer taste. Not cloying."
"Made me feel a little queasy and I do not like it at all."
"Let me guess, they market themselves as 'gourmet mayo' because they squeeze an ounce of artificial lemon flavor in each carton."
"The sweet mayo flavor clashes with the earthy potato. Also, it has a bad aftertaste."
"Too fancy with too much mustard. Weird mouth feel. I kind of need water."
2nd Place: Hellmann's / Best Foods [30/50]
"More processed, thicker, a little too white."
"Very creamy."
"If it tasted any blander it would be, well, blander mayo."
"Very egg-forward, which complemented the spuds nicely. It's smooth, subtle and lets the fry speak for itself."
"This is a grocery store brand. Lemony. I like it, though has a chemical aftertaste."
1st Place: Kewpie [39/50]
"Much more umami. Clingy without being too thick. A little oily, a little salty. More egg flavor."
"Has a unique, strong and lemony taste."
"Just like grandma used to make."
"A higher lever of fry mayo. It has a bit of sweetness and the finish is delicate. Almost sophisticated."
"Taste like real mayo, great on fries."