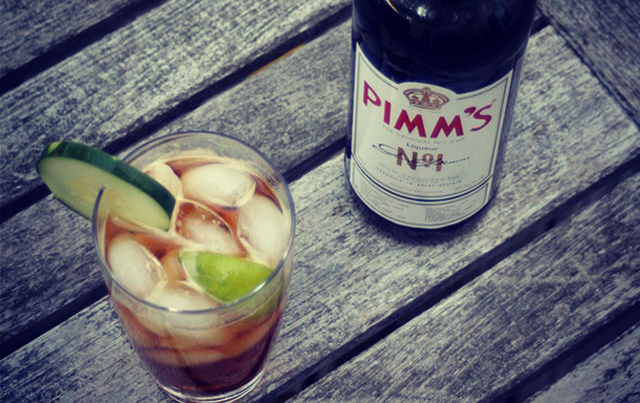 The Fourth Of July is one of our favorite holidays because you basically get a bunch of days off of work to prepare for a day (or three) of backyard barbecues, long rides in boats, nights around the fire at a cabin in the woods or — for those in big cities — some quality time at tar beach (your friend's rooftop). Or for those in cities who are rich and/or have rich friends, a day (or three) away at a beach house. Eating and drinking very good things is a big part of this Fourth Of July holiday. So to honor the liquid portion of the program (there is plenty here about eating), here are 6 ways to get the most out of drinking on the Fourth.
1. MIX SOMETHING WITH WATERMELON
We're not saying it has to be boozy. Here's a recipe for a really refreshing watermelon-mint soda. But, really, it's better when it's boozy. Here are two we really like:
Melon Stand Cocktail
Mixologist Jane Danger's nod to Milk & Honey bartenders Michael McIlroy and Richard Boccato's Arch Angel, and Pegu Club owner Audrey Saunders' Intro to Aperol. Courtesy of PDT's Jim Meehan, the man who told us how to pack up a bar for the beach.
Ingredients
2 ounces Plymouth Gin
1 ounce watermelon juice
.75 ounces lemon juice
.5 ounces Aperol
.5 ounces simple syrup
Directions
1.    Shake with ice and strain into a Collins glass filled with pebble ice.
2.   Garnish with three watermelon balls on a skewer.
Watermelon Agua Fresca
When the weather gets hot, we look for any cold, refreshing ways to cool off short of cannonballing into our neighbor's pool. It's not impolite if you yell "cannonball!" while you're doing it. Short of that, Ivy Stark of NYC's Dos Caminos restaurant has a watermelon and lime agua fresca that looks as good in a pitcher or glass as you feel while you're drinking it. Healthy and flavorful, this is a recipe you should learn by heart and make all summer long. Oh, and it spikes nicely, too, in case that pool trespassing turns into a shindig.
Ingredients
16 cups cubed seedless red watermelon, about a 5-pound watermelon's worth
2 cups water
2/3 cup sugar
1 bunch fresh mint
1/2 cup fresh lime juice
Club Soda
lime slices, for garnish
blueberries, for garnish
Directions 
1. Combine the watermelon, water, sugar and mint in a blender; purée. Pour through a coarse
strainer into a large container.
2. Stir in lime juice. Refrigerate until well chilled, about 4 hours.
3. To serve, fill highball glass with ice, fill glass 2/3 full with watermelon mixture, top with club soda and garnish with lime. Add several blueberries to float for some Fourth of July Spirit!
2. BUY A SIXER OF SOMETHING INTERESTING (AND BUY AN EXTRA ONE FOR LATER)
Michigan craft beer has been on our brains as of late, so here are two really solid picks for the weekend.
Bell's Brewery: Oberon Ale
This classic Midwestern wheat ale has a ton of spicy Czech Saaz hops. It's remarkably refreshing and goes down easy…and yes, you may serve it with a slice of orange, as per brewery tradition. Welcome in your Blue Moon replacement for the summer.
Founders Brewing Company: All Day IPA
We singled out this sessionable IPA from Grand Rapids for our Spring beers list. They've already increased distribution of All Day IPA bottles, but it's worth repeating now that All Day comes in cans, too! You'd be hard-pressed to find an IPA that drinks easier than this — which at 4.7% you could really drink all day and probably all night, too. The taste is bitter but doesn't overwhelm — hints of pine, citrus and spice make for one of the most enjoyable drinking experiences you'll have this summer.
For the full list you can read: These Are The 10 Craft Beers You Need To Be Drinking On July 4th
3. BUILD, AND THEN DRINK, A BACKYARD PUNCH
Long before there was the mixed drink known as a cocktail, there was punch — a delightful "flowing bowl" of fine spirits mixed with teas, sugars, spices and citruses, to name a few of the most common ingredients added to the base alcohol. In short, punch has always been, and still is, a drink meant for sharing.  Here are two we really like for the summer months.
Jersey City Fish House Punch Recipe
by Jason Kosmas
Ingredients
2 bottles Cana Brava Rum
1 liter Laird's Applejack
1 liter freshly squeezed lemon juice
2 liters water
6 ounces Massenez Crème de Peche
6 Fuji apples diced, for garnish
6 large Bartlett pears diced, for garnish
6 lemons cut in half wheels, for garnish
6 limes cut in half wheels, for garnish
Directions
Build into a big bowl and add lots of ice.
Chopped And Screwed Negroni Punch
By Jacques Bezuidenhout
A bittersweet concoction created by master mixologist Jacques Bezuidenhout that takes influence from the classic Negroni, but throwns in a curve ball with blood orange and chamomile tea.
Ingredients
2 parts Campari
1 part Martini & Rossi Rosato
1 part Chamomile Tea
1/2 part blood orange juice
1/2 grapefruit juice
dashes Bitter Truth Mole Chocolate Bitters
blood orange wheels, for garnish
Directions
Combine all ingredients in a cup or punch bowl, depending on the quantity you are making.
4. MAKE SOMETHING WITH PIMMS, THE BEST THING YOU DRINK DURING THE SUMMER THAT YOU REALLY DON'T KNOW HOW TO DESCRIBE. 
In this era of cocktail snobbery, classic recipes are guarded as solemnly as nuke codes, and whoever has the most traceable pedigree wins the bragging rights to authenticity. But the Pimm's Cup is different. Variations on its nearly 200-year-old formula are embraced. First created in 1823 by James Pimm, an oyster bar owner who envisioned a perfect pairing for his briny bivalves, Pimm's was a gin-based elixir laced with bitter and spiced botanicals and served as a type of highball known as a summer cup. The liqueur was eventually branded Pimm's No. 1 because, over the years, Pimm's Nos. 2 through 6 were developed, each based on a different spirit, including scotch, brandy, rum, rye and vodka. Today, a brandy-based Pimm's Winter exists, as does the new Pimm's Blackberry and Elderflower. But what we know best is the original:
Classic Pimm's Cup Recipe
Ingredients
6 ounces Pimm's #1
12 ounces ginger ale
Slices of cucumber, strawberries and fresh mint.
Slices of lemons, oranges and apples.
Directions
Add ice to chill and combine in a tall glasses.
And here are seven ways to flip the script:
But there is more. Here are 7 ways to pimp the Pimms cup.
5. PICK UP A BOTTLE OF SPARKLING WINE
Peak season for drinking sparkling wine is usually around New Year's Eve, with other popular days including February 14 and whenever your birthday or rap album drop goes down. But come on guys, let's get real. Anytime is a good time for fizzy wine — especially when the mercury starts to climb. Summer sparklers make brunch more scintillating (and interesting) and brings a touch of splendor to evenings on the patio. Plus, bubbles can be the perfect pairing for a barbecue or picnic. Here are two to try (see the full list):
Atwater Riesling Bubble, Finger Lakes
Unlike champagne — or cava, for that matter — which is made using the "méthode traditionelle," this wine gets its effervescence from a little jolt of CO2. The result is a fine fizz with stone fruit aromas and a lively acidity that takes the edge off the sweetness.
Albert Mann Crémant d'Alsace Brut 2010, France
For our money, if we aren't sipping the "other" French bubbles, we are drinking Crémant d'Alsace. Made from hand-picked organic pinot blanc and auxerrois grapes, it's crisp and tart, with a hint of minerality. Call it your summer sparkler splurge.
6. MARGARITA!
Bottom line is that a pitcher of margaritas is not going to suck on the Fourth of July. You can keep it classic. Or, try a few variations:
For the perfectionist (why are you even drinking?): The Ultimate Margarita
For the chili-hound: The Spicy Margarita
For the herb-lover switching to tequila for the night: The Tarragon Margarita
For the fancy-pantsed: Soho House's Margarita
For after the spa treatment: Pomegranate & Mint Margarita Recipe