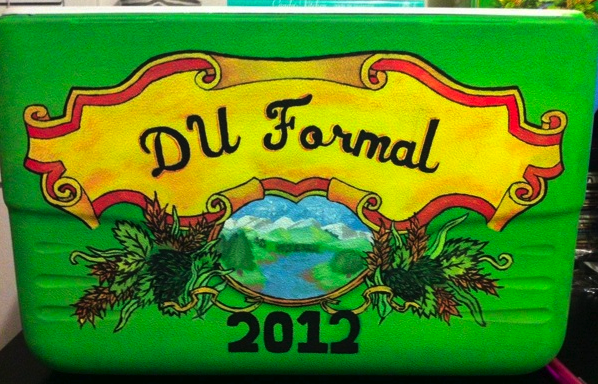 There's a tradition in Southern universities that goes something like this: Fraternity member invites sorority girl to luxe beach weekend getaway in the spring. It's called "Formal." (Note: In this context, "luxe" implies Svedka instead of Taaka. Anything that comes in a glass bottle just oozes class). Sorority girl is giddy — only if the fraternity's social reputation is on par with her level of popularity, naturally — and spends the next day week month painstakingly painting a custom cooler for her frat-tastic date, a colorful, personalized place to store his beer and booze. We're talking two-a-day trips to Costco, bulk online orders of shellac and nightly 2 a.m. group design seshes with other lucky gals.
Mind you, this cooler will undoubtedly be destroyed, lost and/or forgotten over the course of two debaucherous beach days, during which "Wagon Wheel" is played no fewer than 37 times. But that's besides the point. Alcohol-inspired cooler designs are commonplace with the SEC set and we have rounded up some of our favorite patterns, taken during the past month alone from a Facebook group called The Cooler Connection, devoted entirely to Formal veterans proudly posting their finished coolers — and first-timers anxiously asking questions. Example: "Do I sand, prime or mod podge and with which brands or kind?" (What the hell is mod podge?) There are 40,000 members in said group. No, we're not making any of this up. Enjoy.
George Embiricos is a former self-proclaimed Frat Star and thoroughly enjoyed each of the four custom coolers he received during his proud years at an unnamed Southern university.