5 Boxed Wines That Do Not Suck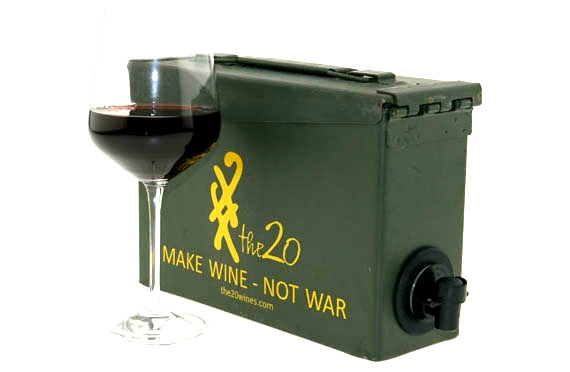 If you still associate boxed wine with the awkward parties your parents used to throw — and the underaged ragers they didn't know about — then it's time you got schooled. Sure, there are great number of horrible boxes of wine out there. But it's not the receptacle that's to blame. Those wines would be bad regardless of what they were packaged in. Wine boxes, be they bag-in-box designs or Tetra Pak, are great for wine and for the environment. They keep wine fresh and are lighter to ship than glass bottles, which translates into a smaller carbon footprint. Many boxes can even be recycled. So, what's the holdup? It's time to start thinking inside the box.
1. From the Tank ($36 for 3L)
Consider it the wine geek's wine box. It comes in white, red and rosé, packaged in plain cardboard. Importer Jenny & François Selections specializes in natural wines and the company philosophy carries through to its signature boxes. The white, from a small organic producer in the Côtes du Rhône region, is crisp yet peachy, with great minerality. The red is a juicy blend of Grenache, Syrah, and Carignan, bursting with berry fruit and delicate floral notes. The three liters are sure to disappear in a blink.
2. Yellow+Blue ($12 for 1L)
Equals green, get it? These liter boxes look as unassuming as juice containers in your fridge. The company fills its Tetra Pak containers with expressive sustainable wines, like Chardonnay from Lodi, Malbec from Argentina and rosé from Spain. The wines go for anywhere from $15-$20 when bottled in glass, but their producers have agreed to let Yellow+Blue package them under its own label for way less. Do the math and smile.
3. CalNaturale ($13 for 1L)
Yet another Tetra Pak wine made with organic grapes – hey, if you're going to go green on the outside, you might as well go green on the inside, too. The wines include a Paso Robles Cabernet Sauvignon and a Mendocino County Chardonnay. The Cab is full of ripe fruit, with assertive yet approachable tannins. The Chard is lightly toasted, yet still shows its yellow apple and bright citrus notes. If you're flying solo, opt for the handy 500ML size.
4. Wineberry ($40 for 3L)
Packaged in attractive wooden boxes as opposed to cardboard, these boxes manage to be stylish and green at once. It's no coincidence that the company specializes in boutique French wines. Take your pick from two white Bordeaux, a rosé from the same region, a cru Beaujolais, a Côtes du Rhône red blend or two red Bordeaux, one of which is fruity and spiced, the other more woody and dry.
5. The20 ($124 for 6L, with reusable case)
As far as packaging is concerned, this one takes the cake. It comes in a repurposed decommissioned US Army ammo case emblazoned with the words, "Make Wine – Not War." The price is steep, but you can reuse the chiller case and keep replacing the tri-laminate bag of wine inside. The portfolio of wines is pretty vast, with at least a dozen available at the moment, primarily from small California producers. The Chiller Starter Package comes with two bag refills and the reusable case; refills alone range from $48 to $97, significantly discounted when compared to the same wines in bottles. The 2008 Fagan Creek Pinot Noir is rich and earthy.
---
More wine stories from Food Republic: