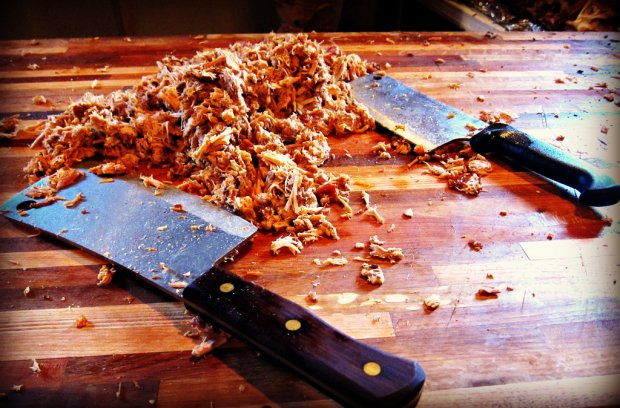 Restaurant survey kings Zagat released their first ever barbecue survey. Barbecue is a topic we've discussed at length through our Year In Barbecue series and various other stories about smoking meat over fire, so it's cool to see it tackled by Big Maroon. You can view all of the survey results via a slideshow format. Here are our biggest takeaways:
Barbecue still trails other cuisines in terms of popularity
Only 51% of those surveyed eat barbecue once a month "or less" — we're not sure if that last part means "ever." As in, 49% of those surveyed never eat barbecue? Regardless, people aren't rushing for ribs more than Mexican or Italian.
Texas barbecue is the favorite regional 'cue
This is not a shocker, with Texas pitmasters getting some serious attention as of late. 27% of those surveyed picked Texas as their favorite style. What's slightly shocking is that Kansas City came in second (16%). Also interesting: Eastern Carolina beat out St. Louis. Also, 19% registered a "don't know" vote, which is understandable — this stuff can get confusing.
Pork is the preferred barbecue protein
Around these parts we're big fans of cooking with pork. Hey, here are prime 20 reasons. The survey reflects this, with 36% of those surveyed choosing pork ribs. Beef brisket (24%) and pulled pork (21%) followed.
Baked beans, for real?
Apparently, baked beans are the top side dish (45%), with coleslaw (43%) and cornbread (32%) trumping mac and cheese in what we would call a criminal assessment. We love mac and cheese, period.
The editors at Zagat also pulled out 8 of the top barbecue pet peeves, which is a pretty good read if you ask us.
---
Read more about barbecue on Food Republic: