Just Call Sam Calagione Craft Beer's First Remix Artist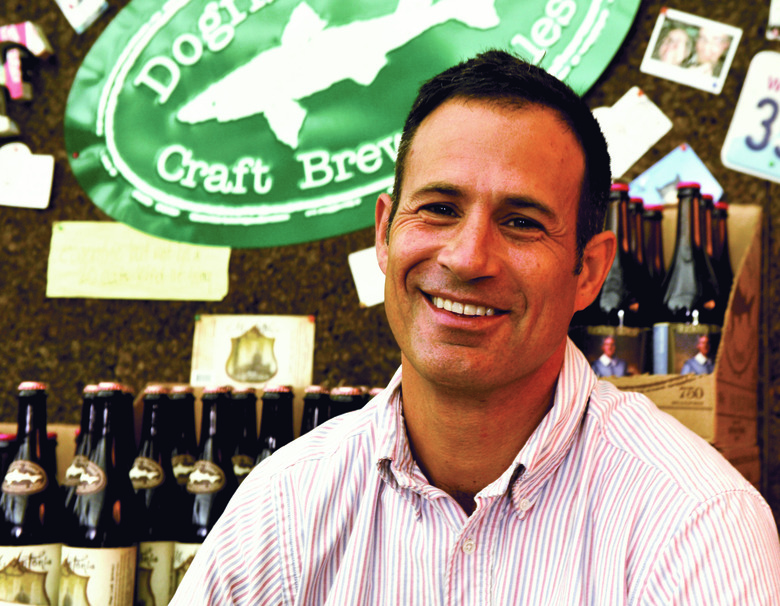 Sam Calagione limps into The Breslin in Manhattan on a recent Friday night, on the eve of the big craft beer fest Savor, and refuses a bar stool — citing a barking back, he insists on standing. There's not point in arguing with the man behind Dogfish Head, the craft brewery based in Delaware that the brewer/businessman started in 1995. By now, it's clear that Calagione does what he wishes, and if that includes combining red wine and beer in a bottle, then sending it to a friend who's a cult indie rocker to write a song about the beer and release the song on limited-run 10-inch vinyl, then so be it. Dogfish Head's accountants must scratch their heads a lot: these ideas don't sound like they'd make money on paper, but the brewery has roughly 200 employees and a growing portfolio that suggests massive success.
Calagione's pat-on-the-back demeanor makes him less like an interview subject and more like a drinking buddy — appropriately enough, I guess, since we were drinking his beers. At The Breslin, he greets other brewers in town for Savor, dispensing compliments before riffing on some of his most recent creations, Dogfish Head Sixty-One and The Noble Rot. Here, highlights from our chat, including more on these beers, his collaborations with Will Oldham and the Grateful Dead, Dogfish Head's new food line, Calagione's early brewing experiments and more from the man we're calling craft beer's first remix artist.
On Dogfish Head Sixty-One, the company's first new core beer since 2007, and labeled: "The continually hopped India Pale Ale with Syrah Grape Must*" (*Calagione describes grape as "like a pre-fermentation, so it's still kind of sweet and syrupy"). And on why it's a collaboration with indie singer-songwriter Will Oldham (of Bonnie Prince Billy and Palace cult fame)...
[Will]'s been a buddy for over a decade. We wanted to do a project together but it's hard because a beer from R&D to to release, it's like an 8- or 9-month process, whereas he's used to writing a song and recording it and sending it. So we were trying to match each other and he got frustrated that my gestation process is so much longer. We did a program where I'd send him a beer and he'd write lyrics around the theme of the beer within 24 hours and send me a song back, and then I would pick up the song and come up with a different beer based on the lyrics. It was so convoluted that we walked away from it. And then he emailed me back and was like, I've got blue balls on our collaboration; we gotta do this again but let's do it simpler. So I said, I've already done this recipe with my buddies: we'd get together in a bar and order some pints of 60-minute (IPA) and order the best Northwest pinot noir glass, took a big swig of our beers and then split the pinot noir glass, and drink this combination of IPA and pinot noir that we loved, so I decided to do it as a bottled beer. So he wrote a song called "Sixty-One," an original song around that theme, and then the flipside of the vinyl that he based if off is a cover of a 1950's sort of ballad-y doo-wop song called "60-Minute Man." So then we put out 1,000 copies of this 10-inch, and it's only available at our brewery when you buy a 4-pack — and it comes with a hug from one my co-workers.
On the inspiration for Dogfish Head's new food line, which includes beer-infused bratwurst, canned chowders and pickles...
We've been brewing with culinary ingredients since we opened in '95. Our original beers had raisins, beet sugar, chicories, licorice, brown sugar, maple syrup — and we originally opened in a restaurant so that we could serve our beer in the context of food because they're more wine-like in their complexity and food compatibility. So while we've always been a brewery-restaurant, we're more known for our beer because that's what we distribute. It took us 18 years for us to figure out [that we should] release a line of beer-centered food.
On The Noble Rot, Dogfish Head's beer and white wine combo...
With an English IPA base, this one would be a white wine of beer for us with a Belgian Saison base. So that's actually the most equal balance of a beer and wine you can have. It's 49.9% fermented from grapes and 50.1% fermented from barley. But the grapes are the botrytis-infected Viogner grapes from Washington state. Botrytis is like a mold that actually intensifies the sugars in the grapes and gives them more complexity. [The grapes] actually go for a premium. And now Dogfish is the biggest buyer of the Botrytis-infected grapes in the country, even moreso than wineries.
On when he first came up with the idea to combine beer and wine...
Well, in '95 we would cook all our food over a wood grill, and we tried to make a beer that was a perfect partner for wood-grilled steaks. So we looked at Bordeaux and big red wines that are traditionally paired with steak and tried to reverse engineer a beer based on that template. It was a big, spicy 8% Belgian beer made with raisins and beet sugar called Raison D'Etre — that was the first wine-influenced beer that we made. And then that led to us doing a beer called Midas Touch, which was based on molecular evidence found in a 2,700-year-old tomb in Turkey that proved that long before beers were made with barley, brewers were combining grapes and barley. So now we've done this whole line of ancient ales, which are these hybrids. Some of the beer-wine hybrids that we do are inspired by actual, tangible molecular evidence, and some like [Sixty One and The Noble Rot] are just based on our own creative whim of just combining ingredients.
On how the Dogfish Head team reacts to his constant stream of new projects...
Well I run Dogfish with my wife and 200 other awesome co-workers, and recently leadership did a bit of an intervention that was like, no new ideas for a year, Sam, let's just digest what we have going on. So other than the new ideas in the pipeline that I already got approval of, they grounded me. They put me in a corner and they grounded me. But what we have on the horizon is still a lot of new fun projects. We do a beer called Positive Contact, which is a Fuji apple beer — pressed Fuji apple juice and beer.
On the first batch of beer he ever brewed...
[It was] in an apartment 5 blocks from here [in Manhattan]! My [friends] were actors in a show called The State on MTV, a comedy sketch group. So when I brewed my first batch, Ricki Lake was in the room trying it. The guys who are now in Reno 911 and Role Models, they would rehearse in my apartment. It was cool to see they succeeded in their super-competitive, creative world too, and we're still great buddies. In the Reno 911 movie they're drinking Dogfish beer throughout.
On the state of the craft beer industry in America...
I think it's at an inflection point because there's so many craft breweries open. But that's a good thing. I mean when I opened Dogfish in '95, there was about one commercial brewery opening every week. And in that era there were 600 breweries. Today, there's 2,400 breweries and there's two commercial breweries opening every day. And some of them, it'll be economic Darwinism: they won't make it because they don't make good beer, consistent beer. But I think the vast majority of them will make it and the whole beer industry will continue to fragment, and there will be all these different models of success. The hyper-local guy that delivers every keg to 5 accounts from his shed; some regional guys like Dogfish; the national brands like Sierra. So as many different styles of great beer there are, they'll be that many styles of success. But it will get more competitive. It's definitely gonna get more competitive.
On Dogfish Head's next collaboration, with The Grateful Dead:
Once the band picked the base style [soliciting ideas on dead.net and dogfish.com], we did a contest for people to come up with the ingredient that people thought should go in the strong pale ale that the band chose, and the story of why the ingredient tied back to the Grateful Dead. We got almost 2,000 submissions. Even though it said on the site you couldn't do anything illegal, 23% of the entries were like "Weeeeed, 'shrooms," but the one that won, the ingredient was granola. So we're doing a strong pale ale made with granola. It's sort of the honey and almond–forward granola. It will come out in fall, we'll do an East Coast launch and then we'll go to Phil Lesh's place outside Oakland called Terrapin Station and do a launch there. It's called American Beauty — made with 100 percent American ingredients.