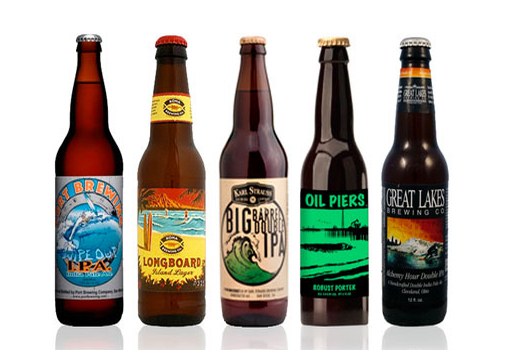 If you ever needed inspiration to strap your board to the roof of your car and hit the waves, check out these surf-themed beers, hand-selected for your shredding convenience by Surfer magazine. You'll probably want to stay out of the water after two or three. Fun fact: "Landlord" is surfer for "great white shark."
The criteria to make the cut? "Surfy names, or pictures of surfboards on the label, or some other means of cozying up to surfing's marketability." Fair enough. Let's dive right in with a road trip to the Surf Brewery in Ventura, CA to sample Oil Piers Porter on tap, where you can also try a wealth of other surf-themed beers.
Our favorite in the lineup has to be Longboard Lager from Kailua Kona, HI. According to Surfer (and this is awesome): "This would actually be a fine beer to drink while riding a longboard. It comes in cans too, so you could stuff one in the wax pocket of your trunks, crack it open after takeoff, and just stand there with your beer. God, that would be cool."
We should have asked Kelly Slater which one he'd go for.
More great summer beers on Food Republic: