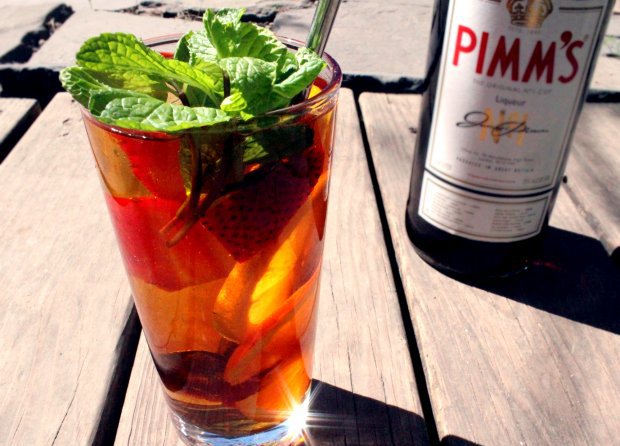 There are many reasons to love the summer. Beaches, picnics, boat trips, tennis at Wimbledon and the U.S. Open, outdoor concerts and music festivals, Fourth of July, Shakespeare in the Park. The list goes on. At the top of my list, though, is daytime drinking.
I have a philosophy for the benefits of drinking all afternoon. You start at 2 p.m. and are finished by 10 p.m. without having a hangover the next day. In other words, you can wake up and make brunch! I also find it more sociable than nighttime drinking, since it consists of some sort of activity that doesn't include sitting in a dark bar.
A great daytime drink is refreshing, easy-to-make and always ice cold. It's also a good idea for it to be semi-weak, since you'll be drinking all afternoon in the sunshine. Here are a few of my favorite daytime drinking traditions.
1. BRING OUT THE BLENDER!
One reason I love drinking during the day is it gives me an excuse to break out the blender. There isn't much you can't blend in a The piña colada is the ultimate summer blended drink. Invented in the Caribe Hilton in Puerto Rico, it's a simple mix of three ingredients thrown in a blender with ice and served with as many cheesy garnishes as you can fit in the glass.
Piña Colada Recipe
1 part Mount Gay Golden Rum
1 part Crème of Coconut (Coco Lopez)
Pineapple juice (or throw some fresh pineapple into your blender instead if you can — it will taste a lot better)
Crushed ice
Hit blend and pour into a hurricane glass. Garnish with a pineapple spear, cocktail cherry, cocktail umbrella, some sort of plastic monkeys and a flag.
2. DO AS THE ENGLISH DO
During the four days of summer that we get in the UK, we all hit the pub gardens and order a jug of Pimm's. Drinking the so-called fruit cups has been a tradition for centuries, and it's a perfect refreshing cocktail for daytime drinking. Plus, it's really easy to make and there are many simple, tasty variations of the drink. The English like to drink Pimm's on occasions such as Wimbledon and The Henley Royal Regatta. It makes its all seem rather proper, until you have had three or four.
Classic Pimm's Cup Recipe
6 ounces Pimm's #1
12 ounces ginger ale
Slices of cucumber, strawberries and fresh mint
Slices of lemons, oranges and apples. (Don't worry if you don't have all of the fruit. The idea is like sangria: get as much in there as possible and the drink will take on the flavor of the fruit)
Add ice to chill and pour into tall glasses to sip in the garden.
3. PUNCH UP!
Long before there was the mixed drink known as a cocktail, there was punch — a delightful "flowing bowl" of fine spirits mixed with teas, sugars, spices and citruses, to name a few of the most common ingredients added to the base alcohol. In short, punch has always been, and still is, a drink meant for sharing. The name derives from the Hindu word panch, which means "five" and refers to the number of ingredients used in the basic recipe of the drink: sour (usually citrus), sweet (most often sugar), strong (the good stuff, your spirit), weak (tea, for example) and spice (nutmeg is one of the most common ones used).
The Fish House Punch Recipe
(Invented in 1732 and said to have been enjoyed by George and Martha Washington)
1 part lemon juice
1 part simple syrup
4 parts Smith & Cross Rum
2 parts Cognac Pierre Ferrand 1840 Original Formula
1/2 part peach brandy
1/2 part Luxardo Maraschino Liqueur
2 parts freshly made green tea
2 parts Champagne (I know that Champagne isn't technically a spice but I don't hear anyone complaining)
Build all ingredients into a punch bowl, add ice and serve with a ladle into punch cups.
4. GET ACQUAINTED WITH BRAZIL'S NATIONAL DRINK
The Brazilians drink so much cachaça that their national spirit is the third biggest selling spirit on the planet (after vodka and soju). The most common way Brazilians drink cachaça is in their trademark cocktail — the caipirinha — which probably makes it the biggest selling cocktail in the world. Sorry, Cosmopolitan.
It is another really simple drink to make since all you need is sugar, limes, a bottle of cachaça, a muddler and some crushed ice. Brazil always congers up images of endless summer carnivals. Love Brazil.
Caipirinha Recipe
Cut a whole lime into wedges and place into a rocks glass. Add two spoons of fine sugar and muddle with lime wedges until it has dissolved into the lime juice. Fill glass with crushed ice and stir the contents of glass into the crushed ice.
Fill glass with a healthy measure of Leblon cachaça. You can add other fruits into the mix with your caipirinha such as berries or slices of mango and muddle them in with the limes and sugar. I personally like adding a few sliced kumquats or a sliced passion fruit.
5. GIN AND TONICS. BELIEVE!
Lastly, it would be very un-English of me to leave out the classic summer drink — the gin and tonic. All you need is gin, tonic and a slice of lemon or lime for the perfect hot weather drink. I like Plymouth or Beefeater gin mixed with either Q Tonic or Fever Tree Tonic. Or try out one of these American craft gins. Enjoy.
An earlier version of this column appeared on Food Republic on May 23, 2012.
More Drink Ford Tough columns on Food Republic: