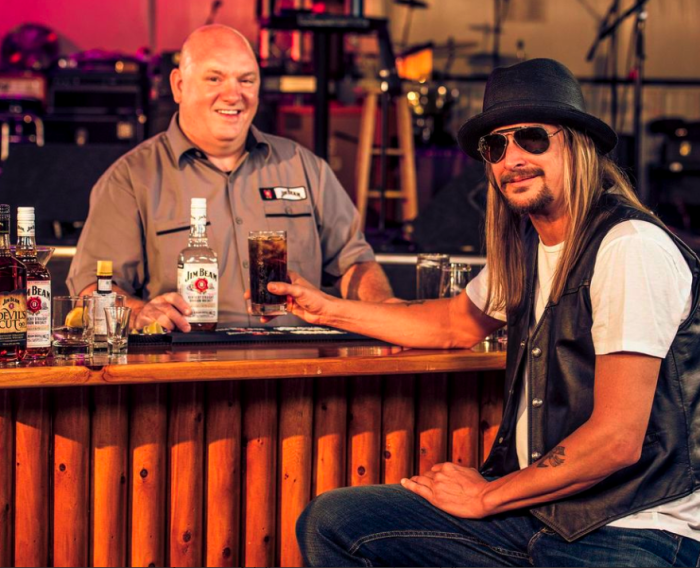 Is bourbon only good for shots? What's the deal with this white whiskey craze? And what's all this fuss about barrel-aged cocktails? There's no better person to ask any of these questions than Bobby "G" Gleason, Master Mixologist at Beam Global Spirits and Wine. Gleason has tended bar professionally in a variety of positions that have allowed him to travel the globe for the past 25 years, sharing his vast knowledge of booze creation and production. He has twice been named U.S. Mixologist of the Year and recently set a world record by mixing 253 cocktails in an hour. He's also serving drinks to Kid Rock all summer long, while the Detroit rocker tours the country (and looks for some help behind the bar). Yeah, Bobby's a G. We caught up with him to talk all things bourbon and to learn a few recipes.
What's the first word that comes to mind when someone says "bourbon"?
Happiness! It also says "America" to me. It is our national spirit, after all. It's really tied to America and to our national history.
What are some misconceptions people make about the spirit?
One misconception is that it's only for shots and that's just not true. A lot of classic cocktails feature whiskey and bourbon. The other misconception out there is that it's a man's drink. There are a lot of women that enjoy bourbon as a drink, and more so now than ever in history.
Why do you think that is?
I think that women are really starting to appreciate the taste. That's coming along with bartenders creating more cocktails with bourbon. Rather than women not drinking straight whiskey — and some of them do — they're finding that they enjoy the flavor in something as simple as a bourbon and ginger ale.
What's your favorite thing to mix bourbon with?
A lot of times people say, "Oh, you're a master mixologist, it has to be tough for you to drink." I'm like, "No, not really. It's pretty easy because I know what I want!" My fallback is Jim Beam Black with ginger ale in a tall glass with a couple dashes of bitters.
What about the most traditional drink?
A Manhattan. If you look at its history, no one really knows for sure whether it was bourbon, rye whiskey or Canadian whiskey. What I enjoy most about the drink is that it really showcases the nuances you can find in each brand of bourbon. You can make a Manhattan with Knob Creek and get the boldness and really rich flavors of the spices that come through with the aging. If you make it with Maker's Mark, you get cherry notes. When it comes to mixing bourbon with something that really shocks people, my favorite is a Bloody Mary. People can't imagine bourbon in a Bloody Mary but I insist that they try it. Their reaction is always, "Oh man, that is delicious!"
There's been a lot of buzz about white whiskey. How should people drink it?
Most people think, "This is going to be moonshine" when they hear the term "white whiskey." There are some un-aged white whiskies on the market, but our product is nowhere near moonshine and it is aged for a full year in a brand-new charred oak barrel. Bartenders often don't know what to do with it. While it does work for traditional whiskey cocktails, especially highballs, I think about it in traditionally vodka-style cocktails, like a Cosmopolitan [see below for recipe]. Again, it makes a good Bloody Mary. You can substitute it in a rum-based drink, like a mojito, or a tequila-based drink, like a margarita. Bartenders are finding that it is extremely versatile.
So you think we'll be seeing a lot more of it in coming years?
I don't think it's going to be the next vodka, but it's going to have a niche. A lot of traditional bourbon drinkers look for colder months, and this gives them more of an opportunity to enjoy whiskey in the summertime, during the day by the pool.
What do you think of barrel-aged cocktails?
I'm not really a fan of them because the best thing about good cocktails is consistency. You never really know for sure what kind of an impact a barrel will have on your cocktail. Is it a charred barrel? Is it used? What was in it before? Where are you keeping it? There are people making barrel-aged Manhattans, but vermouth is a wine-based spirit and starts to oxidize after a while. That's going to affect the flavor. So, I think it's a small trend for a very small percentage of bars. I think that it gets a lot of press because the guys doing this are the guys who are really trying to do something different all the time.
What trends do you foresee for bourbon in 2013 and beyond?
I like pairing fresh fruits and berries with different herbs and spices. That's been done in all cocktail categories, but bourbon is really starting to show up in a lot of things and it's an eye-opener when you make a cocktail for people and they say, "This is bourbon? Wow, that's cool!" Innovation drives sales and we have Jim Beam Honey coming out. I think that's going to be the drink of New Year's Eve this year. At least, it will be for me [laughs].
Try out these two recipes from Bobby:
Ghost Cosmo
2 ounces Jacob's Ghost White Whiskey
1 ounce orange liqueur
1 ounce white cranberry juice
1/2 ounce fresh lime juice
Build all ingredients over ice in a mixing glass, shake and strain into a chilled glass. Garnish with a lime wheel.
Ghost Manhattan
3 ounces Jacob's Ghost White Whiskey
1 ounce Martini & Rossi Bianco
2 dashes Fee Brothers cherry, orange or peach bitters
Pour all ingredients into a mixing glass and fill with regular ice. Stir all ingredients and strain into a chilled cocktail glass. Garnish with a lemon peel or cherry.
Check out these interviews on Food Republic: