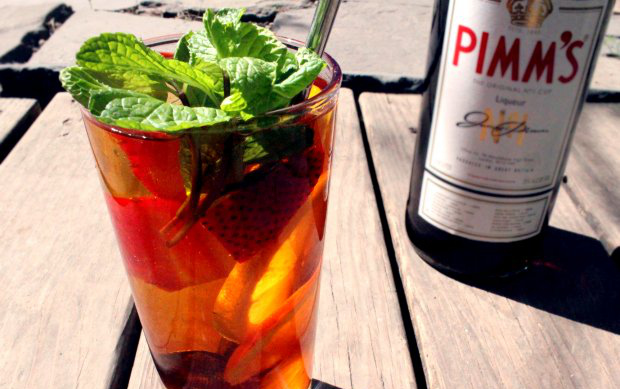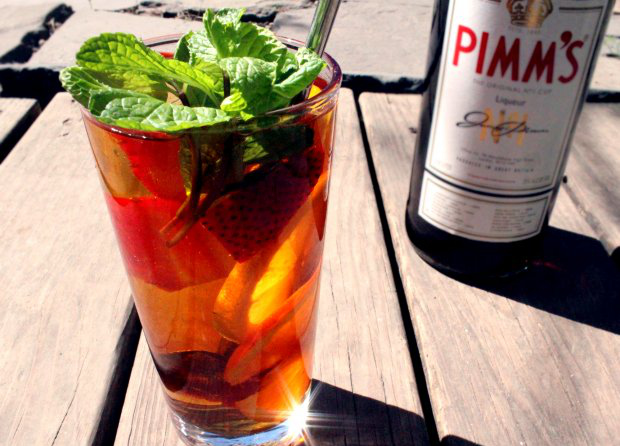 For each of the three years I spent in London, my first Pimm's Cup of the season marked the beginning of summer. You could order it in the dingiest pub and it would come out looking like a sunny holiday: iced tea-colored and far too drinkable, a bittersweet and spiced elixir topped with "lemonade" (read: 7-UP) or ginger ale.
It's the kind of drink that causes your bar companions to look over, a little piqued or downright dying inside they they didn't order one, too. What's not to envy? It's refreshing, fruity, a little fizzy and usually comes packed with slices of cucumber, orange and strawberry to snack on. Often, a sprig of mint is added for aromatic flair.
In this era of cocktail snobbery, classic recipes are guarded as solemnly as nuke codes and whoever has the most traceable pedigree wins the bragging rights to authenticity. But the Pimm's Cup is different. Variations on its nearly 200-year-old formula are embraced. First created in 1823 by James Pimm, an oyster bar owner who envisioned a perfect pairing for his briny bivalves, Pimm's was a gin-based elixir laced with bitter and spiced botanicals and served as a type of highball known as a summer cup. The liqueur was eventually branded Pimm's No. 1 because, over the years, Pimm's Nos. 2 through 6 were developed, each based on a different spirit, including scotch, brandy, rum, rye and vodka.
Today, a brandy-based Pimm's Winter exists, as does the new Pimm's Blackberry and Elderflower. But what we know best is the original:
Classic Pimm's Cup Recipe
Ingredients
6 ounces Pimm's #1
12 ounces ginger ale
Slices of cucumber, strawberries and fresh mint.
Slices of lemons, oranges and apples.
Directions
Add ice to chill and combine in a tall glasses.
And here are seven ways to flip the script:
1. Hit the fruit stand
Spruce up your cup with raspberries, blackberries, cantaloupe, honeydew, celery, even jicama sticks. Or let the season inspire you and do strawberry and rhubarb now, then graduate to peaches and black cherries in a couple weeks.
2. Raid the herb garden
Replace the sprig of mint or add to it. Rosemary and thyme bring out some of the other aromatics in the glass – the heady spice or brighter citrus peel notes, respectively. And all that greenery sure is pretty to gaze at.
3. Grab a beer
Some people swear by ginger ale instead of Sprite or 7-UP (what the Brits call lemonade). Spice up your Pimm's and ginger ale by replacing the ale with beer. Ginger beer is even more intensely flavored with an added bite. A Pimm's Cup for the brazen.
4. Embrace the SodaStream
Play with the soda component even more by making your own. Cook up a lemon or ginger syrup or try a pomegranate or even a subtly spiced honey syrup. Then, build your Pimm's Cup with homemade seltzer.
5. Go bubbly
Dispense with the soda altogether and top your Pimm's with a brut sparkling wine. Prosecca, cava or your favorite homegrown spumante is sure to add sparkle to your happy hour. Tangy yet palate-cleansing, James himself couldn't have come up with a better oyster match. You might even replace your mid-morning mimosa with this variation.
6. Spike it
If you're going to go boozy, why not go hard? Pimm's is just 25% ABV so it can stand a little extra kick. Some people build their cup with gin in addition to the gin-based liqueur. But you can spike yours with rye whiskey to boost the spice component, rum for a sweeter cup or even tequila to play off the herbal aromatics.
7. Go flat
Fizz isn't fun for everyone. If you prefer to avoid effervescence, make your Pimm's Cup with fresh citrus juice and lightly sweetened iced tea. The result is a decidedly adult sweet tea with an extra tangy, herbal dimension to it. The pinnacle of patio sipping.
Check out these Drink Better stories on Food Republic: