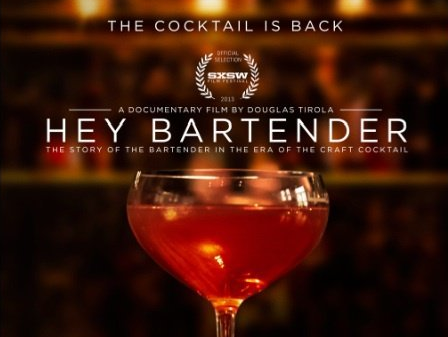 At the beginning of the last decade, I was tasked with assisting in the U.S. launch of Plymouth Gin, a spirit that back home in the UK had really captured the hearts of the bartending community. It was our hope that we could replicate the success on the other side of the Atlantic. Alas, when I arrived stateside carrying a suitcase filled with gin, I discovered a bar scene obsessed with carrying hundreds of vodkas. While the search for a decent cocktail was not easy, it was not impossible either, as there were a small group of passionate individuals mixing fantastic drinks and, unbeknownst to themselves, pioneering a movement.
After a stint at Blackbird with Dale DeGroff, Audrey Saunders was crafting a world-class drinks program into the Carlyle Hotel in New York and Julie Reiner was getting ready to open her first NYC bar, Flatiron Lounge. Jim Meehan was mastering the arts of culinary cocktails at Gramercy Tavern and Eben Klemm and Eben Freeman were showing New York City the delights of molecular mixology. Then, of course, there was Sasha Petraske's phenomenally influential hole in the wall, Milk & Honey, which was already in full swing and inspiring its patrons in the delights of a well-crafted classic cocktail. More bars followed, including The Pegu Club, Employees Only, PDT and Death and Co. New York City was beginning to rekindle its former position as the best cocktail city in the world and was inspiring other cities to do the same, though the movement was not just confined to the city. The West Coast was also contributing its own spin to a resurgence of drinks utilizing fresh ingredients through bartenders such as Tony Abou-Ganim and Murray Stenson. Of course, these days, it is hard to find a city in the U.S. where you cannot get a decent handcrafted cocktail, but this was not the case when I arrived with my suitcase of Plymouth.
The story of the resurgence of the craft cocktail and how a generation of bartenders rediscovered the art of bartending is a movement I was lucky to witness from the front line. Therefore, when I attended this week's West Coast premiere of the documentary Hey Bartender, I was both excited and happy that director Doug Tirola is telling the story of how the cocktail scene transitioned from the disastrous sweet concoctions you were likely to drink in the 1970s to the classic and creative drinks being served at countless bars across the world today. Of course, a part of me had secretly prepared for some disappointment, just in case the film did not give the cocktail movement the story it deserves. Only five minutes in, however, I realized that I had nothing to worry about. This is a documentary that is dedicated one hundred percent to capturing the lifestyle of bartenders.
Hey Bartender has two storylines — the first is the journey of two bartenders. It follows Steve Schneider from his position as an apprentice to principle bartender at New York's famous drinking den Employees Only, as well as struggling Connecticut bartender/bar owner Steve Carpentieri as he searches for new ways to bring business to his bar. For two different reasons, their paths eventually cross in New Orleans at Tales of the Cocktail, where they are both headed for the first time for, again, different reasons.
The second story that Hey Bartender tells is the one of the cocktail resurgence – from Dale DeGroff to present day, with some flashbacks to the pre-Prohibition glory days. Through interviews and storytelling, you find out how the documentary's cast of characters changed the way people consume spirits today. It is a tale of dedication and hunger for knowledge, as well as a thirst for fun and cocktails.
Timing is everything, and arriving to the U.S. when I did gave me the chance to watch the rebirth of cocktail culture here. I feel lucky to have become great friends with many of the accomplished people that Hey Bartender celebrates. I believe that Tirola has done an amazing job of telling a story that I have always wanted someone to tell: the one of the bartender. If you have ever been curious as to how cocktails got to be so good or what it means to live the life of a bartender, you should take 90 minutes out of your life to watch this documentary. I feel that we have thousands of insights into the life of a chef, and that here finally is your chance to see what it means to be a bartender. I think you'll be pleasantly surprised.
Check out Hey Bartender's Twitter page for limited showtime information. The documentary is also available on iTunes and Amazon.
Read more Drink Ford Tough columns on Food Republic: