This Business Doesn't Stink: The Story Behind Mrs. Kim's Kimchi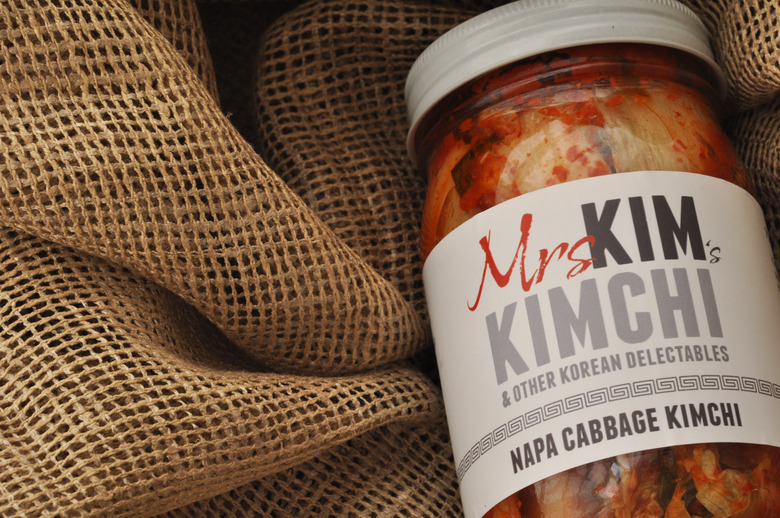 Welcome to What's Your Story?, a new feature about innovative entrepreneurs in the food industry. What goes into the launch of a new food brand, how is the product made, who designs the packaging? All these questions, answered...
According to Gina Kim, a second-generation Korean-American and executive assistant at a private equity firm in Manhattan, there's no kimchi quite like her mother's. Gina had noticed that Korean cuisine was becoming increasingly popular in the U.S., and soon conceived of a creative way to cash in on the trend. In 2011, she turned to her mother for the family's traditional kimchi recipe — and ever since, the founders of Mrs. Kim's Kimchi have been selling kimchi by the truckload in the Tri-State area, with plans to expand nationwide.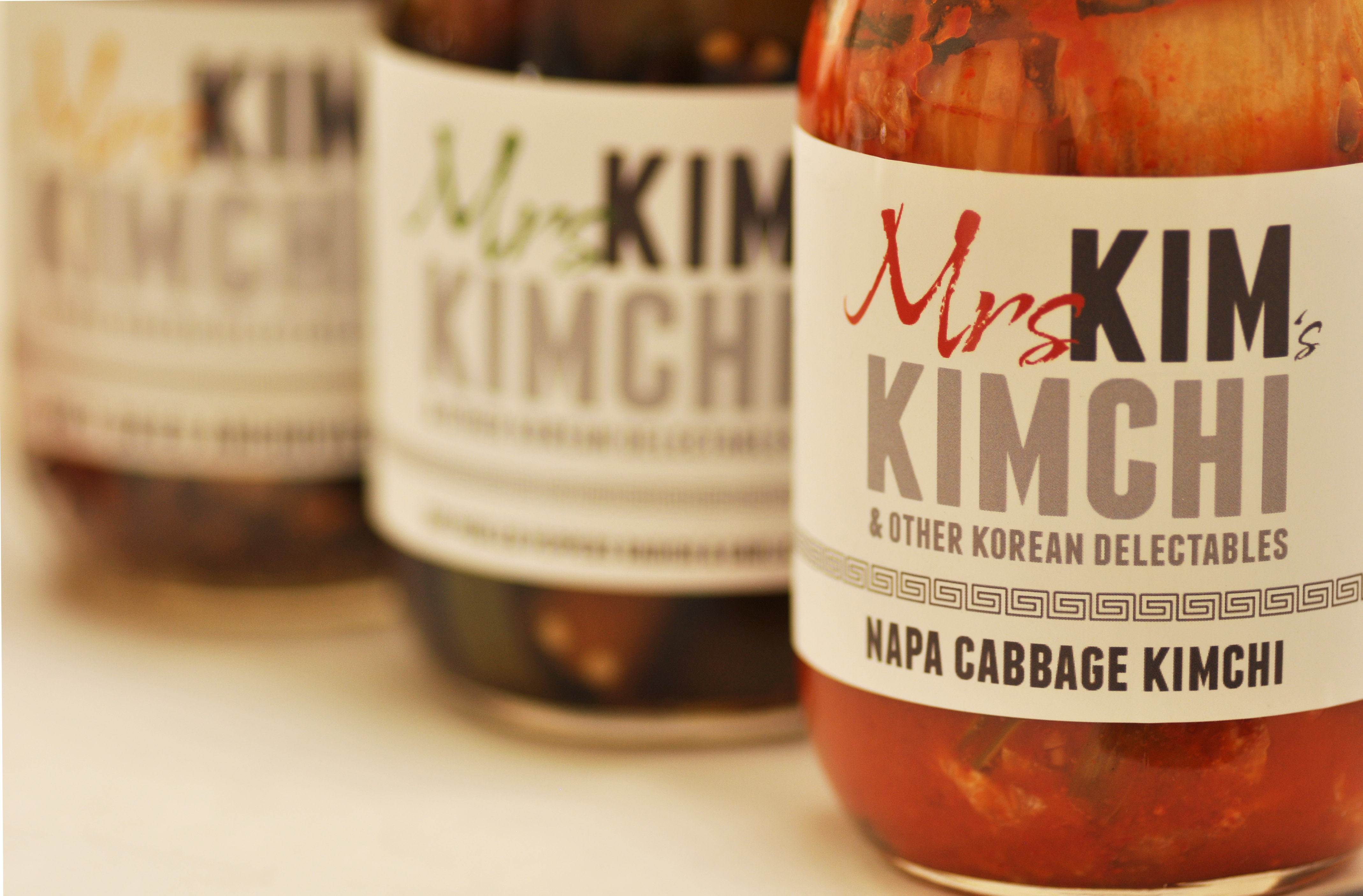 Gina designed all the Mrs. Kim's Kimchi branding herself. [/caption]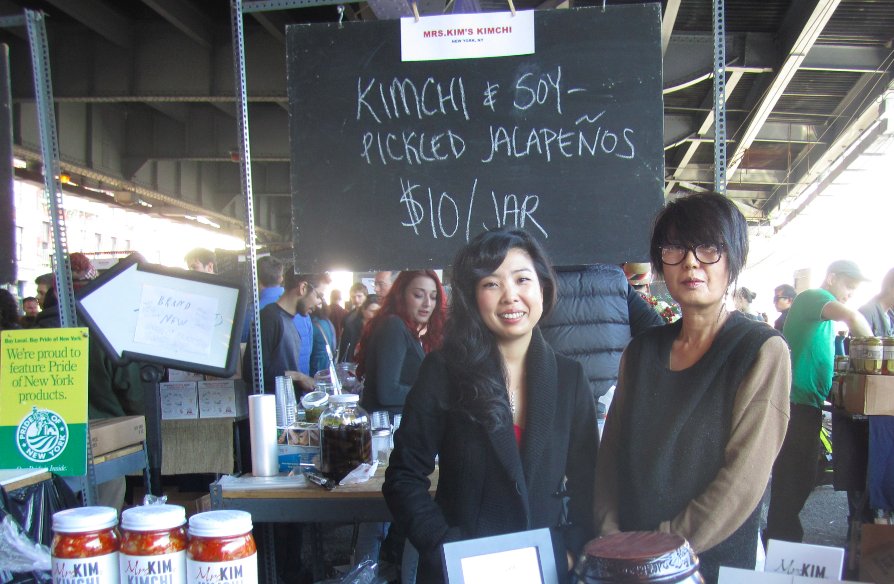 Founders Gina Kim (left) and her mother Hee Kim (right) at the very first market they participated in. They sold out of kimchi.[/caption]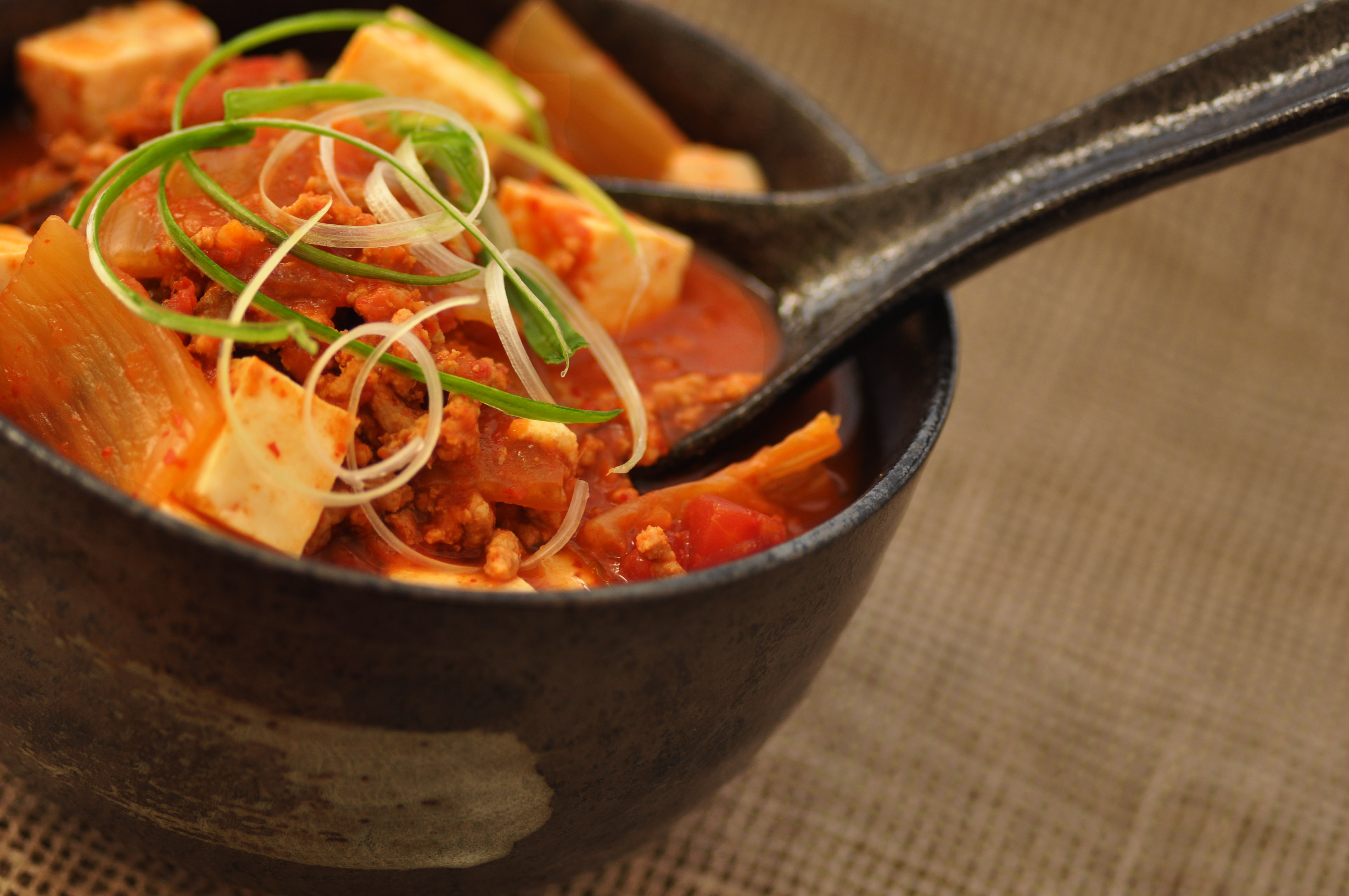 When cooked, kimchi becomes even more pungent. Here, it is used in Soondubu jjigae, a Korean soft tofu stew.[/caption]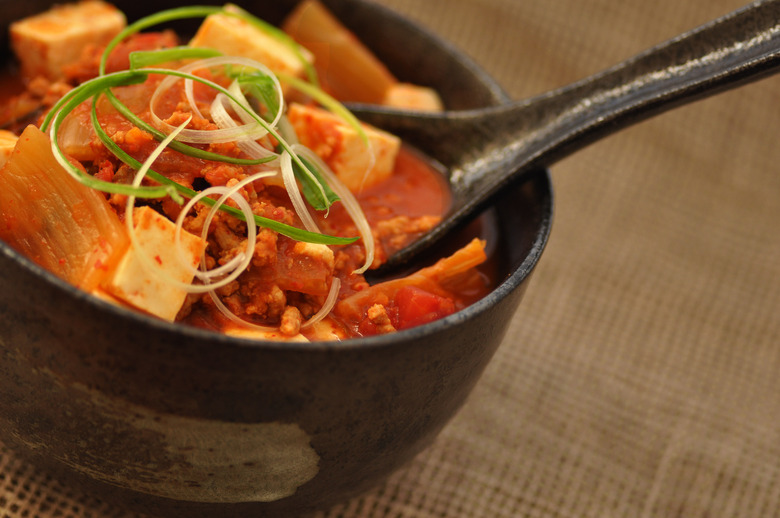 Kimchi also makes a great addition to pizzas, burgers and mac and cheese.[/caption]
We recently sat down with the younger Kim (or Lil' Kim, as Mrs. Kim's Kimchi fans have affectionatly began referring to her), to talk Korean cuisine stateside and what it's like starting a business with your mother.
How did you go about launching a company that makes kimchi?
As Korean food started becoming increasingly popular a few years ago I noticed that no matter where I went, I couldn't find anything as good as my mom's kimchi. So, we were talking one day and I said "Mom, your kimchi is the absolute best, and I'm not saying that just because you're my mother. We should try to get a market with this and see what people think."
From there, my mom worked on perfecting her kimchi recipe for two years, and then we started selling Mrs. Kim's Kimchi at markets all over NYC. Now, we've expanded to retail, with stores carrying the product all over the Tri-State area.
So why is kimchi so great to eat and cook with?
Kimchi is the centerpiece of Korean cuisine. Everything revolves around kimchi. If the kimchi is not good, then the meal is not good. My mother always said it all starts with the kimchi. You can have a bowl of rice, and whatever meat, and the meal would be magical with great kimchi. It's where Korean meals start.
The thing about my mom's kimchi is that we don't hold back on spices. It is what it is. Take it or leave it. We don't tone down the spices, we don't have a vegan version or any of that. We really wanted to come our with something that's very representative of what Korean cuisine is all about which is a marriage of very pungent and exciting flavors, and that's what our product has become.
How was your recipe created?
My mom made kimchi every week for two years. She would try something a little different every time, and we would have family and friends taste test it. Then it got to a point where she couldn't possibly make it any better. She's a total perfectionist. Even though I would think it's great, she would always come up with something different. Just the smallest little thing. Then finally, after two years she's like okay, it's perfect, I'm done! From there we did all the legal stuff, and then started jarring the kimchi and selling it at local NYC markets.
So what exactly is inside a jar of Mrs. Kim's Kimchi?
Napa cabbage, chili flakes, anchovy sauce, salted shrimp, garlic, ginger, scallion, Fuji apples, Asian pears and beef stock.
What's your favorite thing to put kimchi on?
Of course all traditional Korean food, but I also love putting kimchi on all sorts of crazy stuff. I make an amazing kimchi macaroni and cheese. I also mix kimchi with cream cheese in the blender. It tastes kind of like pimento cheese or a spicy artichoke dip. It works great on bagels and burgers, I also bake it right on top of pizza — the possibilities are endless. I think what a lot of people don't know is that when you cook kimchi it actually brings out a lot of the flavor.
In Korea, there's this trend where people are putting American cheese inside their ramen along with kimchi. I haven't had the courage to try that, but cheese and kimchi also go great together.
There are a few commercial kimchi brands out there. What differentiates your product?
Our kimchi is more robust. We don't hold back on all those stinky ingredients. We put it all in there. My dad prefers kimchi that's milder. Sometimes he doesn't eat my mother's, and we're like, "You're such a traitor!' But that's how my mother always made it. It's a very traditional way of making kimchi.
Did you have any experience in food manufacturing?
No, I didn't. But around 15 years ago my parents used to run a Korean pub in Koreatown. I was that kid who sat and did their homework in the corner at the back of the restaurant. But neither of us had been in the packaged goods industry. It's been a learning process!
What are some of the challenges of working with your mother?
We get along really well. We're best friends. Sometimes we'll have little arguments, but for the most part we get along and have this way of reading each other's minds.
What has been your proudest moment?
Probably selling out at our first market! That was overwhelming. People were on top of us. My mother was just cracking up the whole time. She was saying, "People would come over to my house and they'd say, 'What's that smell, it's disgusting!'" People had such an aversion to kimchi and after just one generation it's completley turned around. It really opened up my mother's eyes. It's incredible that people have become so open to Korean cuisine. Now people come to our booth and they're like "What's that great smell? It's so stinky and awesome!"
Who designed the packaging?
We went through a couple of iterations, but I designed it all myself. I've always loved graphic design; it's always been my first passion. We wanted to go with a feel that was more contemporary, yet traditional in the sense that kimchi is, so we went with a red, black and gray color scheme.
What's behind the name, Mrs. Kim's Kimchi?
Mrs. Kim is my mother, and our fans have started calling me Little Kim [laughs].
What are your plans for the future of the brand?
We are working on product extensions. We want to get into Whole Foods and Dean and Deluca. We're still small and starting out right now, and it's a little bit of a challenge to juggle everything with my day job, but that's the direction we're heading in. During the day I'm an executive assistant at a Midtown private equity firm and at night, I'm chopping cabbage and doing prep work for the kimchi, so that's my double-life!
What advice would you give someone who's starting a specialty food company?
I would say don't think too much and just do it. Get it out there, have people taste it and everything will fall into place. You'll make plenty of mistakes, but it's all about trial and error!
Do you know of a company with an intriguing, original history? Let us know at editorial@foodrepublic.com and we'll consider your suggestions for future installments of What's Your Story?
---
Previously in What's Your Story?