Sam Edwards Tells Us How Virginia Peanuts Are Key To His Legendary Ham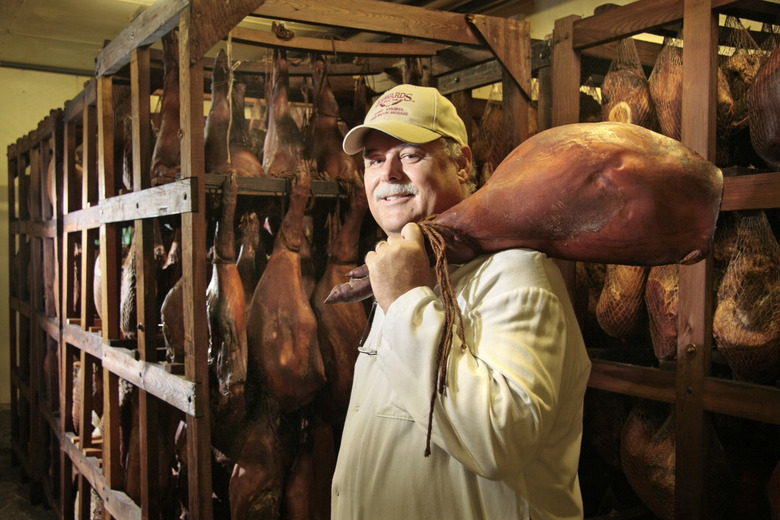 If you're a prosciutto snob or smuggle Ibèrico in your checked bag, domestic country ham is the next haute thing to add to the charcuterie board. Sam Edwards is a 3rd-generation Virginia country ham curemaster based in Surry, VA, a region known for spectacular cured pig. And for the record, country ham refers to ham that has been dry-cured and loses a minimum 18% of its fresh weight, as required by the USDA — but their Great American Country Ham loses 30%. That's a very good thing.
And just like the acorn-fed pigs of Italy or the olive-fed pigs of Spain, Sam Edwards' pigs feast on Virginia's abundant peanuts, which gives the produce a unique terroir of sorts. I spoke with Edwards to talk about this diet, raising heritage breeds and what a nice swim does for the pigs' morale.
Are your pigs heritage-breed?
We buy as many of the heritage breeds as we can find, always certified humane. We like the Berkshire breed because the majority of fat is bred out of commodity hogs, so the Berkshire are fatter, and we've learned to like some Tamworths and Red Wattles from a few farmers in the Midwest. When you're dry-curing a ham you can't have it too lean or it comes out almost like jerky. In the 90s when the shift to the other white meat happened, it took us about five years to figure out what the heck was going on. I didn't think it would have such a negative impact on the finished product, so we started calling up places looking for fat pigs.
Why is Virginia so famous for country hams?
As early as the 1750s, people in Surry were curing hams to send back to England. So Virginia became known for that product. If you look at Spain, Italy, Germany and Virginia, we're within the same latitude range with similar weather patterns. Maybe just by luck we're in a region that produces the best-tasting cured meats.
You say your methods are hundreds of years old. How many hundreds?
American Indians had figured out how to dry-cure wild game, then the settlers landed here in Surry — we're only four miles from Jamestown. On our side of the river is Hog Island, where the settlers brought up their pigs. Whenever they needed pork, they would come across the river and slaughter. That got handed down over the generations over 400 years, and my dad was taught by his dad, who was taught the nuances of making a better ham. People miss what they grew up on.
What are your thoughts on the Serrano and Parma curing methods?
I've been to Spain to see how they do it and I plan on going to the Parma region, but this is not rocket science. They are very similar processes. Everybody has their own terroir, but the bacteria and other flora in the air are going to produce a different product. it's controlled fermentation, like what happens with cheese or wine.
Speaking of terroir, you feed your pigs peanuts for a richer, more flavorful finished product. Is this an old technique?
We started that project about five years ago. First peanuts comprised 5% of the diet, then 10% and so on until we figured out 30% was the ideal number. The rest is soybeans and corn, plus grass and what the hogs forage while roaming in the woods.
From the 1800s through the 1950s, Virginia was considered the "peanut belt," producing fancy jumbo-grade peanuts. In the good old days they'd harvest them, then let the pigs roam after harvest to eat the remaining peanuts. In talking to some old-time farmers, we started doing the math and over five years we adjusted and tasted. If you feed them too many peanuts, the meat will become flabby. We went too far at one point and the hams were like Jell-O when they were fresh and didn't cure out well. On this peanut diet, by the time the ham has aged 18 months and you slice in, the meat is moist and oily, but still firm.
What if you're allergic to peanuts?
A doctor at Kansas State University did a study on peanut-fed pigs. The allergen aspects of peanuts do not pass through the hog's body.
So they're peanut-fed heritage pigs who roam in the woods. Sounds like a good life.
We actually have pigs who can swim, we joke about it. Because they don't like hot weather, they get a little panicky, so when there's rain, the pigs go swimming in a low spot in the corner of the woods. The farmer joked he'd charge more because they knew how to swim.
You can find Edwards' Surryano hams and other porky treats at Virginia Traditions
More Knife and Pork on Food Republic: