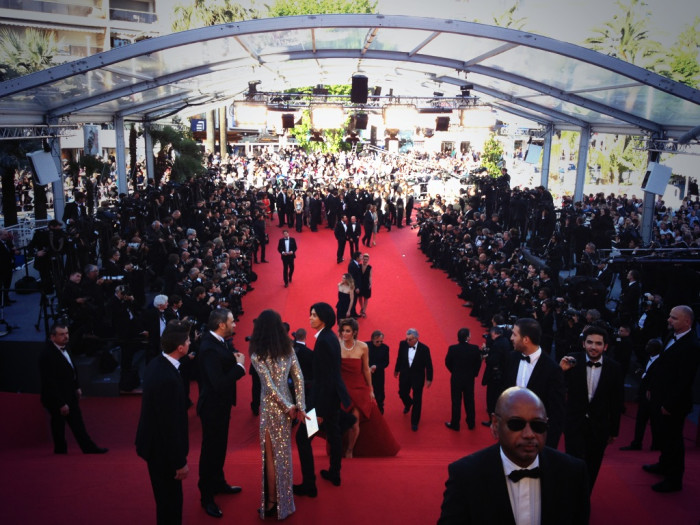 The Cannes Film Festival last month left me with some indelible memories, and for you and my friends at Food Republic, I brought back a souvenir (see below). But first, let me tell about my glamorous experience. From staying at the celebrity-studded Grand Hyatt Cannes Hotel Martinez (which was flanked by photographers and hopeful fans around the clock), to wearing a beautiful dress by one of my favorite designers, Gary Graham, to walking the iconic red carpet at the premiere Blood Ties, a gritty 1970s Brooklyn-based drama by celebrated French director Guillaume Canet; spending 24 hours at the Cannes Film Festival was an intensely surreal, unforgettable, whirlwind affair.
The food and drink weren't bad either. After the premiere, I had a tasting menu at two-Michelin starred La Palme d'Or, and delicious cocktails at pop-up bars on the Promenade de la Croisette. The next day involved lunching on a yacht on the Riviera.
To bring a little taste of Cannes back home, I asked Max Warner, Global Brand Ambassador for Chivas Regal, to share one of the original recipes he created for The Great Gatsby film premiere party, which took place on Cannes' Opening Night.
"The Jay Gatsby cocktail was created to bring a modern twist on a decadent American classic," explains Warner. "I took inspiration from the Blood and Sand cocktail, first created in 1922 to celebrate Rudolph Valentino's bullfighter movie of the same name, and switched a couple of key ingredients to bring it into the 21st century. Inspired by Cannes, I changed the Italian Vermouth to the fortified Lille rosé, which is synonymous with the French region. Similarly, I swapped the orange juice to apple, to complement the flavours of Chivas."
The Jay Gatsby
Servings: 1
Ingredients:
30ml Chivas 12
30ml Unfiltered apple juice
30ml Lillet rose
30ml Cherry Heering
Fresh cherry
Simply mix the ingredients (minus the fresh cherry) in a cocktail shaker. Add plenty of ice — using large cubes to avoid dilution — and shake vigorously. Decant into a chilled martini glass, taken straight from the freezer and serve.
Chivas Regal 25, official partner to the Cannes Film Festival, hosted the 24-hour luxury experience.
More Field Reports on Food Republic: