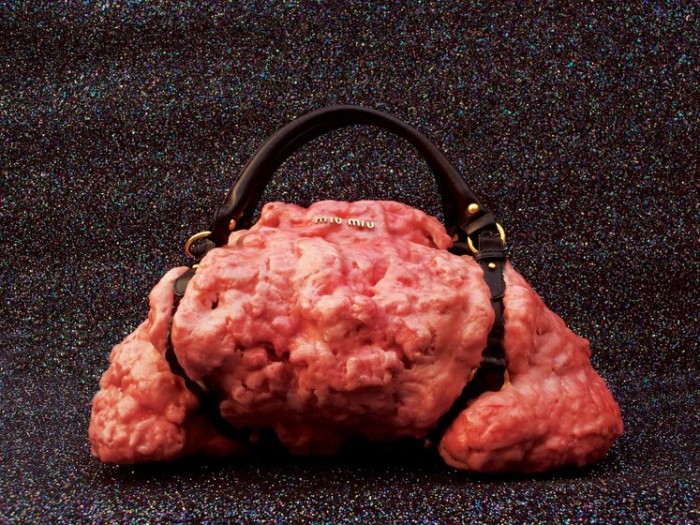 Here's Louis Vuitton like you've never seen it before… Luxury fashion accessories and shoes are getting the rarefied treatment (literally) at this Los Angeles gallery show showcasing iconic items from designer labels in the form of raw meat.
For her solo show, "The Burdens of Excess" at LA's Gusford Gallery, the London-based artist and sculptor Andrea Hasler created to-scale replicas of now-familiar status symbol accessories by Gucci, handbags by Christian Dior, Louis Vuitton, Miu Miu and shoes by Jimmy Choo using wax "meat" as her primary material. The show is intended to reveal the push and pull between attraction and repulsion — and the ease in which the two can blur.
While the luxury items function as obvious symbols for the grossness of excessive consumption, Hasler's decision to render them from raw meat also makes us think of our culture's all-consuming obsession with food these days — not to mention the rising costs of food products in general. Is a future in which a steak dinner costs same as a Vuitton wallet that far-fetched?
"The Burdens of Excess" opens this Friday (tomorrow, June 7) and runs through August 10. Check out a few of Hasler's images below.
All images courtesy of the artist and GUSFORD | los angeles.