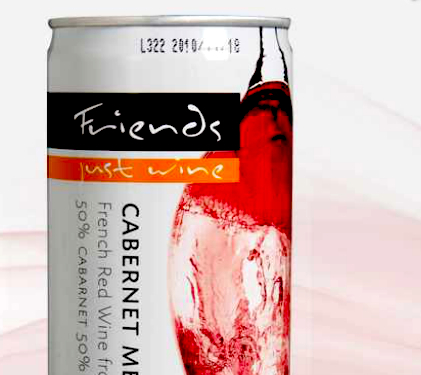 Listen up, frequent fliers! Spirit Airlines, everyone's favorite low-cost way to fly, now charges $100 (or a regional one-way ticket) for a carry-on bag. But don't worry, they're bringing a fancy new way to de-stress onboard that might make up for not being able to afford checking OR carrying on a bag. Confiscating your possessions at the gate and making you wait for them at baggage claim is still free, though. Let's raise a can of wine to that.
So what is this stuff? It's the strawberry moscato and "white" offerings from Friends Wine In A Can. Moscato! Isn't that the stuff rappers love? Yes, but this particular one still comes in a can, so don't expect Lil' Kim to crack one open any time soon. And while you're supposed to avoid anything alcoholic, carbonated or, uh, overly sugary on a plane to fend off dehydration…hey, canned wine!
It's not a ridiculous move — cans weigh less than bottles and can be stacked more efficiently for your "getting blackout on a plane" convenience. Strawberry moscato technically pairs well with M&Ms and colby jack alike, where as "white," well, just consider the possibilities. Pringles, uh…soggy turkey wrap…
Moral of the story: your travel essentials — clothes, toiletries — are burning precious jet fuel. Pony up or switch airlines. Here's a can of wine to help you mull it over. That'll be $7.
More travel tips on Food Republic: