Should You Drink Organic Beers This Summer? Yes, These Beers!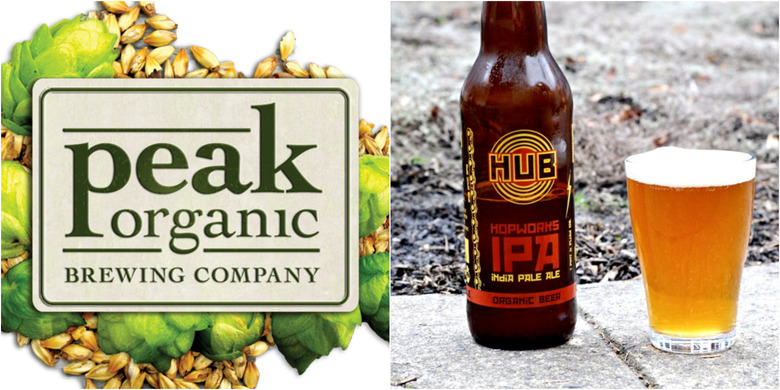 Many craft breweries have sustainability down, but a select few take it a step further, producing their beer organically. Organic craft beer is an industry on the rise; it's grown by more than $30 million in the last decade. There's even a North American Organic Brewers Festival in Portland, Oregon. The benefits are clear: it's healthier, it contributes to sustainability and it keeps both workers and wildlife safe from pesticides. If all this is true, why don't we see more of it? The truth is that it's demanding and expensive to be certified organic, and as of January 2013, a beer needs both certified organic hops and yeast to qualify.
We applaud commitment to environmental responsibility. Even if only for a single beer out of a brewery's entire line, you can still drink something good and feel good about what you're drinking. While some say you can't taste the difference, in the end it's better for the economy to support small farmers, and it's better for you to consume healthier products. What you can rely on organic beer for is to contain safe, healthy and high-quality ingredients. And hey, they taste really good, too! Here are 10 organic craft beers that get the green light from us.
1. Hopworks Urban Brewery: Hopworks IPA
If you needed any convincing that organic hops or malt can hold their own, here's your winner. Hopworks IPA from this excellent all-organic Portland, Oregon brewery with a big commitment to sustainability (they're 100% renewably powered) has a piney, fruity, hoppy aroma. The taste is big on malt but the citrusy, earthy hops end up taking over in the end. A must try for hop-heads!
2. Logsdon Farmhouse Ales: Kili Wit
The best breweries take a simple style and create something remarkably special. Logsdon has done just that with their Kili Wit. It's one of the few Logsdon beers that doesn't use fruit as an ingredient. It's a little funky, but big on the lemon, coriander and pepper. Here, they turned to Oregon hops and barley malt, mixed in a little African spice and came up with one of the most refreshing and drinkable (only 5.5% ABV) witbiers around.
3. Jester King Craft Brewery: Das Überkind
Jester King from Austin, TX is unique not just because of their commitment to organic ingredients but their specialization in farmhouse ales: this one is a USDA organic, too (you can check their website for a full breakdown of components). This Organic Vieille Saison is aged for months in oak barrels, giving it a funky, fruity tartness that would go well with grilled food. Especially refreshing in the hot weather.
4. Laurelwood Public House & Brewery: Organic Portland Roast Espresso Stout
It's probably no surprise that Oregon has so many great organic beers, as they take being green very seriously. They take coffee seriously, too, and there's an incredible combination of the two in this delicious organic espresso stout. Ethiopian and Sumatran coffee give this beer a huge espresso aroma. At only 6% ABV, it drinks far lighter than most coffee stouts – if you're a coffee fan, it's a must-try!
5. Brauerei Pinkus Mueller: Organic Ur Pils
Braueri Pinkus Mueller in Münster, Germany makes an entire line of organic traditional German styles. This one is a prime example of a German Pilsner, and one of the best organic lagers available. It's got a great balance of bready malt and crisp floral hops. Extremely drinkable at 5.2% ABV, and a perfect complement to a summer cookout.
6. Samuel Smith Old Brewery: Organic Apricot Ale
It's hard to pick a favorite organic beer from this classic English brewery, but there's really no better way to ring in summer than with a good fruit ale. A collaboration with All Saints Brewery, the ales are crafted from organic ingredients using manually operated equipment, and brought over to Samuel Smith's to be blended with organic fruit juice. Apricot is the pick here, but you can't go wrong with any of them. It's sweet like apricot jam, just a touch tart and completely refreshing.
7. Otter Creek Brewing: Wolaver's Wildflower Wheat
A remarkably well-balanced wheat session beer, it's 4.25% ABV, but it's far from plain. Chamomile flowers and Vermont honey give it a spicy and sweet profile. There's a hint of hops and some bready malt, but the flavors of the honey and chamomile are what this beer is all about. This should be on your list of beers to drink in the sunshine.
8. Peak Organic Brewing Company: Simcoe Spring Ale
If the idea of an extremely drinkable ale generously hopped without the bite of a big IPA appeals, this classic pale ale from Portland, Maine is for you. Malt takes a back seat to let the fruity hops shine. Note: the organic hops are grown locally, so you can feel good about everything going into this beer.
9. Brasserie De Brunehaut: Brunehaut Amber
A healthy combination that tastes good, too, this one's organic and gluten-free! Brasserie De Brunehaut has long been at the forefront of environmentally and ecologically aware beermaking in Belgium – they grow their own barley and wheat, and their kegs are recyclable, too! This refreshing amber ale is big on caramel malt, spicy Belgian yeast and dark fruit. It's a great option for gluten-free drinkers looking for a safe Belgian beer, but also holds its own as a fine example of the style.
10. Eel River Brewing Company: Triple Exultation
When you think healthy and organic, a dainty lighter beer might come to mind. Not so much at Eel River in Fortuna, California, the first certified organic brewery in the U.S., where organic means big beers. This 9.7% ABV Old Ale is all about breaking the norm, and it's very bitter for the style clocking in at 80 IBUs. Sweet caramel malt leads to flavors of dark fruits like fig and raisin and even a boasts a hint of vanilla. The booze is definitely there, making this a great dessert beer and a prime candidate for aging.
Read these craft beer stories on Food Republic: