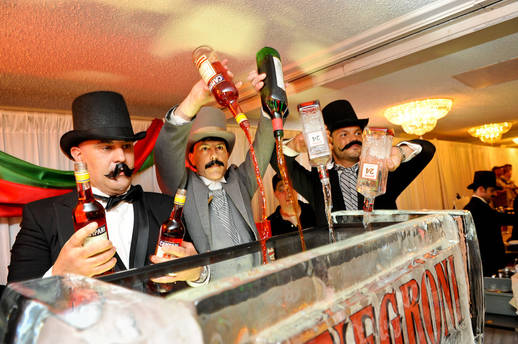 Love cocktails so much that you're dying to attend a five-day convention discussing everything that relates to them in the dead of New Orleans' face-meltingly muggy summer? Then you're in luck. Tales of the Cocktail returns for its 11th year this July 17-21. We were on hand last year and barely made it out alive. We found ourselves at One Eyed Jacks at 3 in the morning, when Los Angeles bar owner Cedd Moses handed us a bottle of Irish whiskey and, well, a flight was almost missed.
The annual conference-slash-party-slash-awards for the spirits industry is also a drinkfest that's open to the public. Sure, it's crawling with bartenders, alcohol brand ambassadors, cocktail consultants, distillers and booze bloggers, but don't let that fool you. Above all, it's a good old-fashioned food and drink bonanza, with extra focus on the drink.
There's still time to make plans and attend. In the meantime, below is a complete list of the nominees for the annual Tales of the Cocktail Spirited Awards, which are sort of like the James Beard Awards of the cocktail world and recognizes the top bars, bartenders, media and the brands that makes everything go 'round.
American Bartender of the Year
Charles Joly – The Aviary – Chicago, Illinois
Eric Alperin – The Varnish – Los Angeles, California
Leo Robitschek – The NoMad Hotel – New York, New York
Sean Kenyon – Williams & Graham – Denver, Colorado
Best American Cocktail Bar
Anvil Bar & Refuge – Houston, Texas
Clover Club – Brooklyn, New York
Cure – New Orleans, Louisiana
The Hawthorne – Boston, Massachusetts
Best Bar Mentor
Bridget Albert – Chicago, Illinois
Dushan Zaric – Los Angeles, California
Francesco Lafranconi – Las Vegas, Nevada
Julie Reiner – Brooklyn, New York
Best Cocktail Writing – Author
Gary Regan
Ian Cameron
Paul Clarke
Robert Simonson
Best Cocktail Writing – Publication
Australian Bartender Magazine
Bar Magazine Digital
DiffordsGuide.com
Imbibe Magazine
Best High Volume Cocktail Bar
Clover Club – Brooklyn, New York
Harvard & Stone – Los Angeles, California
Sable Kitchen & Bar – Chicago, Illinois
Saxon + Parole Restaurant – New York, New York
Best New Book (Cocktail/Bartending)
Drinks by Tony Conigliaro
The Tequila Ambassador by Tomas Estes
To Have and Have Another: A Hemingway Cocktail Companion by Philip Greene
Vodka Distilled by Tony Abou-Ganim
Best New Product
Dale DeGroff's Pimento Aromatic Bitters
Dorothy Parker Gin
Fords Gin
Pierre Ferrand Dry Curacao
Best Restaurant Bar
Island Creek Oyster Bar – Boston, Massachusetts, USA
No. 9 Park – Boston, Massachusetts, USA
Saxon + Parole Restaurant – New York, New York, USA
The NoMad Hotel – New York, New York, USA
International Bartender of the Year
Hidetsugu Ueno – Bar High Five – Tokyo, Japan
Jack McGarry – The Dead Rabbit – New York, New York, USA
Simone Caporale – Artesian Bar at The Langham – London, England, UK
Zdenek Kastanek – 28 Hong Kong Street – Singapore
World's Best Cocktail Bar
Callooh Callay – London, United Kingdom
Candelaria – Paris, France
Drink – Boston, Massachusetts, USA
The Varnish – Los Angeles, California, USA
World's Best Cocktail Menu
American Bar at the Savoy – London, United Kingdom
Pouring Ribbons – New York, New York, USA
The Dead Rabbit – New York, New York, USA
The Nightjar – London, United Kingdom
World's Best Drink Selection
Canon: whiskey and bitters emporium – Seattle, Washington, USA
Mayahuel – New York, New York, USA
Saxon + Parole Restaurant – New York, New York, USA
The Dead Rabbit – New York, New York, USA
World's Best Hotel Bar
Clyde Common Portland, Oregon, USA
Eastern Standard Kitchen & Drinks – Boston, Massachusetts, USA
The NoMad Hotel – New York, New York, USA
The Zetter Townhouse London, United Kingdom
World's Best New Cocktail Bar
Experimental Cocktail Club – New York, New York, USA
Pouring Ribbons – New York, New York, USA
The Dead Rabbit – New York, New York, USA
The NoMad Hotel – New York, New York, USA
Best American Brand Ambassador
Elayne Duff – Diageo Portfolio
Jamie Gordon – Absolut Vodka
Neyah White – Yamazaki
Todd Richman – Sidney Frank Portfolio
Best International Brand Ambassador
Claire Smith – Belvedere Vodka
Giuseppe Gallo – Martini
Ian Burrell – Rum Ambassador
Jacob Briars – Bacardi Portfolio