Big Weekend: Atlanta Food & Wine Festival 2013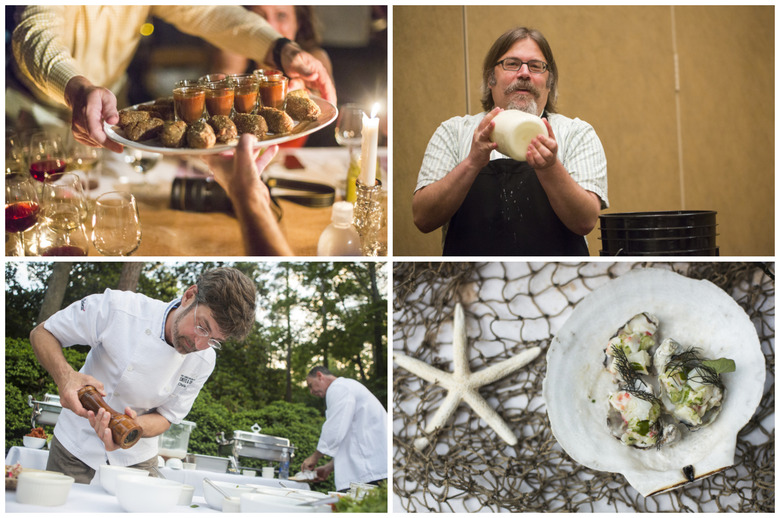 Dominique Love and Elizabeth Feichter had a consommé-clear vision for their Atlanta Food & Wine Festival, which is more a meticulously curated showcase of Southern cooking in America than the typical celebrity-chef dog + pony show. At the four-day fest, chefs must live in one of 13 Southern states, which means no Jonathan Waxman vs. Mario Batali fried chicken battles or Bobby Flay mint julep demos on the schedule.
I've known the founders for a few years now, and the main thing that strikes me is how laid-back, cool, professional, detailed-oriented, hospitable, always up for another glass of bourbon kind of folk they are. This vibe extended to this past weekend's programming, which featured over 100 classes, private dinners and three days of food and drink in tasting tents pitched in a green space in Atlanta's revitalized Midtown neighborhood. Here are some of the highlights:
Dinner: About South
The Swam House at the Atlanta History Center is a majestic mansion built in 1928, tucked in the middle of a forest on the outskirts of Buckhead. It's also a key set location for the next Hunger Games movie, which really impressed this Hunger Games fan. But, for real, nobody left hungry after this dinner that served as a tribute to the South and featured over 30 (!) chefs, sommeliers and mixologists. The roll call goest something like this: John Besh, Chris Hastings, Edward Lee, Donald Link, Linton Hopkins, John Currence, Norman Van Aken, Andrea Reusing, Mike Lata, Frank Stitt. Playing favorites is difficult, but let me just say that Reusing's perfectly cooked veal breast with Japanese mustard and Carolina asparagus and root vegetables was on point. The dinner ended with glasses of Pappy and salted caramel gelato from Atlanta's stellar Honeysuckle.
Class: Advanced Ribs With Chris Lilly
If there were a guy to teach a class about grilling the perfect rack of pork ribs, it would be Chris Lilly. He's the chef and partner at Big Bob Gibson Bar-B-Q restaurants in Decatur, Alabama and a multiple Grand Champion at the annual Memphis In May barbecue Olympics. Here's what I took away: 1. When buying ribs, it's important to look at the marbling of the meat, not for a large quantity of fat on the ends. The pork should be red, but "not too red," which indicates that the pig was stressed at time of slaughter. 2. The key to ribs cookery is layering flavors, which means strategizing with a rub, cooking time, wrapping technique and the type of wood to use when smoking. Yes, using wood is crucial. 3. Lilly likes to rub with turbinado sugar, salt and pepper and cook at 225 degrees for about 4 hours on indirect heat. He stresses to, halfway through cooking, wrap in foil. The wrapping allows for the ribs to remain moist. (He stresses the concept of "liquid seasoning" with the wrap and suggests playing around with pineapple juice.) Though, it's important to note that too much time in the foil causes the meat to instantly "fall off the bone" which, contrary to popular belief, is not the goal with ribs. There should be some resistance there. Lilly has seen people smear butter on the ribs before wrapping, which is kind of insanely decadent. 4. He finishes the ribs with seasoning, yet another layer. He was slightly cryptic about his finishing method. Dude can't give up all his secrets.
Class: Eating and Drinking In Alabama with Chris Hastings
Southern Living's cool travel editor Jennifer Cole led a conversation with Food Republic columnist Chris Hastings about the food of Alabama, a mostly rural state with a fascinating food history that extends from truck farming and foraging to shrimping off the Gulf coast. It was a smart talk, but I'm gonna be honest here. I shook off my hangover and made it to the morning session to sample Hastings' cooking — which is mostly reserved for his Birmingham restaurant Hot and Hot Fish Club. And he really did me solid by serving his famous tomato salad, which plays out as a deconstructed summer succotash. "It's nuts when the Hot and Hot tomato salad goes on the menu," said Cole, adding that she received two emails the day Hastings added the dish earlier this spring (it's typically on only through summer). The dish is pretty epic: Beefsteak tomatoes, sautéed corn on the cob, buttermilk fried okra, peas, bacon, gorgeous Gulf shrimp and a smokey aioli on top.
Class: Foods of the Southern Tailgate with Kelly English and Chris Shepherd
It's really no secret that the South is the home of serious tailgating. It's the reason that, every fall, me and a couple fellow Big Ten grads visit an SEC school for a football Saturday. Oxford, Baton Rouge, Nashville. It's serious. "Tailgating is like Thanksgiving, but with the people you like," said Memphis chef Kelly English, who led a discussion with Chris Shepherd of Underbelly in Houston. Shepherd famously roasted an entire bison for a game between his Texans and the Buffalo Bills. During this class the duo cooked on Big Green Eggs and stressed that cooking for dozens, if not hundreds, of people in a parking lot requires simplicity. They offered some quick beef marinades. Shepherd, a Korean food nut, incorporated fish sauce, rice wine, mirin and gochujang into his, while English applied sambal and a splash of Coca Cola. Hell, it was Atlanta, after all.
Tasting Tents
If you take a look at the list of participating restaurants at the three days of tasting tents, you'll notice some serious talent. Unlike some festivals where walk-around tastings feel like a gauntlet of cupcake shops and crummy flavored vodka tastings, at Atlanta there's a clear mission to showcase the best of the South via a series of "trails" (clusters of restaurants grouped by a theme) including barbecue, bourbon, pork and seafood. To pick a favorite dish would be like picking a favorite Southern state (my Virginia in-laws would likely disown me if they knew the answer). So I'll focus on a few highlights. On the barbecue tip, Sam Jones from Skylight Inn served his famous Carolina pulled pork and Martin's Bar-B-Que of Nolensville, TN did ribs. Memphis fried chicken legend Gus's served crispy wings in the chicken section (along with an inspired chicken terrine from Paper Plane in Decatur, GA). Asha Gomez of Atlanta's Cardamom Hill did her famous pork vindaloo and Katie Button (of Cúrate in Ashville, NC) her soon-to-be-famous Malaga white gazpacho with a green grape granita. And there was punches and glasses of brown liquid to wash it all down.
Class: The History of the Southern Cocktail
This Saturday morning event featured mixologists Neal Bodenheimer of CURE in New Orleans, Paul Calvert of Atlanta's Victory Sandwich Bar and spirits historian Dave Wondrich. The panel was moderated (but not much since they were also making drinks for the crowd while speaking) by Greg Best of Holeman and Finch in Atlanta. This presentation was actually a sequel to a panel by the same name from last year's AFWF, which was appropriate since, as Wondrich noted, "The history of Southern cocktails is continuously being written. And usually by drunkards." Much of this particular presentation revolved around New Orleans, where the culinary and cocktail cultures maintain what the panel called "a balanced fealty" between conservatism of recipes and ingredients and a hedonistic attitude to "make a cocktail that will kick your ass." Attendees learned about the history of the cocktail bar that was actually located in the US Capitol, until it was split in to two bars for the House of Representatives and for the Senate. It was opined that perhaps the current Congress could stand a little more loosening up. — Chris Chamberlain
Class: Butcher Renaissance
The final day of the festival on Sunday featured an entertaining presentation by the young guns from Porter Road Butcher in Nashville, TN. Not only did Chris Carter, James Peisker and Christopher Hudgens manage to break down a pig on stage into primal and subprimal cuts while teaching the audiences how and why they do their job, they also entertained the crowd with stories from the front lines of the butcher world and the important reasons why consumers should know more about where their food comes from. There was a hushed silence in the audience when Peisker described a trip to the Amish family pig farm that they source from exclusively and how they reverently chose one of the Duroc/Berkshire pigs to kill, bleed, wash, shave and gut. They took the pig home and smoked it and were eating it within 48 hours of selecting it for sacrifice.
In addition to ensuring that they know exactly how the meat they butcher is treated and what it feeds on, Porter Road deals with family farms to help provide a living in the small communities of Middle Tennessee. "Our Amish pig gamer has a sweet buggy!" Seminar attendees snacked on bowls of some outrageous pork jerky that the butchers make from the eye of round of the pig. The idea came to them when a friend asked how he might ship some comfort from home to another friend who was serving in Afghanistan and really missed barbecue. After a little experimentation with seasoning, smoking and dehydration, the butchers created a preserved treat that was appropriate for overseas deployment. — Chris Chamberlain
Read more about the food of the south on Food Republic: