Grilling God: Russ Faulk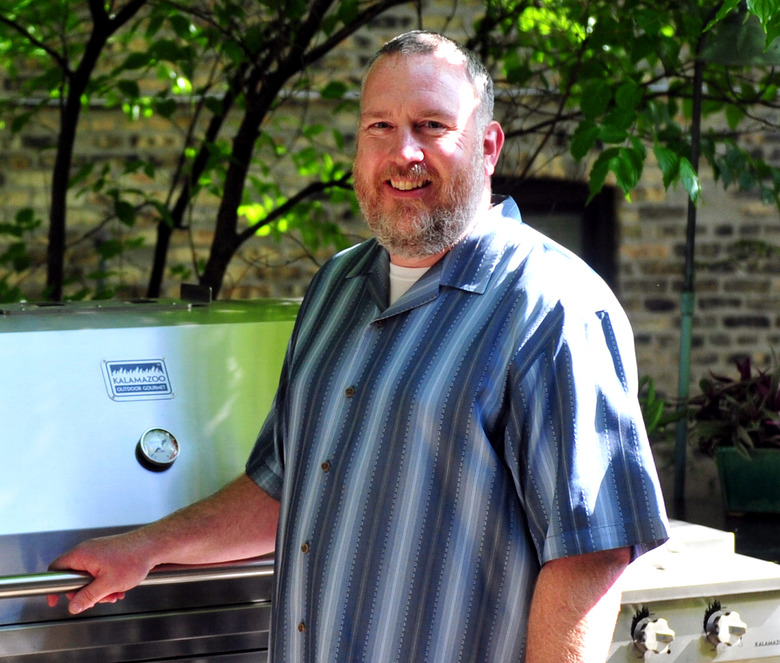 We may receive a commission on purchases made from links.
May is Grilling Month at Food Republic, where we are offering pro tips from chefs and other well-known grilling gods.
One chilly early spring evening, Russ Faulk stood atop a triplex outdoor patio in Lower Manhattan, stoking his grill. This was no ordinary grill: It was a Kalamazoo Outdoor Gourmet Hybrid Fire Grill, a beast that allows you to cook with gas AND charcoal AND wood. The Chicago-based grilling expert took a break from serving bacon-wrapped dates and chunks of meat to share his wisdom, diss those "awful grill baskets" and to render our first Grilling Gods question useless. Oh, and read through to the end for some insane burger techniques!
Do you prefer working with gas, wood or charcoal?
Cooking on my Kalamazoo, I have the luxury of using all three as I see fit. I enjoy each, as each has its benefits:
If I am cooking a simple weeknight meal at home, I'll usually go with a gas fire. But I need a gas grill with some real heat to it, and that can run a hot indirect zone. I move a lot between direct and indirect heat, and I like an indirect zone air temperature of 500°F to 600°F. It requires some real power and good heat dynamics to hold those temperatures with only half of the burners lit.
Charcoal is great for any cooking, but I definitely turn to charcoal for thin foods that cook quickly. With a skirt steak or (pounded) chicken breast, the drier heat of a charcoal fire helps you get that (browning) Maillard reaction much more quickly. Charcoal delivers a drier heat than a gas flame.
I like to use a wood fire for many kinds of fish, like a nice belly-cut swordfish steak. The fish can quickly pick up the wood flavor. I also like a wood fire for foods that need longer cooking times. My favorite woods are apple and cherry. I like to cook over limbs rather than chunks.
What is the biggest mistake the home griller can make?
That would be putting cold meat on a cold grill and then lighting the fire. I'm amazed to see it happen, but I have seen it more than once. I can't think of a bigger mistake than that. The most common mistake I see is using barbecue sauce as a marinade. The sugar content in most barbecue sauces will make it burn. It should be applied toward the end of cooking.
What is your favorite cut of meat to grill?
That's a tough question. There are so many great options, but I am quite partial to a Berkshire tomahawk pork chop. I always prefer bone-in cooking, and Berkshire meat is really flavorful. I like Duroc, but it doesn't hold a candle to Berkshire for me. I also like a hefty chop because I have time to treat it right on the grill and build up that perfect exterior crust. This takes time, and so does making sure you are able to render all the fat inside without overcooking the meat. I don't know where the mantra of "only turn the meat once and leave it alone" came from, but I don't subscribe to that method. I like to move the meat back and forth between a hot fire and an indirect zone, bringing along the internal temperature slowly while still using high heat.
What are the best vegetables on the grill?
Asparagus is a favorite at my house. I whisk together a little lemon juice and olive oil and toss the spears in the mixture before seasoning them with salt and putting them over a hot fire. The lemon adds a bright flavor, and it cuts the olive oil enough to reduce flare-ups caused by it dripping off the asparagus. I like the asparagus nicely marked by the grill but still crisp. We also grill a lot of red onions, zucchini and corn.
What's the best way to cook vegetables on the grill?
For the asparagus in particular, I think it is important to grill it directly on a hot grill grate. Asparagus takes on a meaty flavor profile when cooked over a fire. Good grill marks on the spears emphasize this even further. Those awful grill baskets don't hold any heat. They just aren't heavy enough to be able to mark the asparagus.
What do you like to drink with your grilled meat?
Now that's an easy question! American craft ales – usually an IPA. Two Hearted from Bell's is a favorite.
What's the most epic barbecue you have ever thrown, or been to?
We hosted a Memorial Day barbecue a few years back. Friends drove in from three different states, and those distances are not insignificant in the Midwest. I busted out some great food that night, and it was the debut of my Peach Bourbon Habanero Hot Wings. They were a big hit, but what really made the barbecue epic was having so many good friends all together.
The most epic barbecue I have attended is the Green City Market Chef's Barbecue in Chicago. It happens every summer. Many of Chicago's top chefs gather in Lincoln Park. The barbecue raises funds that support the Green City Market, a farmers market. The food is amazing, and it is a really relaxed event. I bring the grill from my house to the park every year for Rick Bayless to use at his station.
What bands are on your grilling soundtrack?
I'm always up for some Mando Diao when I am relaxing. Hurricane Bar is my go-to album, but I like them all. I am also happy listening to Foo Fighters or The Flaming Lips.
What is the worst food item you have seen thrown on the grill?
It doesn't seem fair to call it "the worst," but I have never understood the appeal of grilling ham steaks. Although, to be honest, I have enjoyed grilled bologna in the past.
Most useful piece of grilling gear you have purchased or used?
My most useful grilling gear are my tongs and my gloves. I use the tongs for everything, and I need the gloves' protection when I am reaching over a blazing-hot wood or charcoal fire. I have been testing a really cool steak thermometer from Germany and have been impressed with its simplicity and accuracy. It is probably the most interesting grilling gear I am using now, but far from the most useful. I also have to include my Hybrid Fire Grill. Because it can cook with gas, wood and charcoal it gives me the freedom to use any outdoor cooking technique all on one grill.
Last one: Any burger secrets?
Absolutely! First, Bobby Flay nailed it with his suggestion to recess the center of the patties. That is a must. I always brush the patties with olive oil and season them liberally with salt. I think this helps create that perfect crust on the outside. The crust is another must. I also brush the cut side of the buns with olive oil and give them a sprinkling of salt. They need to be lightly toasted, but on a hot grill. You want them just golden brown, but you need to do it quickly so they don't get dried out. An overly toasted bun will fall apart.
I like the burgers to be thick enough to cook properly. If they are too thin, you can't get the crust outside without either burning the outside from using too high a heat or overcooking the inside because it took too long to achieve the crust. For the diameter of a standard bun, I like about a half-pound patty. To make a smaller burger, I am happy to drop down to a quarter-pound patty, but I use a smaller bun – even a slider-sized bun. I think the thickness of the patty is that important. Finally, I like to use a blue brie. It melts beautifully and has great flavor. Cambozola is my go-to topping, along with some rings from a thick slice of red onion that has been grilled to the sweet and translucent stage. I love grilling burgers, and I really like to see other people taking pride in grilling a great burger.
More Grilling Gods on Food Republic: