Grilling God: Sean Brasel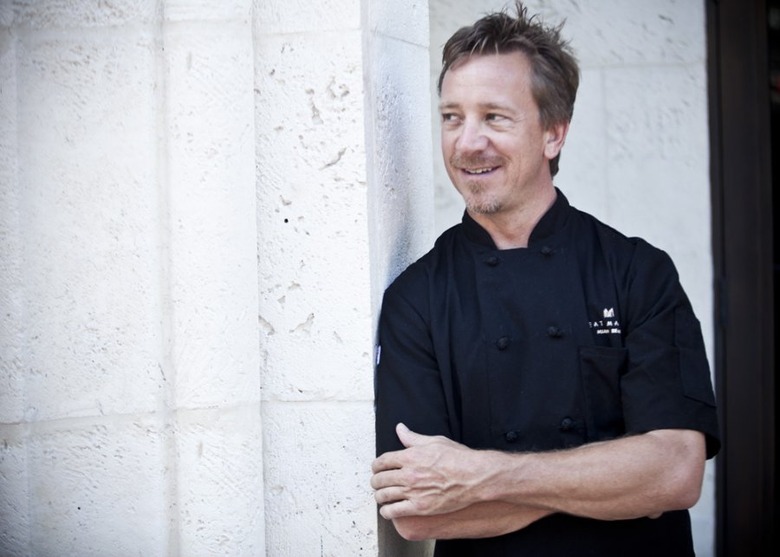 And we're back! Memorial Day weekend is over, but there's still a few days left in Grilling Month at Food Republic, where we are offering pro tips from chefs and other well-known grilling gods.
Who could possibly know more about grilling techniques than a guy running Miami's Meat Market? Sean Brasel is Executive Chef at the steakhouse, which incorporates Latin American flavors into their inventive meat cookery. The Miami Beach restaurant was recently noted as one of the city's "buzziest" by Condé Nast Traveler. But with all that sizzle, there certainly is some steak. As in, some serious cooking skills. That is why we asked him to write in to discuss easy marinades, veggie tricks and how to straight up own the grill at your next backyard BBQ.
Do you prefer working with gas or charcoal?
I use both wood and gas at my restaurant. I believe charcoal or wood have certain properties that work better with certain ingredients. Gas can achieve a higher heat and works great with thicker steaks like porterhouse and New York strips. Spice crusts also work better on gas because it allows the real flavor of the spices and meat to shine (whereas charcoal and wood impart their own flavor). I love cooking cuts that have more marbling and higher fat content on charcoal and wood so I get that smoky tendency and that nice crust. Skirt steaks and fattier marbled cuts like shoulder steaks work much better on charcoal or wood grill.
What is the biggest mistake the home griller can make?
One thing that I notice with home cooks is they rush to cook steaks and either put the steaks on when the grill isn't hot enough, or they get busy drinking and entertaining and forget about their food on the grill and keep the lid on. Then, everything tastes like it was rescued from a 4-alarm fire. With grilling, it is key to know how and when to open the lid to vent the smoke and is as important as rotating the steak. In addition, inexperienced home cooks tend to think they more they play with the steak the more they are cooking, but effectively the opposite is true; the less we fidget with the meat when it's cooking, the better it will taste in the end without being to dry or to burnt.
What is your favorite cut of meat to grill?
I love to slow marinate thick cut veal chops and grill them over charcoal — the flavor of that soft veal with the complex outside bitter char is so appealing to me. I also have a fondness for cooking freshly caught trout over an open flame, as it brings me back to my days camping in the back country of Colorado.
What are the best vegetables on the grill?
I love cooking peppers and nice vine ripe tomatoes on the grill, as well as marinated shiitake caps, asparagus and artichokes.
What's the best way to cook vegetables on the grill?
It depends on the veggie. Marinate shiitake caps with extra virgin olive oil, garlic and fresh thyme and then grill on low heat. For asparagus, butter poach them first, then put them on the grill, cook slowly and rest the asparagus back in butter. And we can't forget about slow poached whole artichokes. I cook them in heavily salted water and rest them for a day. Then cut them in half and season them with salt and pepper and rub them with olive oil. Grill the cut side until you get proper grill marks, flip the artichoke over and fill it with a spicy seasoned garlic butter, move them to a higher shelf or the cooler outside of the grill and let it simmer with the butter for 30 minutes. These are simply mouth watering.
What do you like to drink with your grilled meat?
I love red wine with grilled meats; something spicy like a zesty Zinfandel or a jammy Shiraz.
What's the most epic barbecue you have ever thrown, or been to?
In Colorado we used to take trips out to a deserted lake, we would pack everything into the boat and captain it an hour or two away to set up our own campsite. One year I had a vertical smoking grill with two-day marinated chicken and chipotle-soy seasoned thick cut pork ribs with several vegetables. We set the smoker up around 4:30 in the afternoon with charcoal and a few local woods we found along the shore line and slowly cooked the chicken and pork chops while we wake-boarded. Upon returning to the campsite around 9 p.m., we opened the smoker to eat the most delicious chicken and pork ribs I had ever tasted in my life.
What bands are on your grilling soundtrack?
That all depends on where I'm grilling. At a sandy South Beach party, I love something energetic like Paul Oakenfold. In a backyard during Fourth of July, I am going right to Godsmack. And in the peaceful back woods of Colorado, piano music by the Essential Einaudi.
What is the worst food item you have seen thrown on the grill?
Tofu has to be the worst grilled item. I have tried over and over to make my vegetarian friends feel at home during a BBQ and I just haven't ever get that dry piece of bean curd to result in my vision of a buttery flaky chard piece of heaven.
Most useful piece of grilling gear you have purchased or used?
For most people, a digital thermometer. So many times I have seen people grill that perfect piece of chicken thigh only to get in to the middle of it so see that it's still red. Nothing will ruin a fun BBQ faster than serving raw chicken. For me the most useful must-have gear is an awesome pair of tongs – I keep a specific pair in my knife kit.
Any burger secrets?
The biggest secret with burgers is don't overwork the meat. The more you mix it and play with it, the tougher it gets. You want to form it right before it goes on the grill and barely work it. This will produce a more flakey and crumbly tender hamburger. Then there are those hard, overworked hockey pucks people get from playing baseball with their patties and smashing them down five times to make that perfect synthetic little puck of a disc.
---
More Grilling God advice on Food Republic: