Would You Like Extra Noodles On Your Japanese Ramen Burger?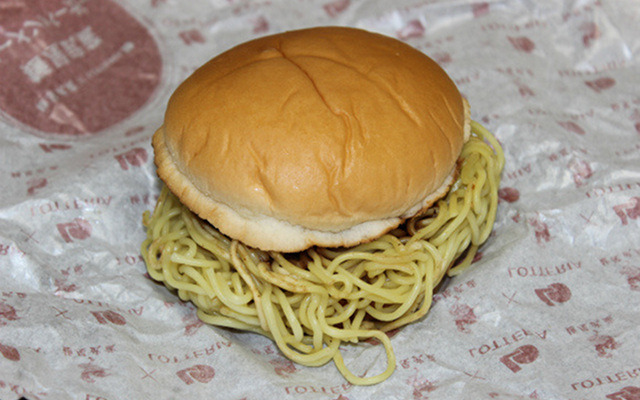 Yesterday, Japan's beloved burger chain, Lotteria, released their Menya Musashi Ramen Burger, topped with ramen noodles. That's all the news we have. Take it in.
Rocketnews 24, our source for all things crazy Japanese (see: this handy butter problem-solver) sent their food guy to immediately turn a noodle-based spectacle into a full-on ramen burger challenge. By itself, the ramen burger — a serving of ramen on top of char siu pork served with a side of pork broth like a French dip — is about $6. But, as totally necessarily demonstrated by Sato-san, the buck doesn't stop at one extra order of sandwich-noodles. It might not even stop at 10, but you can bet some other burger or noodle enthusiast will attempt to finish the elusive 11th extra order.
So if you're oddly stimulated by the idea of the yakisoba sandwich — a very real and awesome helping of soy sauce–fried noodles loaded into a hot dog bun and eaten on the go — make the pilgrimate to the central Kanto region, where this burger was born. Or make one yourself: it's just noodles and char siu on a bun. It doesn't have to be a foot and a half tall like Mr. Sato's, but it certainly can be.
More spectacular sandwiches on Food Republic: