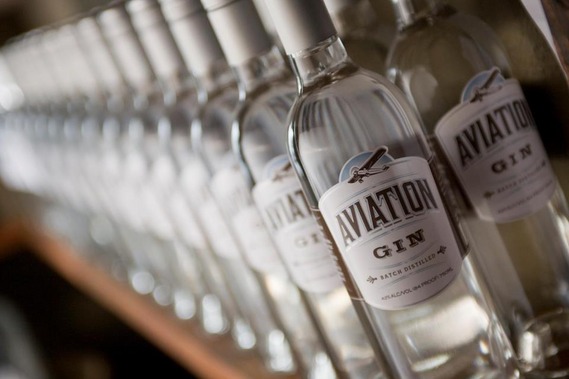 William Hogarth, the artist responsible for the infamous Gin Lane print, would be spinning in his grave. The drink he'd so warned his fellow Englishmen about back in the mid-18th century has turned out to be not so bad after all. Gin is no longer a harsh, toxic liquor — fit for ruining mothers and breeding destruction.
Today's gin can be aromatic, organic, made with locally grown botanicals and decidedly American. It's no coincidence that Tanqueray has just re-released Tanqueray Malacca, a style more "Western" than London Dry. One thing that hasn't changed: it's still most refreshing when served with a good quality tonic and a bright twist of citrus. Step up your springtime gin and tonic with one of these American craft gins. (Also note: 5 Artisanal Tonics To Mix With Gin.)
1. Perry's Tot Navy Strength Gin
Named for a 19th-century commandant of the Brooklyn Navy Yard, this overproof gin from New York Distilling Company manages to show all its subtler spice notes even when topped up with tonic. More alcohol means more flavor: win-win.
2. Junipero
One of the first American craft gins we ever fell for, made by Anchor Distilling in San Francisco. It uses more than a dozen botanicals, with the juniper coming through clearly. This is London Dry style, crisp and citrusy, with herbal and floral undertones.
3. Fords Gin
Despite being distilled in London, this gin definitely qualifies as American. Not only does its creator, our own Simon Ford, live in the States, but once the spirit is shipped to the U.S. in bulk, it gets cut down to proof with pure Mendocino County well water before bottling.
4. Pierde Almas +9 Botanical Mezcal
You won't find the word "gin" on the bottle: this spirit is the first of its kind. Instead of typical grain, agave is used for the distillate – and, yes, that does make this technically a mezcal. Infused with classic gin botanicals, it makes the most aromatic gin and tonic imaginable.
5. Leopold's Gin
Based out of Denver, this micro-batch gin packaged in hand-labeled bottles is meticulously distilled — each botanical separately, which is rare — for a clean-tasting spirit. The juniper is upfront here, with secondary sweet citrus, floral and spruce-y notes.
6. Farmer's Botanical Gin
Certified organic and produced in Minnesota, this gin is steeped with juniper, elderflower, lemongrass, coriander, angelica root, plus a few other secret ingredients. It's bottled at 93.4 proof, so ideal for mixing with juice or tonic.
7. Death's Door Gin
Distilled on Washington Island, Wisconsin, the gin is made with organic wheat and juniper berries that grow right on the island. Local malted barley makes up part of the distillate, resulting in a hint of sweetness to this juniper-forward, licorice-laced spirit.
8. Corsair Gin
Nashville's first distillery since Prohibition has won its share of awards in its short history, several of them for this small-batch gin. It uses common gin botanicals, but in unorthodox quantities, so you end up with a burst of orange in the glass, backed by spice.
9. Greenhook Ginsmiths' American Dry Gin
Another of the many gins coming out of Brooklyn these days, this Greenpoint-distilled spirit makes use of several organic ingredients. It's a New York take on the London Dry style, with hints of ginger and elderflower peeking out from behind the juniper backbone.
10. Aviation
Portland's best-known craft gin is floral and herbal, spiced and a bit fruity. It was a pioneer of the "New Western" style, which isn't so much defined by what it is as what it isn't. Stepping away from the traditional juniper top note, Aviation is sweet-savory.
---
Read more about gin on Food Republic: