How The Spotted Pig Almost Went Vegetarian For An Evening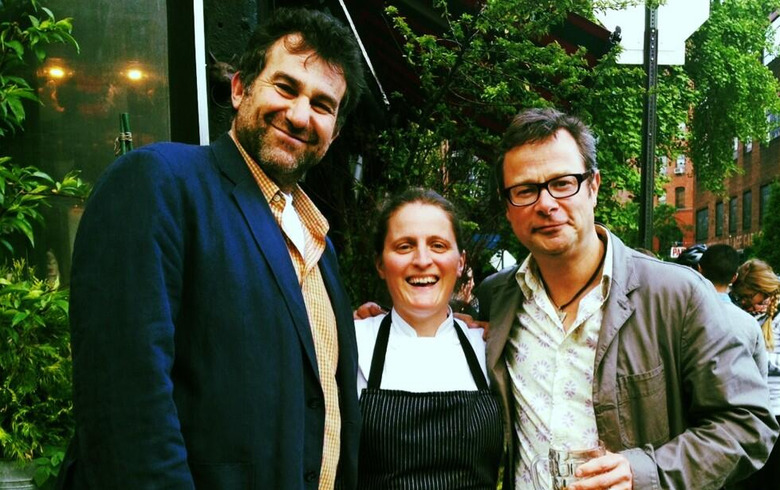 We may receive a commission on purchases made from links.
"I was starting to be known as the meat guy," admits British cookbook author and food television presenter Hugh Fearnley-Whittingstall as we share a booth at the Spotted Pig in New York's West Village. In the U.K., Hugh is famous for his River Cottage television series — where he cooks from his Devon headquarters (the cottage) while instilling a "back to basics" ethic that places an emphasis on locavorism and sustainability. The shows began airing in 1998, well ahead of the eat local trope that has, wonderfully, dominated pages and airwaves as of late. He's like the British gentlemanly version of Mark Bittman, with a series of successful cookbooks tackling a single theme.
His River Cottage Meat Book was a major bestseller. (He also published books about fish, preserves, bread and soup.) But it was with River Cottage Veg, out now on Ten Speed Press, that he made a major shift by writing (and testing and testing again) 200 vegetarian recipes out at the cottage. "I felt great," he says of his days spent negotiating the recipes. A tahini dressing for a zucchini and green bean salad one day. Baby carrot and fava bean risotto the next.
Hugh was in town to host a pair of meals featuring dishes from the book. Last night, he collaborated with April Bloomfield, who also is working on a vegetables-focused cookbook. This afternoon he will collaborate with his buddy Dan Barber at Blue Hill. Though the menu was not completely stripped of meat (Spotted Pig regulars were most certainly not going to be denied their pig ear and lemon caper salad), there was some very nice vegetable cookery going down.
A Cambodian wedding day dip was built around sautéed cremini mushrooms, crushed peanuts, coconut milk and bird eye chilies. We spread it all over lettuce and chunks of bread and cooed at the deliciousness of this, gasp, vegan entrée. There was a baby beet tarte tatin where apples were replaced by the caramelized beats and a creamy risotto blended with peas and goat cheese.
"Where should I go for dinner tomorrow?" Hugh asks me before stepping away to join his wife and agent at a table in the noisy dining room. There's Mission Chinese and Lafayette, of course. Maybe a trip uptown to Aldea or Le Bernardin. But the choice was obvious. "What kind of name is Dirt Candy?" he joked. "It's the most exciting vegetable restaurant in New York City," I say without hesitation. Hugh's eyes widen. "Well then, we must go there." It might be tough though. The place is usually booked for weeks. After all, vegetables are hot.