10 Beers You Must Drink During Grilling Season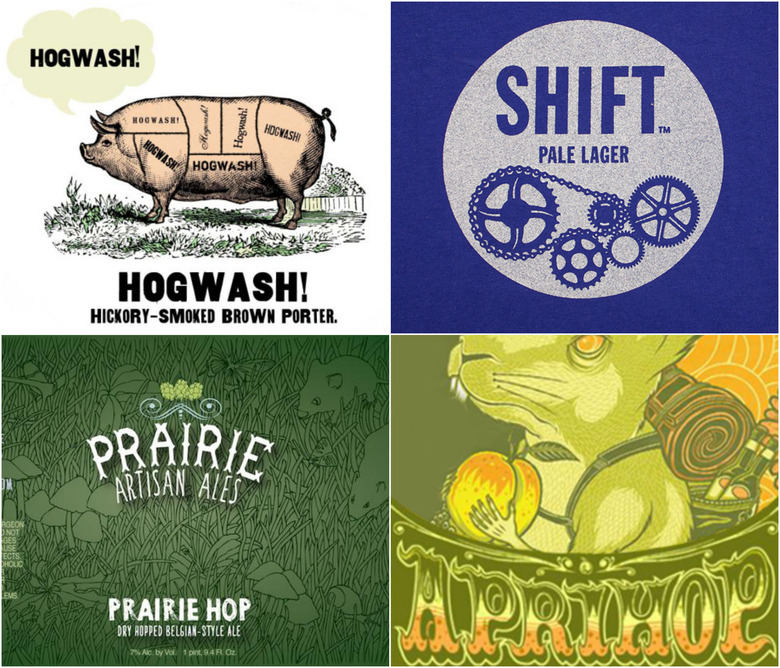 We're in the the thick of it now. Food Republic's Grilling Month, that is. With so many different flavors represented on the backyard grill, it can be quite a task to pick one style of beer to compliment it all. Whether it's cooking around a campfire deep in the woods or tailgating at a baseball game, you'll want something accessible — and not overpowering — so please leave that triple IPA or 15% bourbon barrel-aged imperial stout for another occasion.
The first thing you want to consider is the meat. Darker, maltier beers like porters, brown ales and even dark lagers go perfectly with ribs or burgers. For chicken, you'll want a pilsner or a spicy saison. For pork and bacon, try witbier or hefeweizen. Check out our beer and food pairing chart and our basic guide to pairing beer and BBQ for a full list of pairing suggestions. But the bottom line here is, you need recs for your trip to the bottle shop. Here are 10 beers we're going to be drinking by the grill all spring and summer long.
1. Live Oak Brewing Company: HefeWeizen
If you're lucky enough to live in Texas, then you may already know this killer hefeweizen by this excellent Austin-based brewery. Texans claim this is the best American hefe and it's easy to see why. Heady notes of banana, lemon, cloves and coriander and just a little tartness make this the choice on a hot day and an excellent pairing with grilled chicken or seafood.
2. Fullsteam Brewery: Hogwash
We can't deny that North Carolina has some serious BBQ. Luckily they also have an incredible beer to pair with it in the form of Fullsteam Brewery's Hogwash. This hickory-smoked brown porter is made specifically for pairing with Carolina BBQ, so we're talking pork and ribs. The smokiness and roasted malt are predominant but not over powering and at 6.5% it's got enough power to cut through the fat. This also would be perfect for a brine or marinade.
3. Allagash Brewing Company: Dubbel Ale
Allagash might be better known today for their many specialty versions of Belgian style ales like Curieux, Odyssey and Interlude, but they also have many excellent standard Belgian styles, too. A standout pairing with steak is their Dubbel Ale, which boasts a heavy malt profile with enough bready Belgian yeast, caramel and sugary fruitiness to balance things out nicely. At 7%, this Dubbel can pack a punch on its own. Enlist a great fatty steak to keep things on track.
4. Prairie Artisan Ales: Prairie Hop
If you want something a little spicy with a substantial, but not overpowering hop presence, Prairie Artisan Ales' Prairie Hop is the brew for you. Layered tropical fruit flavors give way to floral, grassy notes with a peppercorn spiciness, which goes perfectly with lighter grilled fare like chicken and fish. If you're wondering why Prairie Artisan Ales garners so much hype among beer enthusiasts, try this one out — we think you'll agree it's one of the best American-made saisons.
5. AleSmith Brewing Company: Nut Brown
Thanks to AleSmith's increased distribution, this classic California brown ale is now available on the East Coast, which is excellent news since this American take on an English Brown Ale is a true standout. It's not a coffee or chocolate overload, though both of the flavors are subtly present. This one delicious, much nuttier toasted English malt flavor, with just enough of a light hop presence to balance things out. At 5%, Nut Brown is so drinkable you'll want to pick up a few extra bombers to share with friends.
6. Oskar Blues Brewing Company: Old Chubb
Scotch ale in a can could only be pulled off this well by Oskar Blues Brewing Company, a Colorado favorite with a preference for packing maximum flavor high-gravity (and high ABV) ales into cans (more maximum flavor cans can be found here). At 8%, Old Chubb is a delicious combination of malted barley and beechwood-smoked malt that would compliment the heaviness of smoked meat and creamy cheeses. Sweet caramel malt, a hint of vanilla, some coffee and a little smoke make this a great complimentary to barbecue.
7. Deschutes Brewery: Black Butte Porter
This beer is certainly one of the standout porters in the country and definitely in the running for Deschutes' best offering. Porters can be great with grilled meat, especially with Black Butte's flavors of deep, dark burnt chocolate, coffee and roasted malt. The great thing is that at 5.2% it drinks light, but doesn't skimp on the flavors at all. If you like a darker beer, especially to compliment smoky meat from the grill, this incredibly balanced porter should be your go-to.
8. New Belgium Brewing: Shift Pale Lager
New Belgium is highly acclaimed for their innovative and often funky Lips of Faith series, most notably for their standout sour La Folie, and also for their classic Fat Tire, but for a grilling party this excellent pale lager is the way to go. At just 5% this is a beer for everyone at the BBQ that can go well with a variety of grilled food. Refreshing balance of floral fruit hops, almost like a pilsner, and bready malt that might just be your new go-to.
9. Dogfish Head Brewery: ApriHop
Too much hoppiness in a beer and too much sauce can both take away from grilled meats' naturally delicious flavors. Bring out the best in barbecue with ApriHop, a fruity American IPA made with real apricots. Even at 7%, it's still remarkably refreshing, especially as the hops take a back seat to the fresh apricot flavor. Make no mistake, this is an IPA and not a fruit beer, so don't be surprised to find a ton of citrus hops and sweet malt to compliment the stone fruit. Definitely a warm weather favorite.
10. Devils Backbone Brewing Company: Vienna Lager
This up-and-coming Virginia brewery might not be a household name yet, but there are plenty of reasons to seek them out. Need a good one? They were named Small Brewpub Brewer of the Year at the 2012 Great American Beer Festival. These guys don't mess around, and their Vienna Lager is already regarded as one of the best in the country. At 4.9%, this is an all-day drinker and the bready, sweet, toasted caramel malt is a perfect compliment to the subtle floral hops perfect for lighter pork or chicken dishes. If you live in the area, you owe yourself to check out a real winner.
More seasonal beer knowledge on Food Republic: