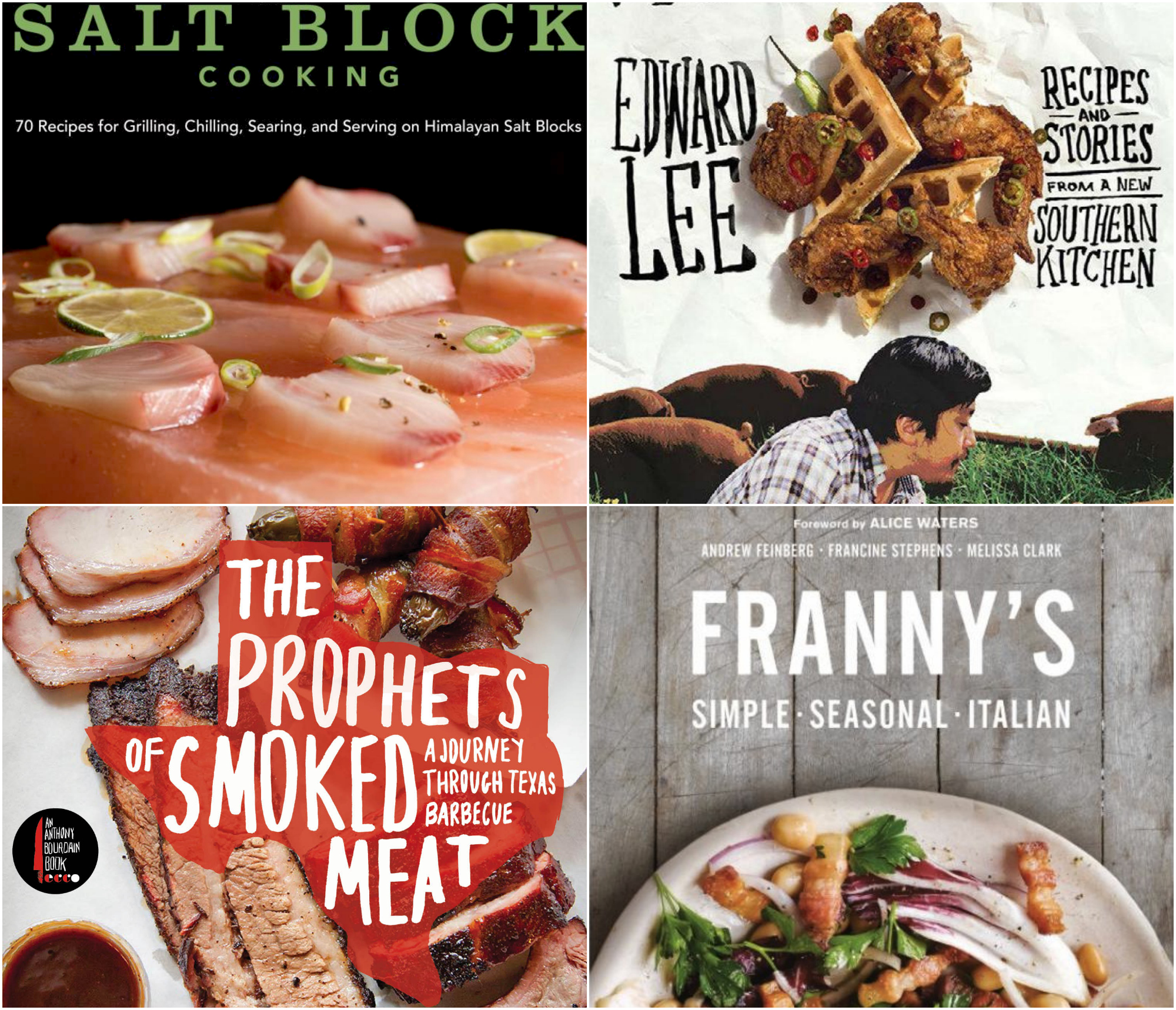 Though some would say that summer is a time to get out of the kitchen (the beach, for example, is a nice alternative), we think that summer is one of the best times to start a culinary project — or simply cook something new at home. Farmers markets sort of rule in June, July and August. Summer also marks a time of many cookbook releases. So let us cut through the clutter and suggest seven titles that are worth their salt — especially Salt Block Cooking.
The Prophets of Smoked Meat: A Journey Through Texas Barbecue, Daniel Vaughn
Release date: May 14
Daniel Vaughn has the distinct honor of authoring the debut release from Anthony Bourdain's imprint at Ecco, and the move makes complete sense. Bourdain has a knack for collaborating with culinary experts with voice and attitude — which Vaughn shows in his colorful journey navigating the Lone Star State's intricate web of barbecue cookery. In Prophets, he breaks the 'cue into four categories: East Texas (hickory smoked), Central Texas (meat market; direct heat), Hill Country (cowboy-style; direct heat) and South Texas (barbacoa). Vaughn was also named the BBQ editor at Texas Monthly, the first job of its kind.
The Grilling Book: The Definitive Guide From Bon Appétit, Adam Rapoport
Release date: May 14
This is one thick cookbook! Our first favorite part was opening it to reveal a two-page photo of glowing embers, and our second favorite part was that it's filled with enough grilling recipes to keep you busy 'til Summer 2016. We saw the recipe for Peter Luger–style grilled bacon with steak sauce and almost passed out (don't worry, we'll post it later in the summer).
Smoke and Pickles: Recipes and Stories From A New Southern Kitchen, Edward Lee
Available now
Louisville chef Edward Lee hasn't only written a cookbook covering all the bases of his diverse background (born in Brooklyn to Korean parents; transplanted to Louisville for love — and love of Southern food stuffs). He's written a colorful memoir and journalistic investigation into how a modern kitchen professional can blur borders and drink some really good bourbon in the process. And the recipes for dishes like curry pork pie, eggplant ricotta and sautéed squid with bacon salad are pretty crack too.
Franny's: Simply Seasonal Italian, Melissa Clark, Andrew Feinberg, Francine Stephens
Release date: June 4
When Alice Waters writes your restaurant cookbook's foreword, you know you have a good restaurant. Franny's is a Brooklyn staple that a surprising amount of non-Brooklynites seem to know about, dishing up light, punchy Southern Italian cuisine with a homestyle vibe. Searching for a new clam pizza recipe? Or the first and only one you'll ever need? Forgo the line (just this once) and recreate Franny's delicious fare at home.
Salt Block Cooking: 60 Recipes For Grilling, Chilling, Searing and Serving on Himalayan Salt Blocks, Mark Bitterman
Release date: May 28th
OK, what is salt block cooking? Let us explain. Himalayan salt blocks have been mined from Pakistan's Punjab province for generations, but it has been only recently that the rose-hued crystal slabs have been integrated into cooking. We can describe cooking with salt blocks as nothing short of magic. Sear a scallop on the block for under 10 minutes and you've quick cured it in a way that a hot pan could not achieve. Author Mark Bitterman is a salt expert, having written an award winning book (Salted) and lecturing in culinary schools around the world. He has now written the book on salt block cooking. Our block is arriving any day now.
The Artisan Jewish Deli At Home, Nick Zukin, Michael Zusman
Release date: September 3
You can make your own pastrami. Good, now let's take it up several notches and slap an almost certainly better version on some cheese fries! Portland's Nick Zukin (the "Zuke" in Kenny & Zuke's) and food writer and baker Michael Zusman teamed up to write this prime example of everything that's right with deli cuisine. Of course there are several latke recipes, classic deli soups and everything else you want from a Jewish appetizing cookbook, but those pastrami cheese fries, man…
The French Market Cookbook: Vegetarian Recipes From My Parisian Kitchen, Clotilde Dusoulier
Release date: July 2
Adored recipe blogger Clotilde Dusoulier may not be a vegetarian, but the recipes presented on the popular Chocolate and Zucchini are often based around the integration of seasonal fruits and vegetables. Many of the recipes are also often gluten and dairy free, with high praise from culinary heavies like Dan Barber and Dorie Greenspan. Summer is the best time to mine your local farmer's market and we couldn't think of a better kitchen roadmap.