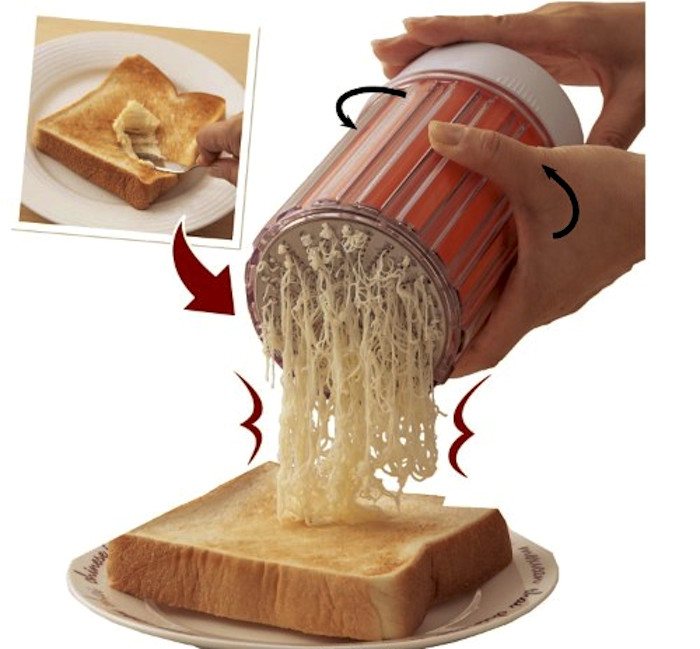 Cue the infomercial GIFs. Try as you might to spread butter on your toast, the knife inexplicably pierces the bread, sending it flying aross the house where it knocks your laundry soap into the dryer, exposes your breasts and makes your taco fall apart (which makes you more frustrated than you've ever been, ever). But not anymore!
Metex Japan's household and kitchen section sells this totally necessary item, the Easy Butter Former. Don't bother trying to spread butter in stick form: grate it like cheese directly onto that which needs buttering and let room temperature, gravity and dairy fairies do the rest. But wait, there's a best part — the English-translated product description. Here's a sample:
"Turning it into a square easy butter butter, you can butter filamentous did softly. Butter strange butter softly. With the following differences: butter and usually can be enjoyed. Because it is easy to spread in the mouth than the hard butter, flavor increases, I feel very delicious. Kang also auto softly even in small quantities, and pre-usage is small, it is most suitable to the diet can cut calories."
I feel very delicious, too! You get the jist though, there is officially no more cause for the destruction that can occur when you attempt to butter toast. I also imagine it softly and usually grates cheese.
More kitchen gadgets on Food Republic: