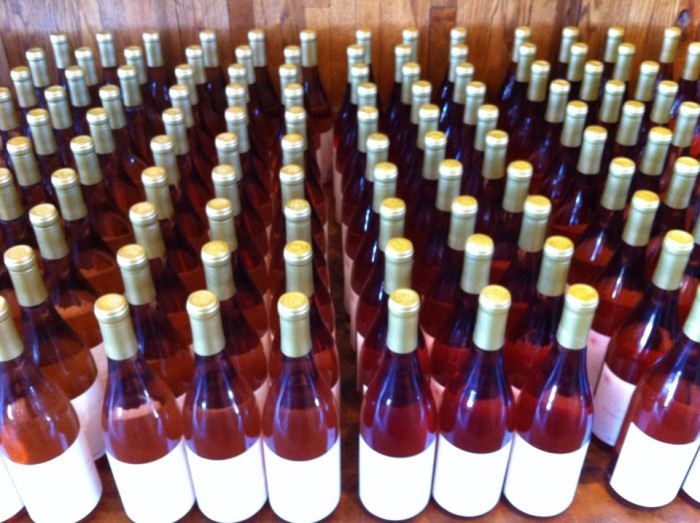 The warmer weather brings with it singing birds, blooming buds and an undisputable hankering for rosé or pink wine. It's hard to believe rosés once had a stigma. Nowadays, they're pretty much a given in the summertime. And why not? They're easy to drink, best enjoyed when pleasantly chilled and pair well with everything from barbecue to picnic food. You often see rosés from France and Spain, but just about every wine-producing region now makes rosé. We round up pink wines from around the world.
From New York: Channing Daughters Rosato di Sculpture Garden 2012 ($25)
This Long Island winery takes its rosé very seriously: about a third of its production is pink. The extremely small-batch Rosato is a field blend, meaning that a variety of different grapes were planted together, then picked and fermented together. It's difficult to know precisely what it's made of, but expect varying amounts of merlot, blaufränkisch and teroldego. The result is a pale peachy wine with notes of forest fruit and flowers.
From Washington: Charles & Charles 2012 Rosé ($10)
Two wineries collaborated on this bright pink wine. Charles Smith and Charles Bieler of Three Thieves, Bieler Père et Fils and Sombra Mezcal. The two Chucks pooled their resources for this blend of mostly syrah, some mourvèdre and a pinch of cinsault and grenache. Aromatic with good fruit, it's full of the typical strawberry flavors you find in rosé, but also herbaceous notes and a fine minerality.
From Greece: Domaine Spiropoulos Meliasto Rosé 2012 ($16)
If Greek wine seems newfangled to you, consider that Greeks have been making wine for, like, 5,000 years. This producer, certified organic, is known for using nearly extinct indigenous grapes. Take this blend of moschofilero and agiorgitiko: ever heard of either of these? The first is an aromatic white-fleshed grape with purple skin and the second a red grape with low acidity but tons of color. This is truly a rosy and uplifting vintage.
From Lebanon: Massaya Rosé 2010 ($14)
Wine has been a part of Lebanon's history since the ancient Romans built their temple to the god of wine and intoxication in the Bekaa Valley. Winemakers Sami Ghosn of Lebanon's Tanaïl Estate and Dominique Hébrard of Bordeaux have collaborated on this blend of cinsault, syrah and cabernet. Not exactly bone dry, it's a juicy, fruity pink wine with hints of herbs and a mineral edge.
From Switzerland: Château d'Auvernier Oeil de Perdrix ($25)
Oeuil de Perdrix — "eye of the partridge" in French — is a rosé wine traditionally made in Switzerland from Pinot Noir grapes. This dry, light, salmon-colored version of it is full of bright red berry fruit and earthy minerality: recognizable as a Pinot Noir, if something of a surprise to your typical rosé drinker.
From New Zealand: Quartz Reef Méthode Traditionnelle Rosé Brut ($30)
In case you haven't heard, there's more to New Zealand wine than Sauvignon Blanc. Add some bubbles to rosé season with this Kiwi sparkler, made in the traditional Champagne method. It's mostly Pinot Noir with a little Chardonnay, resulting in a pretty deep salmon color and a complex character of bright strawberry and toasty brioche.
From Sicily: Planeta Rosé 2012 ($15)
Here at Food Republic, we have a crush on Sicilian wine. The family-owned Planeta winery has vineyards all around the region. In Menfi, it makes this peachy-hued wine out of syrah and nero d'avola grapes. Bursting with ripe fruit flavors and a hint of spice, it makes for easy (read: low-alcohol) drinking.
From Portugal: Quinta de Gomariz Espadeiro Rosé ($13)
Try not to get confused here: this is a Vinho Verde, which translates as "green wine," but the color of this wine is a rosy salmon. The grape is espadeiro, a red grape with nice acidity. The result is a rosé with bright berry fruit, pretty floral notes and a clean minerality. At 11.5% alcohol, you can sip this one throughout the afternoon.
---
Read more about wine on Food Republic: