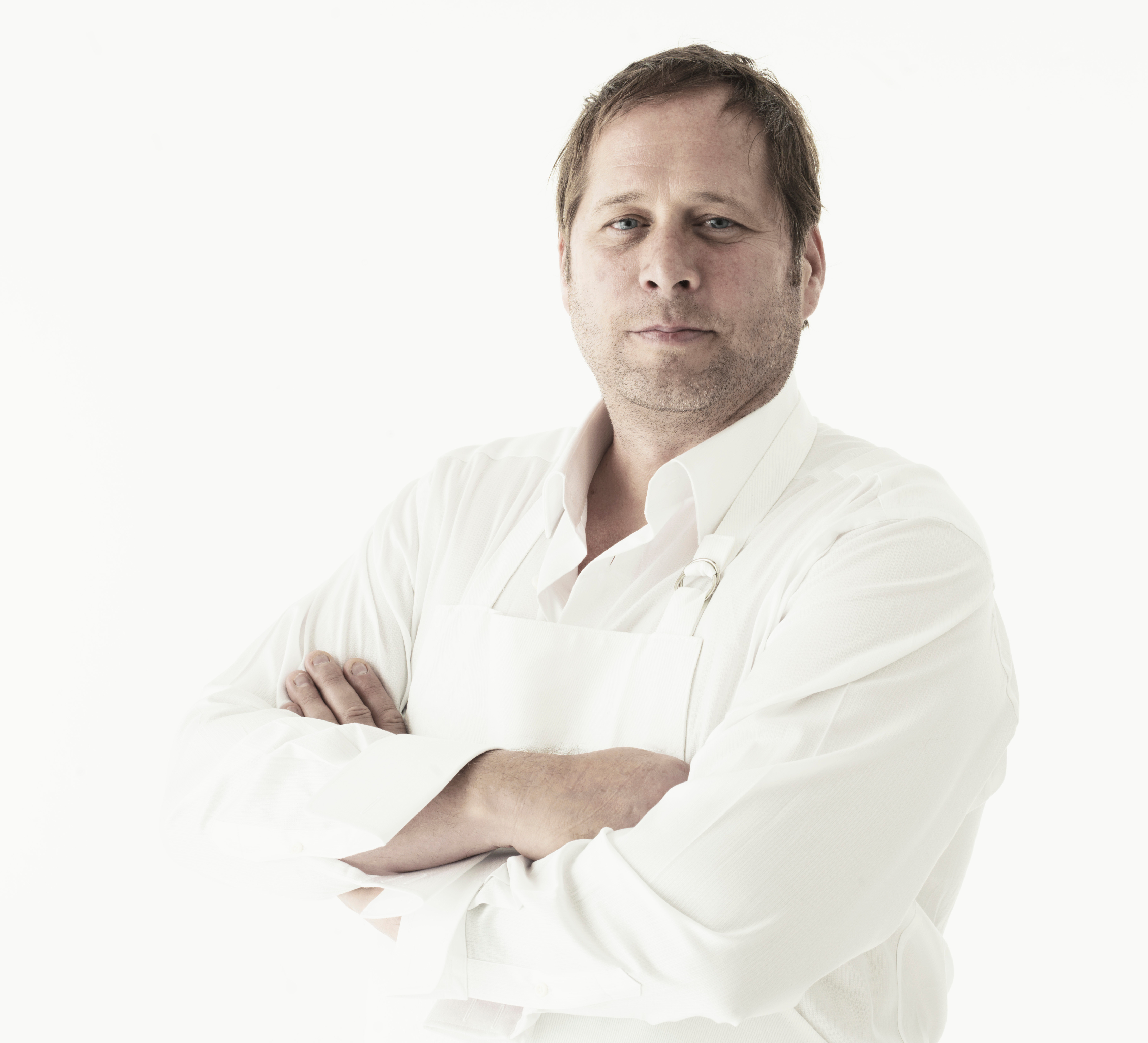 "It's like I am a newborn baby and have never worked in a kitchen in my entire life," says David Kinch, Negroni in hand, as we share a booth in the ancient backroom at Keen's Steakhouse in Midtown Manhattan. We're talking about how's he's recharged by the food of Japan, a topic that excites the eccentric chef-owner of Manresa in Los Gatos, California. For 11 years Manresa, a winner of multiple James Beards and Michelin Guide kudos and #52 on this year's 100 Best list, has been at the center of the seasonal cookery that has dropped restaurant nuts and culinarians — via commercial jets and the smaller ones — to the shores of Northern California.
Later this fall Kinch will release his first book, Manresa, that he has co-written with Bon Appétit executive editor Christine Muhlke. The book from Ten Speed Press doesn't just offer recipes from the restaurant, but tells the story behind Kinch's unique approach to local sourcing. Instead of buying from dozens of farmers, he uses one fruit and vegetable purveyor almost exclusively, Love Apple Farms.
Manresa: An Edible Reflection is still in edits, so Kinch was in New York to walk his iPad around town to tease editors with striking images of fava beans and kumquats from his award-winning photographer Eric Wolfinger. But I caught him at the end of a busy day. So we got to talking Japanese cuisine and about that time he worked at the Quilted Giraffe in New York City, a 1980's legend in its own right.
Why a cookbook, now?
I like to think about the cookbook as souvenir. I don't think it's going to change the course of gastronomy, and that's not the point. It's going to tell a little bit about our story — who we are and where we are. There are some great stories in it and a lot of great recipes in it, and the photographs are beautiful. When we first signed the deal about doing the book, I went back and looked at recipes over the past 10 years and I saw a lot of things I wanted to do, but we ended up shooting mostly a year's worth of recipes. Our dishes change all the time and even looking at the photographs from this time last year, we're not doing them now. The restaurant has always been pretty progressive in that way.
How do you feel being away from the restaurant for a week?
Well, I'm allowed to take a vacation every now and then. I took three days – the restaurant is closed Monday and Tuesday – I'm flying back tomorrow and will be working service tomorrow.
So you didn't really take that much time off.
No, and I have 14 people working in the kitchen. I have a chef de cuisine and a pastry chef who have been with me for a while and cook more like I do than I do. People ask, "Who cooks when you're not there?" and it's the same people that cook when I am there.
I talk to alumni from your restaurant all the time and they place you in this god-like category. It's pretty special. Name some of the guys you are most proud of…
Well, I am proud of everybody. If they stayed for a while and "made it" at the restaurant, then I'm really happy. We've had some good people come through. Josef Centeno, who has a restaurant called Bäco Mercat in Los Angeles, was with us at the very beginning. So was Jason [Marcus of Traif in Brooklyn]. Jeremy Fox, who was at Ubuntu, and is now doing great stuff at Rustic Canyon. Charlie Parker, who is now running Freddy Smalls Kitchen in Los Angeles. Marty Cattaneo, who was running a kitchen until recently called Dio Deka. James Syhabout, who has Commis in Oakland, which got its first Michelin star this year. I think it's one of the best, most progressive restaurants in the Bay Area.
Do you go to all these restaurants?
Yeah, when I can. Usually if I have time off, I tend to cook at home a lot. I like to eat out when I travel a lot.
You were on the World's 50 Best Restaurants list last year, but came in at 52 this year. And Saison just got a New York Times review. You were mentioned there, but seemingly passed over. Does this affect you at all?
No, not at all.
Why not?
Because it's something I can't control. I'm not going to worry about things I can't control, only things I can control. We've been honored on the 50 Best list a couple of times and we were 52 this year, which is around where we usually are. We certainly don't lose sleep over it, though, and we don't make any kind of effort. The game — we don't know how to play it — and I don't know if we have the time or wherewithal to play the game, even if we knew how.
Let's go back to your New York Days days, when you worked uptown at the legendary Quilted Giraffe with guys like Wayne Nish and Tom Colicchio. What was it like working in New York City in the '80s?
It was a great time to be in your twenties and living in New York City.
When is that not the case!
I worked in a really great restaurant. We worked hard and we played hard back then.
You had quite the reputation as a wild guy…
Who, me? I don't know anything about this.
Where were you going out after work?
Back then, there was a lot of really good — at least I thought they were good — Japanese restaurants in the West 40s. A lot of them were tough to get in and very exclusive. The Quilted Giraffe right around 1985 took a dramatic turn towards Japan and Barry [Wine] started traveling to Japan. It had a big effect on how we were working in the kitchen and everyone became quite enamored with all things Japanese. If we had a little bit of money, we were spending it on really good Japanese food and cultivating connections to go in and be a non-Japanese person eating in those restaurants.
How many Japanese restaurants were there in New York City in 1985?
There were a lot. It's unscientific, but there were several places.
People assume the sushi roll came to New York in the late '80s.
I'd say mid to late '80s, yeah. It started in California in the late '70s in Los Angeles.
Let's talk more about Asian food. In early 2012, you were quoted, "I really think Japan and Asia in general will transform what's going on in dining." I really agree with that statement. I think it's the future of cooking, but I want to hear your opinion on it.
So you want me to see if I can predict trends?
No, it's not that kind of interview. I want to know if you think the statement is still true? Are we on course?
I think an emphasis on quality of ingredients is going to be more pronounced, with Michelin going into Japan. For better or for worse, they have printed an English guide with a list of all these extraordinary restaurants in Japan — with addresses, phone numbers and pictures of the doorways. There has been a steady stream of Western chefs pouring in and experiencing it. I think they are finally learning firsthand at a really top level, what Japan has to offer. Their emphasis on quality of ingredients, the discipline with technique and execution, their single-mindedness and focus and the quality of the meat, fish, fruits and vegetables.
I find it really interesting that they use such minimal amounts of fat in their cooking, so that everything has a really pure and balanced taste. When I say the future of fine dining, I'm speaking kind of a trend. As Spain was 10 or 15 years ago and Scandinavia was five years ago, I think Japan has opened up. And I may be wrong. I love eating over there. Here in the West, I can go into an ambitious restaurant, get the menu and tell you how old the chef is, where he worked, the cookbooks on his shelf, where he has eaten and where he has staged.
Cooking is that predictable?
Well no, but I have been around for a long time. I've seen a lot of things and have a lot of reference and data points. I'm just saying all of this to make a point. You can go into a restaurant in Japan and there will be a piece of fish with some eggplant and an herb, and I know all three. I know how I would do it, but they present it in a way that I've neither seen nor even thought about before. I see things through new eyes. Every day is a new day of learning and I am still excited about going out and trying new things.
---
This Food Republic Interview is presented by our friends at Ribera Wines
---
More FR Interviews on Food Republic: