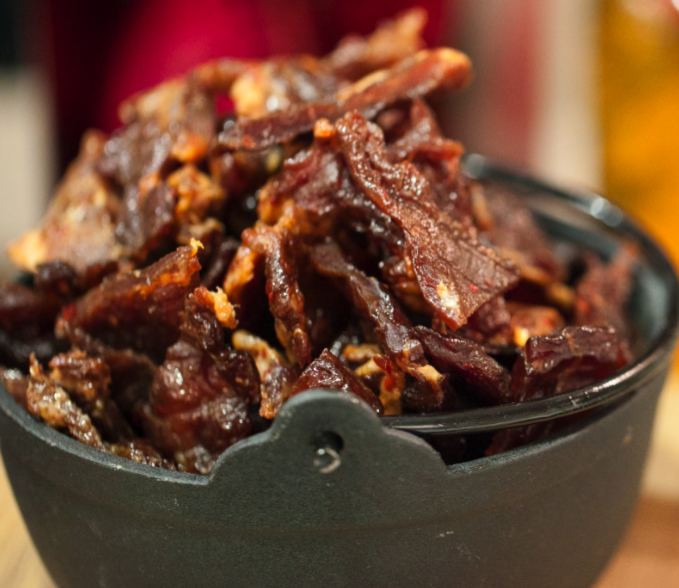 The traveling Cochon 555 competition made its annual stop in Chicago on Sunday and once again the event, which we call Porkapalooza, took place at the lovely Four Seasons Hotel. This year, the competitors included Kevin Hickey of Allium, the excellently named Cosmo Goss of Publican Quality Meats, Matthias Merges of Yusho, Ryan Poli of Tavernita and Joshua Adams of June. As always, each chef used a different heritage breed of pig and prepared five different "bites."
It's a fun event, full of chefs, farmers, winemakers, distillers, cheese producers, seafood purveyors, brewers and the people who love them. I was able to make better use of my time this year, since I knew what to expect and was more adept at monitoring the ebb and flow of the lines. That said, it is almost impossible to taste everything. Many of the contestants prepare different dishes at different times, meaning you need to get back in line if you want to try it all. This was one reason why Kevin Hickey's plate was so welcome — everything was ready at once. And it all came on an easy-to-manage, partitioned tray that allowed tasters to experience the dishes in the order they were meant to be served in. (Jason Vincent of Nightwood, last year's winner who went on to triumph at the Grand Cochon in Aspen, used a tray at last year's event. It was a great idea.) I loved Kevin Hickey's Chicago-style "Hog Dog" and his kimchi and pork soup topped with a poached quail egg.
Other standout dishes were Cosmo Goss' simple and delicious seasonal pate with ramps and morels; Merges' ramen with crispy pigtail, braised shoulder, umeboshi and pickled ramps; and Adams' Thai sausage with black garlic, bok choy, wild onion and gochugaru. (Adams also offered what had to be the evening's most unusual dish — ham cotton candy with pineapple!)
But my personal favorite of the night was Ryan Poli's "head-to-tail paella," with tongue, tail, face chorizo, smoked ham, asparagus, ramps and lemon aioli. (As full as I was, I admit to copping a second helping of this one.)
Throughout the tasting, Rob Levitt and his Butcher & Larder team were back to demonstrate their skills, breaking down a whole pig in less than an hour.
At around 6:30 p.m., the votes were in. This year's title went to Cosmo Goss for his excellent, charcuterie-heavy offerings. Goss will be heading to Aspen to defend the title for Chicago. No pressure of anything.
And then dinner was served! (As if that was necessary.) This year, Kevin McKenna of Lillie's Q was responsible for the barbecue plate, which was every bit as good as the contestants' offerings. The collared greens cooked in smoked stock with hot pepper vinegar were exceptionally tasty and memorable. (Or perhaps my abused insides were just crying out for something green at this point in the night.)
Congratulations to Cosmo and the team at Publican Quality Meats, and good luck in Aspen.
Read more about Cochon on Food Republic: