Big Weekend: Austin Food & Wine Festival 2013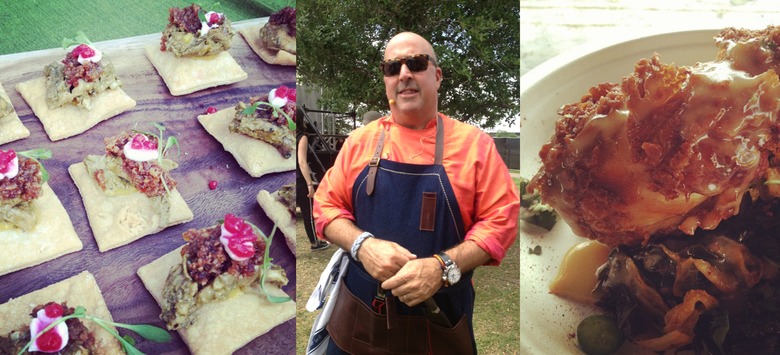 Over the weekend we decamped to Austin, Texas for the second annual Austin Food & Wine Festival. It's become sort of an annual spring thing for us and might we just say that spring has sprung in that part of the country. Texas, y'all are some beautiful people. On Friday we asked some of our friends from the world of food and comedy to drop by our interview lounge at the W Austin Hotel, including Reggie Watts, Paul Qui, Christina Tosi and Andrew Zimmern. We'll be dropping those videos in the coming weeks. But in the meantime, here are some of the highlights from the weekend — both festival- and migas-related.
[More on the festival and Austin: 10 Things I Learned in Austin (and One Thing I Already Knew)]
The East Side Kings triple crown 
After landing, I headed straight for Austin's eastside to visit Paul Qui's trip of Asian-inspired food trucks, which are parked at some of the city's most-loved dive bars. At the Grackle I found pork ribs rubbed with turmeric then smoked low and slow with fish sauce. I also tried a fried chicken leg rubbed with Chinese five spice drizzled with honey miso beurre blanc and sided with kimchi collard greens and the illest scoop of Japanese potato salad. It's basically 1:1 Kewpie to potato.
Down the street at Liberty Bar, I ordered the classic ESK chicken karaage. Chicken thighs are first brined in garlic, Thai chilies and vinegar, then dusted with cornstarch and fried golden brown. The tender chunks are garnished with a mix of fresh basil, cilantro, mint. The final stop was Shangri La, where his ESK grilled cheese is anything but the after-school snoozer. In a sweet Hawaiian roll he places brie cheese and slices of tart green apples with week-old kimchi and a small sheet of nori. It's working!
Taste Of Texas  
Although much of the Austin Food & Wine Festival activities are based around celeb chefs from outside Texas, the organizers made sure to pay tribute with an event to highlight the big-time culinary deals operating in Houston, San Antonio, Fort Worth, Dallas and of course Austin. There was a long line to sample Aaron Franklin's all-universe beef brisket. I skipped that, saving room for more interesting things like a smoked oyster with bacon jam, "blood pearls" and cilantro from James Holmes (Olivia) and beef tongue pastrami with foie gras mousse and green strawberries from Ned Elliott (Foreign and Domestic). San Antonio chef Jason Dady (Bin 555) expressed his creative spirit with a smart play on Mexican elote — he took cotija cheese and sweet corn pudding and placed it atop a half of lime. We were then asked to basically squeeze and suck. The burst of acidity brought the whole thing together.
Migas at Cisco's 
Founded by Rudy "Cisco" Cisneros in 1948, Cisco's on East Sixth Street is an Austin legend known for drawing state officials for breakfast meetings and serving one fine plate of migas. Lyndon B. Johnson was apparently a fan. The kitchen at Cisco's follows the longstanding Texas tradition of cooking everything with lard, which is done just wonderfully in this a.m. plate. Housemade corn tortillas, fried to a slight crisp, are worked in with a scramble of bright yellow eggs topped with melted mounds of industrial cheddar cheese. But that's only part of the deal. Alongside the scramble sits Tex-Mex textbook refried beans, a pool of warm salsa and a puck of pork sausage. You're given a side choice of biscuit or tortillas. Order the airy yeast biscuits, which you can squirt with squeeze bottles of honey and liquid butter that sit on each table. They will taunt you for a second and third blast, which is almost impossible to avoid.
Grilling with Tim Love and Andrew Zimmern
A big part Saturday's tasting tents/demo experience at Butler Park was a 150-person (150 grill) live-fire demo with formidable Texas meat man Tim Love and our favorite ethnic food scholar and master pontificator (posing as a populist television host) Andrew Zimmern. The two took to a stage while we (the audience) were placed next to a freaking hot grill of incinerated wood chips and asked to cook beef cheeks and oxtails all D.I.Y. style while sipping crisp Napa Chardonnay. FUN! Zimmern stressed the wonders of Japanese robata grilling by having us glaze our cuts with an umami-rich mixture of mirin, soy sauce and sesame oil. The crowd sorta went nuts for the stuff, which when pressed on hot iron made a field in Texas smell like the streets of Roppongi.
Rock Your Taco
Of course the Austin Food and Wine Festival would have a taco event, which returned for a second straight year. It appears the organizers want this event to play out like the Burger Bash in Miami and New York, which they are certainly on their way to doing by inviting a cool selection of chefs like Marc Murphy, Christina Tosi, Susan Feniger and Marcus Samuelsson. There were three different tacos incorporating New York City-style deli pastrami (Tosi did a brisket-pastrimi blend with mustard seeds and red cabbage sauerkraut). Murphy and Rene Ortiz riffed with equal flare. Tony Mantuano did the near impossible by wrapping the flavors of Italy in a tortilla. He was beyond successful with his tender tripe slow cooked in a rich tomato gravy dusted with a grating of good hard parmesan and orange zest.
But the night's big winner was Tyson Cole from Uchi, who defended his 2012 RYT title with a fully re-imagined taco starring a yucca chip shell wrapping raw himachi, Asian pears and a mist of white soy. Inventive. Delicious. A slightly manic Billy Gibbons (guitarist of ZZ Top), who served as one of the three judges and spoke from a stage at the awards ceremony, was even impressed. Also to note, his beard was 100% taco free. 
Presented by our friends at the W Hotel Austin.