10 Things I Learned In Austin This Weekend (Plus One Thing I Already Knew)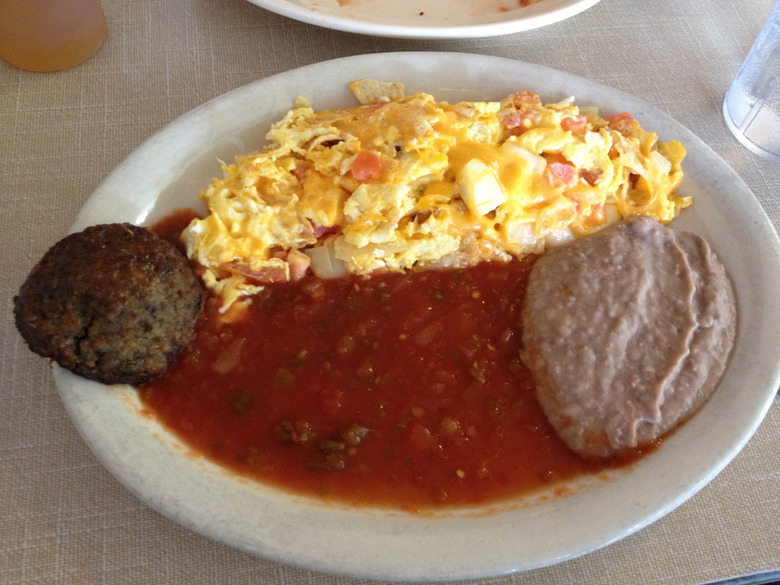 "Is this your first time in Austin?" People always seem to ask me this when I'm visiting one of my favorite cities, a city I've been to so many times I've literally lost count. I started going to Austin years back as a music critic covering South By Southwest, and have used any professional and personal excuse to return for the food, the margaritas and the dry heat. So no, this past weekend was not my first time in Austin — though I've never really been anywhere else in Texas.
[Earlier: My colleague Matt Rodbard's Big Weekend: Austin Food & Wine Festival 2013]
Which leads me to the first thing on this list of 10 Things I Learned In Austin This Weekend (Plus One Thing I Already Knew):

I need to check out more of Texas. The Taste of Texas event that kicked off the Austin FOOD & WINE Festival (after the Food Republic Interview Lounge) featured chefs from Houston, San Antonio and Dallas, and there's some serious cooking happening in these parts. Houston is the fourth largest city in America, and while the others in the top 5 (NYC, LA, Chicago, Philly) get lots of love here on FR, we've been woefully behind on our coverage of Houston. Plus, our former columnists Seth Siegel Gardner and Terrence Gallivan now have their 2-part restaurant The Pass & Provisions going strong, and I wanna visit ASAP.
"They put cheese on everything." One of my favorite opening sequences in film is in Richard Linklater's cult classic Slacker, in which the director kicks off a series of segued vignettes by riding around in a cab and chattering to his taxi driver. In a sort of tribute, I always engage in conversation with cabbies while in Austin, and I often come away with bits of wisdom. In this case, as we pulled away from the W Austin yesterday, the early-morning fog resting on the flat landscape and shrouding the rectangular buildings, I asked my driver where he was from. "Mexico," he said, and when I asked what state, he replied, "Zacataces, north of Mexico City." I then wondered if he could find any food in Austin that reminded him of home. "No, it's all Tex-Mex," he said. "They put cheese on everything." 
Austin FOOD & WINE Fest co-founder Tim Love has a customized pick-up truck featuring a grill, flat-screen TV, keg and belt buckle door handles. (See photos.)
During the Food Republic Interview Lounge at the W Austin, we assembled a live audience and spoke with the following chefs: Lawrence Kocurek and Janina O'Leary from the W Austin's Trace, Brian Malarkey, Tim Love, Paul Qui, Andrew Zimmern, Marcus Samuelsson, Christina Tosi and father-son team Jack and Bryce Gilmore. And musician David Wingo (who scored the new film Mud and is frontman for the band Ola Podrida). And, from the Moontower Comedy Festival in town the same weekend, comedians Todd Barry, Michael Ian Black and Reggie Watts. Among the things I learned while conducting these interviews is that Reggie Watts' twitter feed features some really cool Vine videos. (We'll have much more on the Interview Lounge on the site soon.)
I should point out that while I missed most of Matt Rodbard's interview with Jack and Bryce Gilmore, we did meet up with Bryce later at his much-praised restaurant Barley Swine. (He was a Food & Wine magazine Best New Chef in 2011 and is a finalist in next week's James Beard Awards for Best Chef, Southwest.) Bryce gave us a pre-game sample of his Rock Your Taco entry, a beet, radish and goat cheese concoction that was crunchy and fresh and different than everything else in the competition (which Tyson Cole won, for the second year running; more details here). So what'd I learn? Namely that Barley Swine deserves all the accolades it's been getting for its artfully composed, local farm–sourced dishes. Gilmore is creating mini-masterpieces on the plate, experimenting with flavor combinations and succeeding almost every time.

Qui, the new restaurant from one of our favorite AFWFest sidekicks, Paul Qui, is going to be among the buzziest restaurants in the country when it opens later this spring or summer, and IMHO will complete the transformation of Austin's eastside into one of those almost too on-the-radar hipster 'hoods (think Silver Lake, Williamsburg). 
This could also be the thing I already knew, since it's pretty much common knowledge, but when it comes to BBQ, Aaron Franklin is The Truth. At the Taste of Texas event Friday night, FR co-founder Marcus Samuelsson, Red Rooster Kitchen Director Joel Harrington and I stood by Franklin's booth devouring the chunks of brisket he was doling out, and we must have looked like a pack of wolves. "There's no salt on this!" Samuelsson marveled, wondering how Franklin achieved the smoky, rich flavor. "It's the terroir of the grill," noted Harrington. "Mmmm," I added.

When seasoning your food while cooking, you should pre-mix the salt and pepper to assure a more even coating, said Marc Murphy during his demo on "Fool-Proof Dishes." Good, simple advice from a chef who doesn't complicate things. I tried this last night on a sole meunière I was making and I have to say, thanks Marc!

The Paloma is my new favorite cocktail. Grapefruit and tequila? Sign me up.
And the strangest thing I learned, considering where we were, was about escargot. W Austin chef de cuisine Lawrence Kocurek brought his collection of snails to our Interview Lounge, and told us that the kind of snail you use in escargot is key. In fact, some snails are poisonous. Kocurek turned his critters into a dish at the Sel et Gras party we co-hosted at the W Austin after Rock Your Taco, where a bunch of chefs, food writers and the inimitable Pichet Ong gathered in the kitchen, turned off the lights, drank (and ate, in the form of cotton candy) absinthe and, well, things get fuzzy from there. I vaguely recall Matt Rodbard sabering a Champagne bottle, but that may be the absinthe talking. 
Oh, and what did I already know?
I love migas. I got turned on to this egg and tortilla chip dish back in my early days at SXSW at a long-closed restaurant on Congress, and I've been making them ever since. I get corn tortillas, lightly fry or bake them to just before crunchy, crumble 'em into an egg mixture, then scramble them with some jalapeños, tomatoes, cheese and maybe some mushrooms. But nothing compares to the real Austin thing, and some of the best migas I've ever had were served to me this weekend at Cisco's, where the migas came on a dish with lard-powered refried beans, a perfect salsa, a spicy sausage patty, a flour tortilla and a fluffy biscuit (a conduit for the butter sauce and honey in squeeze bottles on the table). This breakfast reminded me why I love Austin: Just when you think you've got it figured out, there's always something you didn't know about. 
Presented by our friends at the W Hotel Austin.