We're At The Austin Food And Wine Festival!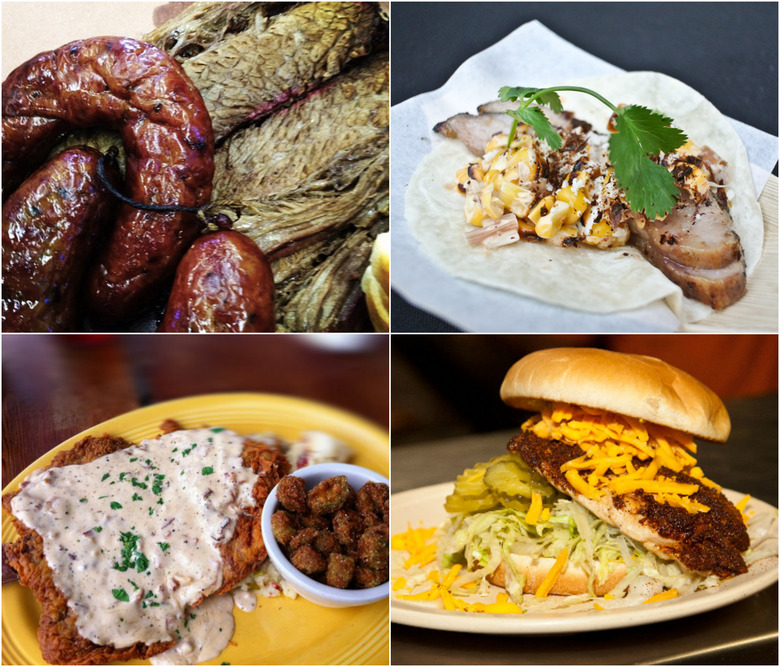 The Austin Food & Wine Festival returns this weekend with a full schedule of chef tastings, classes (think Tim Love + 100 smoking grills) and an event called Rock Your Taco, which we had a great time at last year. There is all sorts of information available at: austinfoodandwinefestival.com. But like all food events on this planet, tickets are limited and will most certainly sell out.
And for the second year running, Team Food Republic is here in Austin interviewing chefs and food personalities at the W Austin all day today. And we'll be partying with the W Austin Saturday night, April 27, starting at 9pm, for Sel et Gras, a late-night evening of "all things Parisien," with French bites from Trace chef Lawrence Kocurek and pastry chef Janina O'Leary. Tickets are $75 or $60 with an Austin FOOD & WINE Festival badge.
Follow the #FRAustin hashtag on Twitter and Instagram for live updates from the Interview Lounge and maybe some Texas brisket porn.
Here is our complete schedule for the Food Republic Interview Lounge, which is subject to change. And if you live in the area, you should stop by and say hi!
11 a.m.
Lawrence Kocurek
11:30 a.m.-11:55 a.m.
Brian Malarkey
12:00 p.m. – 12:25 p.m.
Bryce & Jack Gilmore
12:30 p.m.-12:55 p.m.
David Wingo
1 p.m. – 1:25 p.m. 

Janina O'Leary
1:30p.m-1:55 p.m.
Graham Elliot
2 p.m. – 2:25 p.m.
Christina Tosi
2:30 p.m. – 2:55 p.m.
Andrew Zimmern
3 p.m. – 3:25 p.m.
Michael Ian Black
3:30 p.m. – 3:55 p.m.
Paul Qui and Deana Saukam
4 p.m. – 4:25 p.m.
Reggie Watts
4:30pm-4:55pm
Pichet Ong
5 p.m. – 5:25 p.m.
Marcus Samuelsson
Related: You Travel, You Eat: Where To Find The Best Food & Drink In Austin