Food News: Rent-A-Chicken, Haute Cuisine Goes Vegetarian, Protests At CIA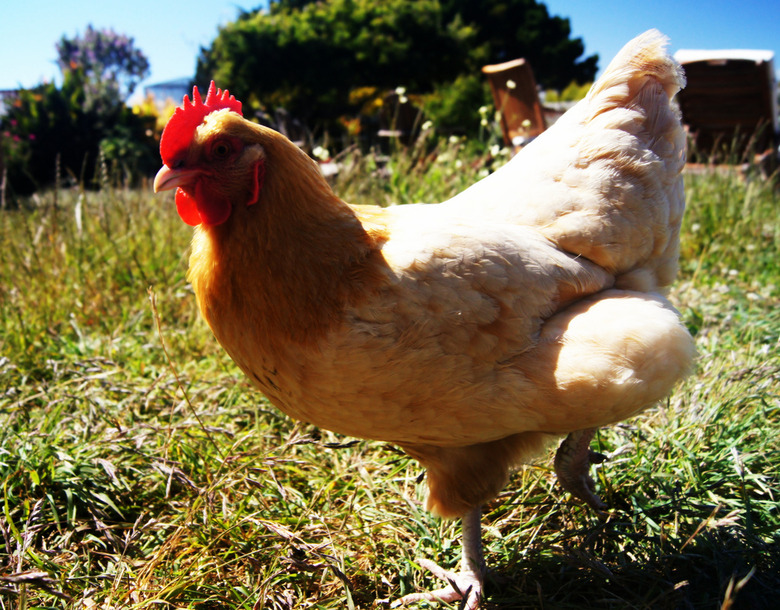 Chicken
The week in food politics brings chicken rentals, student protests, good news for vegetarians and the glimpse of a farm bill. And just when you thought it was gone for good, horsemeat is back in the news.
There's no doubt that urban farming has enjoyed a recent boom bordering on craze, but even those willing to grow and pickle their own cucumbers aren't always eager to make the jump to backyard chickens. Thanks to new companies like "Rent-A-Chicken" in Traverse City, Michigan, would-be farmers can now skip the commitment of actually raising poultry and keep those chickens only as long as they are laying eggs, thus keeping renters in plentiful supply of gourmet frittatas.
And while city-dwellers take a shot at urban farming, lawmakers are once again turning their attention to the farm bill in an attempt to negotiate budget cuts that will please both commodity crop farmers and food stamp advocates — the very problems that prevented a farm bill from passing last year.
In more policy news: a bill to label GE foods, known as the "Genetically Engineered Food Right-to-Know-Act," was introduced in the House and Senate on Wednesday. The FDA responded to the Environmental Working Group's (EWG) report on antibiotic-resistant superbugs in meat, calling it "misleading," and the slaughterhouse in New Mexico that wants to process horsemeat for consumption moves closer to getting approved, despite the owner's criminal record and protests from horse welfare advocates (including Robert Redford).
In New York, students at the renowned Culinary Institute of America are protesting what they see as the school's failure to uphold its rigorous standards for both admissions and dress codes.
Meanwhile in Europe, fine dining is taking on a new shape. No longer seen as a "punishment," vegetarian options are enjoying their moment in the spotlight at haute cuisine restaurants in Europe.
Finally, the Environmental Working Group released its annual "Dirty Dozen" report, in which the advocacy group lists the top 12 pesticide-contaminated fruits and vegetables based on reports from the USDA and FDA. Newcomers to this year's "Dirty Dozen Plus" list include: peaches, cherry tomatoes and hot peppers.