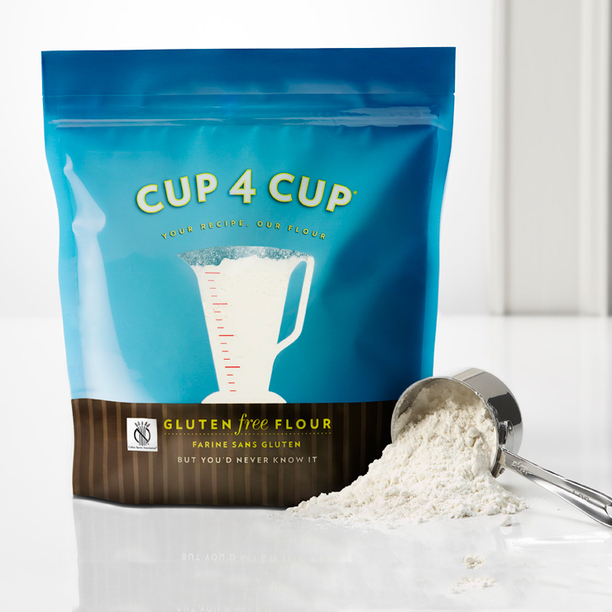 For those who have been eagerly awaiting the arrival of a 100% legitimate gluten-free flour, as in "can't tell the difference," break the baking gear out of storage: it's cake and waffle time, thanks to Cup4Cup. Chef Thomas Keller along with Lena Kwak, research and development chef at The French Laundry, teamed up to knock a very important task out of the park. Because that's the only way they do things.
The story behind the flour is one of true mentorship: Chef Keller wants to see the people who work for him succeed. While nurturing Kwak's talents for developing new products, they solved a problem plaguing the culinary world as more and more food enthusiasts find themselves sensitive or allergic to wheat.
"It seems more people are aware of gluten intolerances today or knows someone who is affected by it," says Keller. "It's always great to hear when Cup4Cup has attributed to bringing back happy food memories or even made it possible for the whole family to share a meal again."
This delicious product is changing those lives for the better. How much better? A lot, as they told me.
Approximately how many batches were tested between the research phase and final product?
Kwak: There isn't an exact number to give as an answer. For the original Cup4Cup blend formulation, definitely hundreds of trial batches. We tend to be finicky and particular on the end quality of our products. It's a long road before we are content with the final item, so it's to the consumer's benefit that the Cup4Cup team is made up of people with slight OCD tendencies for perfection.
In your experience, is there any application where regular flour is simply necessary? Like a roux?
Keller: In developing this product, we focused on duplicating wheat flour in taste, texture and performance. Cup4Cup can be used as a roux and thickens sauces and soups beautifully with no discernable difference.
Do you have any close friends or family members with a gluten allergy?
Kwak: Yes, both family and friends. I feel like every day I meet someone else who can't have gluten or chooses to limit their intake.
Chef Keller, I've heard you've been using Cup4Cup in your fried chicken recipe. What are some of the benefits and differenced in dredging with gluten-free flour?
Ad Hoc restaurant is well-known for fried chicken nights and we do accommodate guests upon request if they have a gluten intolerance, substituting Cup4Cup for regular flour. I actually prefer the Cup4Cup version, as it results in a crisper coating. With traditional flour batters, you want to avoid overmixing so the gluten protein does not develop and become doughy and chewy, which is not ideal for frying. With Cup4Cup, since there is no gluten to worry about, items are crisp and crunchy without the risk of over-mixing.
What's your favorite application using Cup4Cup?
Kwak: Cakes, we've had several blind consumer tastings where oftentimes people chose Cup4Cup over wheat-made samples because there are items where Cup4Cup will perform better than even wheat flour.
Keller: Using Cup4Cup in a waffle recipe is a great example of a light and fluffy crumb with a crispy crust.
More on gluten freedom at Food Republic: