The Brooklyn Brewery Mash To Hit Baltimore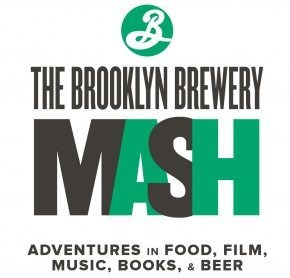 We've already told you about the Brooklyn Brewery Mash, an 11-city festival showcasing food, film, music, books and, yes, beer. The celebrations kicked off on March 6 in Austin, Texas during South by Southwest and continued in New Orleans the following weekend. After April 8–14 festivities held in Nashville, the next stop on the tour is Baltimore, from April 30-May 5. Here is a rundown of events scheduled to take place in Charm City starting next week. Be sure to check out the Mash's official website for more details and ticket information.
April 30 – May 3, 5-7 p.m.; Max's Taphouse; 737 South Broadway
Brooklyn beer specials, new and special offerings, giveaways and info on all things Mash.
May 1, 7:30 p.m.; Hersh's Pizza & Drinks; 1843-45 Light St
Multi-course beer dinner celebrating local cuisine, interpreted 2 ways: by Chef Josh Hershkowitz of Hersh's and Brooklyn House Chef Andrew Gerson.
May 2, 6:30 p.m.
A stalwart citizen opens their kitchen for a dinner party where all the guests are cooks. Each attendee brings the ingredients and everyone cooks together. Dishes are passed around, and there's plenty of Brooklyn beer to enjoy. For location details, go to ChaosCooking.com.
May 2, 8 p.m.; Creative Alliance @ The Patterson; 3134 Eastern Ave
A hilarious comedy event that showcases footage from videos that were found at garage sales and thrift stores and in warehouses and dumpsters across the country.
NY Night Train Soul Clap & Dance-Off with DJ Mr. Jonathan Toubin
May 1, 9 p.m.; Metro Gallery; 1700 North Charles St
America's most popular soul party returns to Baltimore. Get down to the exquisite 1960s soul 45s of world famous Brooklyn DJ Jonathan Toubin all night long. Join the 1 am dance contest for $100 cash prize and a trip to New York for the Dance-Off championship at Brooklyn Bowl.
May 4, 2-5 p.m.; The Wine Source; 3601 Elm Ave
Brooklyn Big Bottle & Cheese pairing demo with Brooklyn Brewery House Chef Andrew Gerson.
Togather Books & Beer: Handmade Revolution with Kelly Rand
May 4, 3 p.m.; Artifact Coffee; 1500 Union Ave
Togather and Brooklyn Brewery present a conversation and Q&A with advocate and author Kelly Rand, co-founder of Hello Craft, a non-profit trade association dedicated to the advancement of independent crafters and the handmade movement. $1 from your ticket will benefit Slow Food Baltimore.
Slow Supper with Chef Cyrus Keefer
May 5, 7 p.m.; Cylburn Mansion; 4915 Greenspring Avenue
Guests will feast on a meal prepared in collaboration between Brooklyn House Chef Andrew Gerson and Chef Cyrus Keefer of Birroteca. Projection installations from Brooklyn's NBNY. All proceeds benefit Slow Food Baltimore.
Read these Baltimore stories on Food Republic: