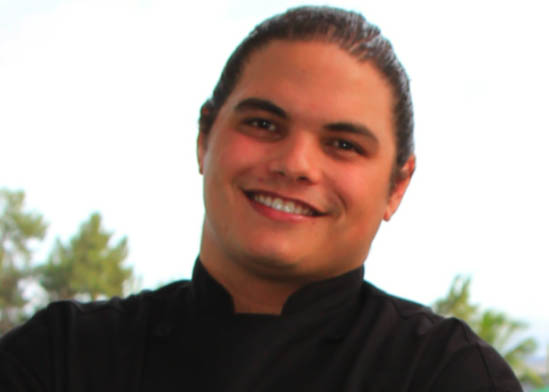 Chef Phillip "Ippy" Aiona may have been the youngest person to ever compete on Next Food Network Star when he appeared last year as a finalist in Season 8, but you'd never know it by the 24-year-old Hawaii native's achievements. His fast-food restaurant, Ippy's Hawaiian BBQ — serving his take on traditional "plate lunch" dishes like loco moco and Hawaiian chicken — has been a popular fixture on his native Big Island since it debuted in December. And just last month, Aiona opened the Three Fat Pigs, a gastropub (the Big Island's first, he says) with a few Hawaiian twists.
On a recent trip to the Big Island, I had the pleasure of checking out the Three Fat Pigs and its upstairs bar, the Thirsty Wolf. I sampled some of Aiona's signature dishes, including pig's tails chopped and mixed with a red wine jelly, and served breaded, Scotch-egg-style; and one of the best citrus salads I've ever had, with the unexpected additions of tiny spheres of honey and salty ricotta salata. Then I sat down with Aiona, who comes from a family of restaurateurs, to talk about the logistics of cooking on an island, his essential Hawaiian ingredients, and the challenges of proving himself as a young chef.
I understand this is the Big Island's first gastropub. Would you say there's a Hawaiian spin here?
Here I take things I personally like — pig tails, bone marrow, oysters — and I'll do a local twist by adding some ingredients. I'll put soy-sauce sriracha spheres in the oysters. Our ceviche's kind of island-style, with lime zest, coconut milk, cold-smoked cucumbers and tomatoes.
Where do you get your ingredients?
We have a few different local farms that we go to. I get emails once a week from three different farms about what they have this week. I rely so much on the local farmers. We had a storm last week and it flooded out all our sweet potatoes, all our papaya; we have to work with what the farmers have.
I source from Adaptations and also from Hirabara Farms — they've had Molto Mario go to the farm and cook stuff there. They have these wasabi greens they grow: It's like eating a piece of wasabi. They grow French breakfast radishes, all our baby heirloom carrots. For local meats we use Kahua Ranch.
Are there certain things you get here that you wouldn't be able to get on the mainland?
I want to say yes — we have taro and things like that here — but it's as hard for me to get taro here as it was when I was in San Francisco [where he studied cooking at Le Cordon Bleu]. And honestly, I found it easier when I was in San Francisco than here, only because it's like the export-import center of the world. Here, my pig tails, it takes me six weeks to get one shipment — it all goes on a boat. That's why we use so many local farms.
How's it going with Ippy's Hawaiian BBQ?
That's more of the locals and tourists that want to eat something like teriyaki beef, loco moco — which is rice, hamburger patty, with an over easy egg on top — or baby back ribs. Ippy's is something I want to open more of, because I want to show more people what good plate lunch is. My dad, when I was growing up, had a Hawaiian plate-lunch restaurant. So I grew up learning how to make that kind of food. I knew I was going to open [the Three Fat Pigs], but I wanted to open something first that was like what my friends would eat. I think every chef has that one comfort food that they go to.
We don't really find much Hawaiian food in the mainland U.S.
Yeah. There's Roy's…but that's more Pacific Rim cuisine.
If you were going to stock your pantry with typical Hawaiian ingredients, what are some of the things you'd have in there?
Well, rice — short grain rice. Kokuho. There's another one, Tamaki, they're really good too, but they're more on the expensive side. And shoyu. We have our own shoyu: It's called Aloha Shoyu; it's a little less salty. I think it's from Oahu.
Is Sriracha big too?
I use a lot of Sriracha personally. If something's bad, I just smother it in in Sriracha. But the only hot sauce we use that's local is chile-pepper water. It's made with Hawaiian chile peppers, garlic, water and vinegar. Some Hawaiians will put in seaweed. The Koreans here put in gochujang.
Anything else?
Not really. When I was on the TV show, they asked what I wanted and I said: 100 pounds of rice, 50 pounds of SPAM, and a gallon of soy sauce. I could live on that.
So, SPAM too?
Yep. "Pâté de campagne." [Laughs] When I was little my grandfather used to take us to the beach, and he'd have a loaf of Wonder Bread and a can of SPAM, and just use the bread to scoop out the SPAM.
How'd you get into the TV business?
My best friend said, "Oh there's this show, why don't you try out?" I said no. We were drinking one night, he said, "C'mon man, I've got a camera, let's do it." So I got on there and said, "Welcome to Hawaii"…and this and that. I got a call back. They had me fly to Oahu to cook for them. I made a savory bread pudding with sake, mushrooms, lemongrass and kaffir lime. And I served it with lemon-lime kaffir whipped cream on top.
They called me again and I had to go to L.A. and cook for Giada. They gave us like 10 minutes and a bunch of ingredients. I had to make her a salad. I ended up making her a play on a caprese salad. It had heirloom tomatoes, and then I did an anchovy-jalapeño-sesame oil dressing for it. She loved it.
But she said, "You're 22 years old. How are you going to convince viewers you know what you're talking about?" I said that in our country it's acceptable to be a jack of all trades. But all the greats only focus on one thing. If your father's a blacksmith, you become a blacksmith. I think I'm super old school like that. I was born into the restaurant business. I grew up in the restaurant business. I love the restaurant business. And I'm probably going to die in the restaurant business. I'm not a jack of all trades. I'm only trying to master this one. I can't change the oil in my car; if my tired popped I'd have to call AAA. But I can make some really cool food.
The Three Fat Pigs and the Thirsty Wolf, 250 Waikoloa Beach Drive, #B10, Waikoloa, HI. 808-339-7145
Read these stories about Hawaii on Food Republic: