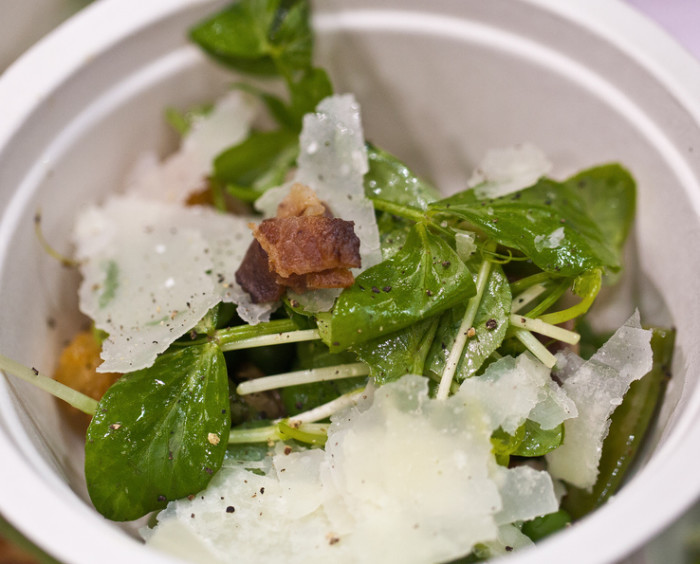 Spring is the season for the very best salad on the planet: pea shoots and friends. Also known as tendrils, these young leaves of the pea plant are one of the first spring vegetables that sprout up in farmers markets as early as March, and one of the best. I love "Fiddlehead Week and a Half" as much as the next food writer, but pea shoot salads are hands down what I enjoy most about the start of produce season.
Pea shoots taste just like spring peas — tender, sweet and a little floral. In fact, you might get a couple of nice white flowers on there. There's also the added bonus of them not being boring lettuce. I find spring mix to be especially tiresome. Sorry, spring mix, but the textural combination of different sized leaves, crisp shoots, soft flowers and peppery stems makes pea tendrils the clear winner in the exciting salad game.
Don't gunk up this beautiful medium with some kind of salad dressing you didn't make — and don't make salad dressing that's anything other than the best olive oil your wallet will permit you to buy, a little fresh lemon juice or champagne vinegar, salt, freshly ground black pepper and maybe just a dollop of Dijon mustard. Here are some things that also love pea tendril salad:
And my other favorite way to do 'em up: tossed with very good olive oil and hot pasta right after draining so they just barely wilt, with lemon zest and juice, pepper and freshly grated Parmesan. Maybe a few blistered cherry tomatoes, à la Mario Batali.
So pick up a few handfuls at this weekend's farmers market and see what else is in those bins — it's sprouts and baby leaves season, and that is definitely not always the case.
More salad for lunch on Food Republic: