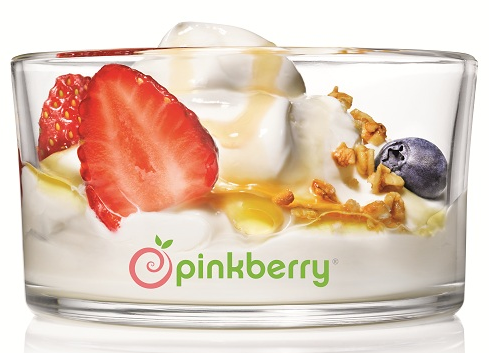 We're big fans of Greek yogurt over here at Food Republic. Remember Greek Yogurt Week? We also have two real Greeks on staff. REAL Greeks. I am one of them. (Don't even get me started on fake Greeks.) So we're collectively suggesting that you head down to your local Pinkberry today, where they're showcasing their new Greek yogurt product — named Pinkberry Greek (what else?) — during "Snack Hours" every Wednesday afternoon in April from 11 a.m. to 2 p.m. During this three-hour period, consumers can stop by any of the store's 151 locations to pick up a free full-size serving.
As one of Food Republic's snobs experts of all things Greek, I made my way last Wednesday to the nearest location to our Manhattan office (32nd Street between 5th Avenue and Broadway). While not exactly Ben & Jerry's Free Cone Day-esque, the buzz was evident, with a 40-ish person line spilling out of the shop and stretching well down the block.
The majority of individuals I spoke with were aware of the giveaway, while others stopped to inquire about the fuss before chuckling…then securing their own place in line. There was just something about an American yogurt shop, located smack in the middle of Koreatown and serving a Greek product, that made the moment of organized chaos that much better.
And now, for the moment of truth: Was the product worth the wait? Well, it has exceptional tartness and hearty thickness, both characteristics of authentic Greek yogurt. And the two savory toppings (tomato basil and sunflower cucumber) are intriguing and work surprisingly well. Consider that a coveted Greek Seal of Approval, and see you in line later today.
More Greek yogurt stories on Food Republic: