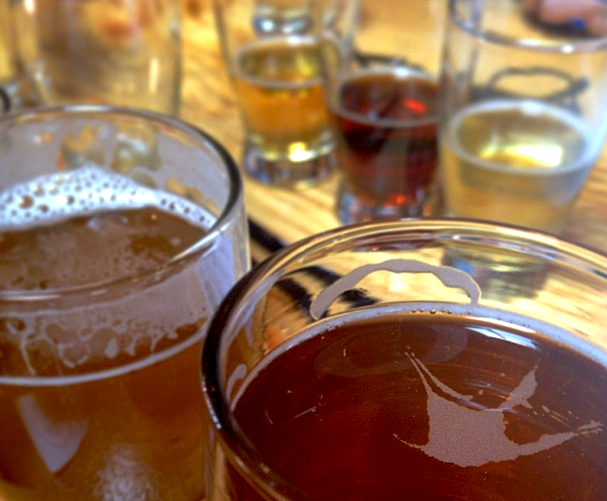 Cider is one of the most popular alcoholic drinks in the world, but it remains the odd apple out in a nationwide revolution of craft beverages. To be clear, I'm not talking about the brown stuff you find at farmers markets; this is the hard stuff (or hard cider as it is legally known stateside) and it's finally making the move Stateside. I caught up with two of the world's top ciderists, Greg Hall, from Michigan-based Virtue Cider and Tom Oliver, from England's Oliver's Cider & Perry, and learned some stuff.
Hall (read our full interview) knows all about conquering frontiers from his days as a brewmaster at Chicago's Goose Island brewery. He left to fulfill his dream of becoming a ciderist, but might not have found his calling had it not been for a trip to England 10 years earlier. He went looking for great beer and ended up meeting master ciderist and future collaborator, Tom Oliver.
Hall and Oliver share a similar path from hops to apples. While Hall's journey started with beer and has moved on to apples, Oliver grew up on his family's farm which primarily grew hops. It was due in part to the increased popularity of European and American beers in the early 1990s that demand for their hops began to shrink, and they made the transition to making cider. Hall never made a cider during his days with Goose Island, but began to create beers with higher acidity as a response to local chefs who had difficulty pairing foods with big, hoppy beers. The result: food-friendly Belgian-style beers like the popular Goose Island Matilda and Sophie.
The duo shares a commitment to local production: all the fruit comes from local orchards (or their own) and they donate the pressed apples to local farmers for animal feed. Unlike beer, traditional cider production starts and ends on the farm. At the height of the farm-to-table movement, ciderists are bringing you branch-to-bottle. Hall estimates that for every 20 beers in Europe there is a cider, but he couldn't understand why, in the land of Johnny Appleseed, there are around two ciders for every thousand beers. He's out to change that.
Here are 12 things you probably didn't know about cider:
It was the drink of pilgrims
Cider was, in fact, the most popular drink in North America and England from the early settlers' times, and with good reason— water was potentially lethal. According to Hall, "wine is wisdom, beer is strength, and water is bacteria." This cider was probably a diluted cider called Ciderkin in the U.K., made by steeping pomace (the remains of pressed apples) in water.
At one point in history, cider was as good as gold 
Between the 1600s and 1800s, the British estate owner who made the best cider attracted the best workforce because a significant part of workers' wages was paid in cider. It's a nice thought to savor nowadays, but an 1887 law called the Truck Amendment Act made it illegal to compensate workers in this manner.
Cider can be aged (but be careful)
"A well-made bottle-conditioned cider can be kept for years," explained Oliver. They get drier as time goes on, since they are never quite finished conditioning. This means ciders over 6% — Dupont, Virtue or Oliver's — are good bets. Be warned: most commercial ciders are not made for this, as they're either sterile-conditioned or pasteurized with a shelf life of two years, so aging them will probably yield cider vinegar.
Bourbon-aged cider is a thing
Barrel-aging is the key to making great high-end ciders like Virtue's RedStreak and The Mitten. Virtue has invested in a variety of barrels such as red wine, American oak, French oak and bourbon barrels from Heaven Hill. They test each barrel and blend different barrel-aged ciders together for the best tasting final product.
When at war, people drank cider
Perry, a cider made from pears, played an important part in the history of fertile apple-growing counties of Herefordshire, Worcestershire and Gloucester. Frequently, the UK was at war with their main wine suppliers like France and Portugal and if they weren't at war, shipments of wine were still hard to come by. As an alternative, landowners looked to Perry as a substitute for champagne.
Eating a cider apple will cause you to make a face
Drink all you please, but biting into a cider fruit will probably be pretty appalling, warns Oliver. He says it's akin to eating a large number of teabags in one go. However, crushing the fruit brings out a tart, dry sweetness, so it makes an excellent ingredient in cider…or for playing a nasty trick on unassuming friends.
Cider should be drunk warm, unless when it shouldn't 
Just like with beer, drinking cider ice-cold isn't always best. In fact, the suggested way to drink it is out of the cask, where it's closer to room temperature than cold. However, experimenting with temperature can be good. Oliver experienced this at the Shelton Brothers Festival, where, he says, "I had an ice-cold, dry traditional cider of mine and I would never ever have thought of drinking it ice-cold but it turned into one of the most refreshing experiences I've ever had. But you've gotta like dry cider. I mean it really was brutal because it was just very sour. It had some bitterness but the acridness really came out in a strange way, so I'm open to having my mind changed about it."
Hops have now been integrated into cider making (for good or for bad)
It was bound to happen at some point but yes, some ciderists in the U.S. have begun to use hops for making cider. While this is something Hall and Oliver say they wouldn't do, they at least admire the innovation and commitment to a burgeoning American obsession. We can confirm they're really tasty!
Cider has been integrated into some pretty badass cocktails
Cider's high acidity makes it a perfect ingredient for cocktails. Hall recalls a particular cocktail made at Chicago drinking institution Longman & Eagle, which combines RedStreak cider with Malört, the Swedish liqueur, which by itself is almost undrinkable. RedStreak's acidity tames the bitterness and makes for an excellent drink.
Apple liquor is the real hard stuff
Speaking of cocktails, liquors made from cider are a key ingredient in some of the world's most popular cocktails. Applejack, an alcoholic beverage made from distilling concentrated cider, was the first American spirit brewed with apples and was immensely popular during the Colonial period. In France, Calvados is an apple brandy distilled from cider, matured in oak casks for at least two years.
Cider apples are very sustainable
"Raw crops need to be planted, fertilized, watered and sprayed. With cider, you plant an apple tree and you have apples for 70 years," says Hall. "You saw this in the droughts in the Midwestern U.S. last year," he continues, "where pictures of wilting crops were on the nightly news but apple trees just shrugged and kept going."
Sidra es buena
Cider is popular in Spain, especially in the Basque region in Asturias, where they drink more cider per capita than anywhere else in the world — more than England, more than Normandy.
Want to hear more? Check out Jimmy Carbone's Beer Sessions Radio program on the Heritage Radio Network, which has featured Tom Oliver, Greg Hall and many other leading ciderists. Make sure to keep an eye out for Oliver's Cider & Perry, which is already distributed in the states by Shelton Brothers, and Virtue Cider, already in Chicago and coming to Oregon, Michigan and New York later this year.
More on the very best potables at Food Republic: