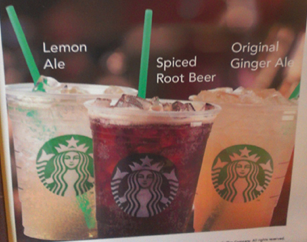 Could Starbucks be looking to take over the soda market? From StarbucksMelody, an "unofficial news and information site for the Starbucks brands," comes the news that the coffee giant is currently testing its own root beer and ginger ale. In addition to the handcrafted sodas, Starbucks is also trying out sparkling teas and Refreshers, ideas that the company has toyed with previously.
Writing after attending a promotion of the new items, StarbucksMelody describes the sparkling root beer as "crazy good… subtle hints of spice and a sweet, refreshing, distinctive root beer flavor" (Wait, what else would it taste like?)
The reviewer was also able to sample the ginger and lemon ales, which were created by a barista pouring mixture into a "special shaker, adding water and placing it into a special machine." Sounds… special.
There's no word yet on when the new products will be released, or if they will even make it to a national launch. We will be sure to keep you posted as more information becomes available.
More Starbucks stories on Food Republic: