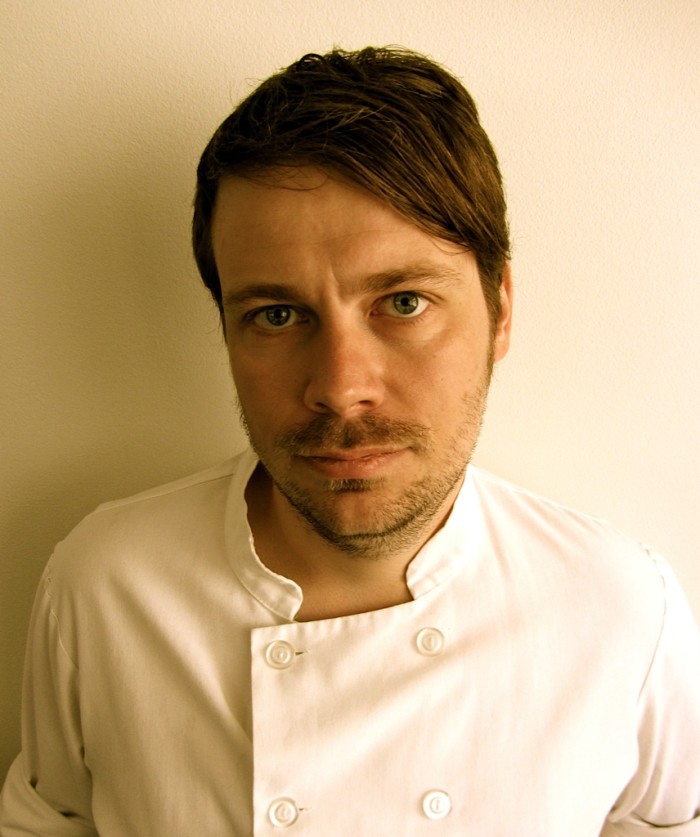 It's a brisk late winter afternoon in Chicago, and David T. Posey is steadily bringing another busy lunch service to a close at Blackbird. The chef de cuisine walks through the crowded main floor unnoticed, then heads upstairs to the quieter environs of the restaurant's private dining room and pours himself a glass of water. He's calm, seemingly unflappable and coolly confident about his cooking.
These are surely some of the reasons that rock-star chef/restaurateur Paul Kahan promoted Posey to lead the kitchen at his perennially revered Blackbird, part of a collection of locally adored spots that includes Avec, The Publican and The Violet Hour. These traits have also surely contributed to Posey's steady rise from Los Angeles teenager to Culinary Institute of America grad to a trusted member of Grant Achatz's team, first at Trio and later at Alinea.
Posey emerged from Alinea with a respect for modern techniques, but at Blackbird, first under Mike Sherrin — who departed to launch his own restaurant, Trencherman — and now starring in the kitchen himself, he has been developing a cooking philosophy of his own. He discusses it, and more, in this interview — held just a week before he earned a spot as a finalist for "Rising Star Chef of the Year" in next month's James Beard Awards.
What are the challenges of running the kitchen at Blackbird?
It's definitely evolved. Being sous chef under Mike Sheerin definitely helped a lot because he would show me around the market and all the seasonality and stuff, which I wasn't really familiar with. So now I'm more comfortable with using farms, being more seasonal, constantly changing dishes….Now the challenge is to elevate service.
What else excites you right now?
We completely improved our kitchen downstairs. We lowered the pass, got a brand new stove, a new refrigeration [system]. Hopefully having the service go smoother, cooking will be tighter.
Is it easier to find good talent now for the staff than it used to be?
There are so many people interested in food and cooking, so they're going to culinary school, but that also means a huge influx of mediocre talent. Before, 12-15 years ago — I wasn't in the scene then — but if you wanted to cook you were very committed, and you'd put everything into your craft. As opposed to now, it's more of a lifestyle for a lot of cooks.
Are you anti-culinary school?
I went to culinary school, but if I didn't have to I wouldn't have.
Is that how you ended up working for Grant Achatz?
Yeah, I went to the Culinary Institute of America in Hyde Park and I worked for Grant at Trio, and when I got my bachelor's he was just opening Alinea, so that's when I went and worked for him again.
How was it being in that kitchen?
Trio and Alinea are two completely different restaurants with very similar food. Trio was a very stripped down kitchen. It wasn't as technically advanced as Alinea. At Alinea, I started about a year after it opened. It's a dream kitchen.
It's pretty different from what you're doing now, right?
Yeah.
How did you come into Paul Kahan's universe?
I've always really enjoyed modern cooking, and I don't think you can get more modern than Alinea. I was looking for new challenges, and this is a more traditional restaurant that is just as focused on modern technique and modern flavors and then the added element of seasonality and farm to table–driven, which Paul is known for.
What are you proudest of here on the menu?
The thing I'm proudest of is something that I don't think you can find in Chicago and that's a very minimalist plate, which is three or four components.  We try to execute [these components] as best we can. At lunch right now we have a duck leg confit that comes with roasted broccoli, a raisin puree and potato granola. Four components to a dish — a Michelin one-star dish — is kind of hard for you to find in Chicago if it's not like a pasta dish at Spiaggia or something. I think that's what I'm most proud of. And the longer I cook here the more I find that my dishes are simple — a vegetable, a meat, a condiment and a sauce.
Is it getting easier to work with farmers as more chefs take to this philosophy?
A lot of farmers, actually around this time [in winter], will ask, what can I grow for you next year? So you can get product that you want. I've been looking for Celtuce forever, which is a Chinese asparagus, as some people call it, and now I have farms asking if I would like it. And that's awesome.
What about proteins—fish and meat?
Fish is harder obviously, because we're in the middle of the country, and I don't really wanna eat that much that comes out of the Great Lakes. So we have to get that from both coasts, but we still get really great product. And then, meat, because we're in the middle of the country, this is where tons of meat is from, so [Kahan's] Publican Quality Meats gets a lot of cows from local farms. We'll get our beef from there. We'll get our ducks from a farm up in Michigan. We'll get rabbits from downstate Illinois. It's easy to keep that local.
How is working with Paul Kahan and the team?
Anything that Paul and the other investors open are executed extremely well. I remember when they were opening the Publican, Brian [Huston], who is the chef over there, tried like 50 different roasted chicken recipes. Theyr'e great at finding something that's different, that Chicgao wants, and then they open it.
What do you think about Chicago's restaurant scene right now?
I think Chicago is the best food city in the country, because it's very accessible. You can find the diner that serves really great diner food, and then you can go to Alinea. We have the whole range of everything. It's very laid back and affordable, so people can go out a lot more, as opposed to places like New York and San Francisco.
Did you always see yourself in fine dining?
Yeah.
What were your inspirations?
When the French Laundry Cookbook came out that completely blew my mind. I would look at it cover to cover every single day for like a year and a half. After that it was Michel Bras and these Michelin 3-star places. I don't want to go more fine dining than Blackbird. I like that you can have food that can be up to those standards but in a very casual setting — you can come in jeans and a t-shirt. Growing up, looking at all these restaurants doing amazing food on amazing china with servers in amazing suits serving amazing wine was really exciting to me.
In L.A.?
Yeah.
What did you see there?
One of my favorite meals that I ever had, I was 16 and it was at Bastide under Alain Giraud. I took my girlfriend and they gave us a bottle of Cristal because the chef was excited to see young people coming to his restaurant to eat. And we were so nervous, like, are they gonna charge us for this, are we gonna caught because we're under age. I still remember all the food, and that was 12 years ago.
And now, do you travel to get inspired?
Yeah, my girlfriend and I went to New York a few months ago. We were there for 36 hours and ate at like eight restaurants. We went to Pok Pok. Acme, Blue Hill in the city. PDT, Ippudo.
OK, back to Chicago, what are some places that impress you here?
There are so many places opening up now. Even the whole Randolph corridor [around Blackbird] is just insane. You have everything—casual Mediterranean food at Avec, then Grace almost across the street, then Au Cheval, another Italian place, it's mindblowing.
Is there anything missing from Chicago's scene that you'd like to see?
I think we're getting there. I'd like to see a ramen scene. We don't really have ramen, and that's one of my favorite foods to eat. Other than that we're growing. 
---
This Food Republic Interview is presented by our friends at Ribera Wines
---
More FR Interviews on Food Republic: